In the latest in our series of posts about different ways to get into journalism, former fitness trainer Emma Britton proves that one lucky break - and a natural talent for broadcasting - can open the door to that dream job: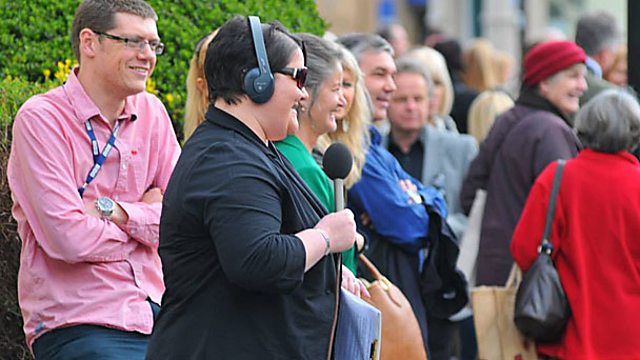 I am writing this on a train on my way back from a
BBC Women in Radio
event in Salford. I still find it a little hard to believe that I'm a BBC radio presenter who is asked to act as an inspiration to others at a flagship event like this - but I am.
I think my slight hesitation is due to my rather unconventional route into broadcasting, but I'm assured and regularly reminded that this is what makes my story interesting. So here's my broadcasting journey potted history...
I was a self-employed 'fat fitness instructor' back in 2003 - yes, I did say fat! I had a niche small business teaching a range of fitness classes and sessions to people who weren't fit - specifically to help overweight people, the elderly, falls prevention, people with medical conditions, and people hospitalised because of their mental health. I loved it, but I love what I do now even more.
I was invited into my BBC local radio station in Taunton for a one-off interview, which turned into a weekly health/fitness slot on a show for four years - completely unpaid, naturally. They asked if they could call me 'Extra Large Emma' and thankfully I didn't mind.
A broadcast assistant role became vacant and, as I sounded 'good on the radio', I was encouraged to apply - along with 84 others. I won't pretend it was an easy process but I did get the job, starting out by making the tea, answering phones and reading travel bulletins.
Then about nine months into my new career the thing that sounds like a cliché happened. A presenter went sick, no cover presenter was available, in fact no-one was available (not even the station cleaner) - so it was my shot! Luckily the presenter I was working with at the time had already very kindly shown me how to drive the desk, so although I was a bit ham-fisted I showed an acceptable level of technical competence.
That led to regular cover presenting, a temporary weekend summer show, and finally my own programme. I presented the 09:00-12:00 slot for nearly five years at BBC Somerset, including an all-speech phone-in and an outside broadcast almost once a week.
In September 2013 I moved to present the station's flagship Breakfast Show and, although I was nervous about the all-speech, news-based format, it's fair to say I'm loving it.
Breakfast is a unique slot - you have to be everything to everyone all of the time. But you also have this sense of responsibility to make sure your listeners start the day with a smile on their face about something. You have to deliver the good, the bad and sometimes the ugly, and when you've been up since 3.45am that can be a challenge.
I think my previous career as a specialist fitness instructor (for people who were most definitely not fit and often lacking in confidence) meant I was used to dealing with a wide range of people, imparting information and empathising with them. My broadcasting style is fairly warm and means people open up to me, although this doesn't mean I'm afraid to ask the killer questions. 
People ask me if I feel under pressure in my job because as a woman I am currently in the minority when it comes to BBC local radio breakfast presenters. I reply that the only pressure I feel is to be the best presenter I can possibly be - surely that's all you can focus on.
So by name I'm a broadcast journalist, but in my heart I'm that former fat fitness instructor who happened to be in the right place at the right time, and who 'sounded good on the radio'. I'd be hard pressed to imagine a better job.
Breakfast with Emma Britton (weekdays 06:30-09:00) BBC Somerset, 95.5FM/1566MW, bbc.co.uk/bbcsomerset
The final BBC Academy/BBC Local Radio event in the current Women in Radio series takes place in London on 20 March. The event is now closed for applications.
Getting into journalism: Bring a different story - refugee Jamal Osman
Getting into journalism: Less doctor talk at the dinner table
Getting into journalism: Just go out and do it, says VICE maverick Tim Pool
How to become a BBC journalist
BBC director general Tony Hall announces new apprenticeship schemes