This post by Ricardo Gonzalez Bernal continues our series of articles setting the scene for a major London conference on the protection of journalists. His exhortation to make journalist deaths "unthinkable" is given added urgency by the fatal shooting, confirmed today, of AP photojournalist Anja Niedringhaus and the attack on her colleague Kathy Gannon in Afghanistan.
The one-day symposium Making the Protection of Journalists a Reality: Time to End Impunity will be held in London's BBC Broadcasting House on 7 April. It is a collaboration between BBC Global News, the Centre for Freedom of the Media (CFOM) and the College of Journalism: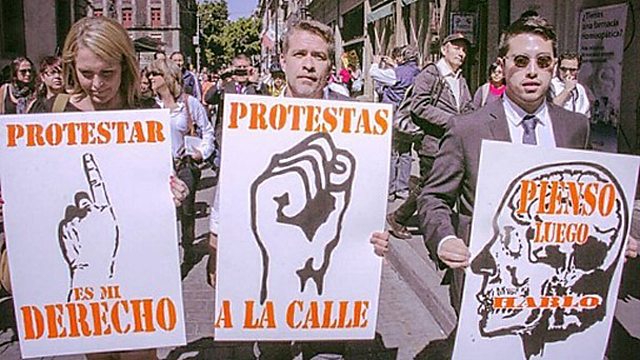 Each murdered journalist is an indictment of a violent society and a failure to provide the resources to prevent that death. All too often the death is the final signpost, alerting us too late that someone behind a government desk or in a newsroom failed to provide the necessary resources to prevent it.
The possible reasons for that are many, but we need to ask ourselves tough questions: would he or she be alive if the proper (and lawful) resources were in place to protect them? Safety and outrage often come late.
It is clear that the fight against impunity must focus on the cases of journalists that have been killed. However, this figure is only the tip of the iceberg. The number of murders provides a lens to scrutinise attacks against freedom of expression and the level of protection provided to journalists and media workers in a country. But we should not lose sight of those that are still struggling to survive and continue their work.
Article 19 works to improve the protection environment available to journalists at risk so that they can do just that. Based on its experience in Mexico, the organisation developed a monitoring and documentation system which serves as the basis for training, advocacy for legal and policy reforms and addressing individual emergencies - a holistic perspective on protection.
We are currently monitoring Brazil and Mexico´s protection policy in particular. Our offices operate emergency funds in Mexico and Russia, as well as in East and West Africa. These funds are managed according to this holistic approach, covering legal assistance, self-protection and emergency plans, psychological support and assistance.
Article 19 closely monitors and reports on violations against journalists in Brazil and Mexico. Our research points to uncomfortable similarities in the nature of the violations in these countries. In both Brazil and Mexico, the recurrent perpetrators are state agents, and the most recurrent aggressions reported are direct threats.
Violence against the press is of concern. Four journalists were killed in each country during 2013, with a documented 330 attacks in Mexico and 29 in Brazil, all aimed at silencing or punishing a journalist or media worker for doing their job.
When a direct threat is posed against a Mexican or Brazilian journalist, most often the only source of protection is self-censorship. And the situation tends to be worse when it involves journalists working outside the capital for a small or non-commercial media outlet.
This should not be the case. Along with Guatemala and Colombia, Mexico and Brazil are examples of countries which have specific public policies aimed at addressing the issue of violence against the press. Yet these policies are struggling to fulfill their potential as journalist protection measures.
There are some common obstacles and challenges for the policies in place in these two countries, ranging from a lack of institutional capacity and resources to a lack of commitment from the authorities. Another crucial challenge is the lack of trust from journalists who are wary of seeking the protection of government.
The situation in Mexico is now critical. The institution in charge of setting up and managing the emergency response unit has roundly failed to comply with the Law to Protect Human Rights Defenders and Journalists. Article 19 has gathered the numerous testimonies from journalists whom the mechanism has failed to help.
Added to this is an alarming new trend relating to the safety of press freedom organisations including Article 19 and Reporters without Borders. Over the past year Article 19 personnel have experienced a number security incidents including surveillance on the houses of our staff and our office, direct, anonymous threats and a recent break-in at our director's office in Mexico City.
The support of the international community is urgently needed. Along with foreign media, it should help to put pressure on the Mexican and Brazilian governments to repel impunity and deliver emergency protection to journalists who are at imminent risk. The international community and foreign media should assist with and support the creation of safety and solidarity networks to protect journalists and ensure the free flow of information. And they should show solidarity with journalists who have been forced to flee their country by requesting that governments offer diligent and sensitive treatment during any processes for asylum or refuge.
On a positive note, the Brazilian government is consulting stakeholders about the possibility of reforming the protection mechanism that is in place and improving the response capacities in remote areas. 
At Article 19 we believe that building and strengthening sources of protection at a national level is essential to produce a change in societies where violence and impunity are rampant. We also encourage the creation of other mechanisms, within the media and civil society, in places where a public protection policy cannot be implemented. They include ad hoc safety and solidarity networks and early warning systems with the resources to overcome the incapacity of governments.  
Let's not be outraged at a death: let's work together to create an environment where a death is unthinkable.
Journalists in danger: Support press freedom groups or risk lives
Journalists in danger: How can international law help fight impunity?
Journalists in danger: Threats, torture and censorship in Pakistan
Reporting: Foreign assignments
Jailing of al-Jazeera journalists in Egypt highlights need for new defences
Global media to monitor a UN plan to protect journalists from assassination
Other blogs by William Horsley, CFOM international director
London symposium on the safety of journalists - video
Iranian journalists face growing threat of imprisonment in pre-election crackdown