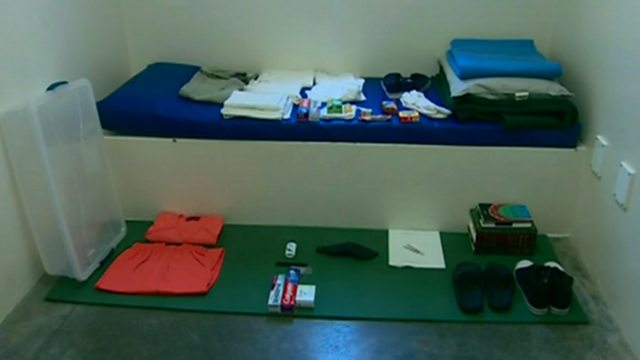 Living conditions at Guantanamo
Last week, the BBC's Jonathan Beale reported on the hunger strike at the US military prison of Guantanamo Bay in Cuba. Here, he talks about the conditions under which his filming was allowed:
Guantanamo's been called a gulag. But then how many gulags open their doors to the world's media? Guantanamo has a steady stream of journalists visiting. Getting access is relatively easy.
That said, most of what goes on at Guantanamo, or 'Gitmo', still remains hidden. The US Military slogan for the camp is "Humane, Legal and Transparent" - with no sense of irony intended. 
Part of the deal for getting in is that you don't talk to "detainees" or identify them. On previous visits I've been allowed to watch them mingle from a distance. In recent years the atmosphere, and regime, at Gitmo felt a bit more relaxed. But on this visit - with a mass hunger strike going on - it seemed tenser.
We weren't allowed anywhere near the prisoners, although we could hear them shouting in the distance. That in itself told a story about the mood of the camp. As did the guard force's insistence that we didn't identify them either. Again, in the past some guards have been quite happy to appear on TV. This time cameraman Ron Skeans had to film them all from the shoulders down.  
Everyone who visits Guantanamo has to sign up to the "media ground-rules". A degree of access comes at a price. Our media minders view every image taken "inside the wire". Any video or photo that shows the face of a guard or a detainee, or a close-up of a lock, is deleted.
Both the US and the UK military call this "operational security". In theory it's to prevent the release of any information that could be useful to "the enemy". But it can be used to control the message - as a form of censorship. 
However, in my experience the Americans use it more sparingly than the Brits. So, for example, our producer Natalie Vickerman managed to record a prisoner shouting out in protest and, even though it didn't reflect well on the US military, we were still allowed to use it. All we had to delete was the reference to the prisoner number.
Rather surprisingly given Guantanamo's reputation, there was remarkably little editorial interference. There was no request to view the edited material. Yes, we were only really able to get one side of the story! All you can do is to come well prepared and willing to ask plenty of questions. Not everything's quite how it's presented. Our polite and pleasant military media minders were well aware of our frustrations. But then they too were ultimately just following orders.   
Despite the compromises, I still believe it's better to get some access than none at all. 
In Afghanistan, I've often driven past the British military prison at Camp Bastion wondering what life's like inside. But we're not even allowed to take a photograph from the outside. 
Jonathan Beale's report is here, together with an edited version of a Twitter Q&A in which he answered questions about Guantanamo.