With World Press Freedom Day on 3 May, this report from Shubhranshu Choudhary shows how technology is enabling individual stories to be heard in India. Choudhary's project beat Edward Snowden to this year's Google Digital Activism award from the Index on Censorship. CGnet Swara is a mobile phone service that allows people in remote Indian communities to upload and listen to local reports in their local language. It was a grassroots creation, says Choudhary.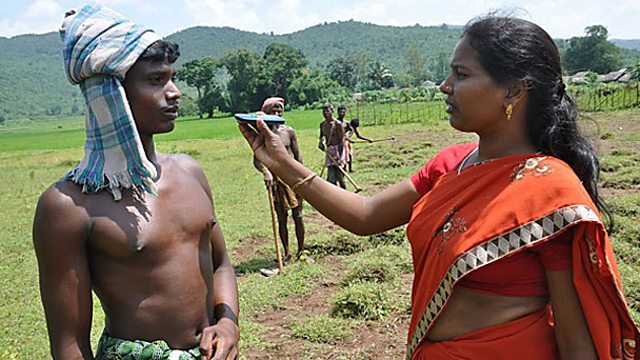 Recording an interview for CGNet Swara
I covered all the wars in South Asia while working in the BBC South Asia bureau. In the 1990s there was conflict across the whole region, from Afghanistan and Pakistan to Sri Lanka and Nepal, as well as in Kashmir and north-east India. I used to hop from one war to another.
But sometimes something happens nearer to home that makes you think more. I grew up in central India where my refugee father had got a job with the Indian railways. I went to the only school in the town.
Twenty five years on, while I was busy covering those wars, my home had also turned itself into a war zone. Some of my old schoolmates were being labelled 'terrorists' and the Indian prime minister called the war in central India the "biggest threat to India's internal security".
So I began covering this war, between Maoist guerrillas and Indian security forces. But I was perplexed. I was also spending long hours with the 'terrorists' after finishing our shoots. All my experience in journalism gave me no clue as to why those docile schoolmates had become what they were.
They told me we had got the story wrong. They told me "democratise your media" and the problem would be solved.
It made no sense to me, but they explained it like this: "The word communication is related to community and it should help solve problems, not create them. Your aristocratic form of communication is the root cause of this problem. When small problems are not solved by dialogue, by help from each other, then the problems get accumulated and create bigger problems, like this one."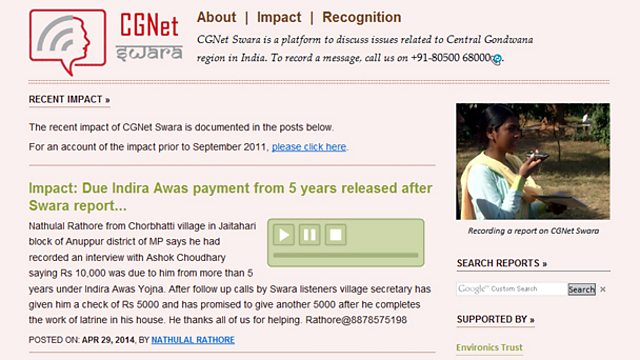 CGNet website
After a while it started making sense to me and I began thinking about how to create a democratic media. My old friends urged me: "Make a media like the air, which is not owned by anyone. Current mass media is owned by a few and that is the problem. It does not allow voices of the many to be heard if they are against the interest of those powerful few.
"The world over, politics has democratised; it is time communication was democratised too. We can't have a better functioning democracy without a democratic media."
So how do we achieve that? Mobile phones have given us the opportunity to reach many in the remotest parts of India. But we needed to convert this personal communication tool to a mass communication tool. The answer was to connect phones to a computer - simple but revolutionary. The CGNet Swara platform (Voice of Chhattisgarh), dedicated to issues concerning people of the Central Gondwana region, was born.
Now anyone anywhere can pick up their phone and tell their stories - whether they're about unpaid wages, red tape holding up school stipends, security worries, land rights or a host of other problems.
People use their mother tongue and are recorded on one computer with the help of an improvised IVR (interactive voice recorder) system. The stories can be heard by calling the number connected to the computer. They can also be heard online, for those with internet access. And they can be heard on radio if the computer is linked to a radio transmitter.
This way, one person speaks and rest of the community can hear. When another person responds, everyone can hear. It is a dialogue model - like Facebook or an email discussion forum for poor people. In India only 7% of people have access to the internet, and in remote areas that figure goes down to 0.7%. This way we are able to solve many smaller problems by helping each other.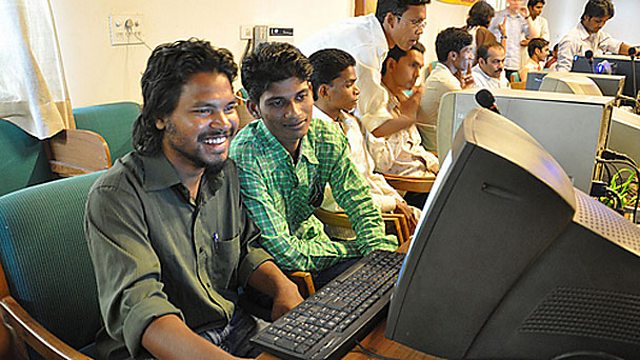 CGNet Swara workshop
The person with a problem or issue to discuss calls up and records a message. Community volunteers who are on the internet listen to those messages, fact check and translate them into English, before publishing them. Once the story is online, it reaches many urban activists through social media. It goes to many others via mobile phone and radio. That way people can help each other, as demonstrated by the
impact and outcomes o
f the stories we tell.
There are hundreds and thousands of such small communities. Messages from all these forums can be analysed by computer to monitor what people are talking about. This helps create a bottom-up model of newsgathering. What's more, the moderators or journalists in the middle are also elected by the people - not selected by a powerful few, as happens elsewhere.
If we want a better future, we can't leave journalism in the hands of the few.
Citizen journalists report for the price of a text