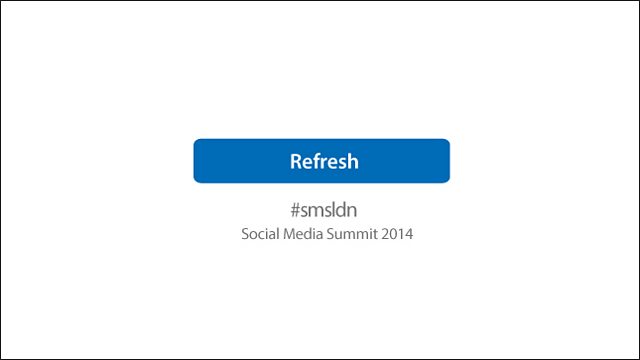 It's becoming a springtime ritual - along with the shorts, the Pimms and the cricket, comes our Social Media Summit.
This one - #smsldn - will be the third we've held and the second with our friends and partners at the New York Times, with the support of the Knight Foundation - after #smsnyc last year and #bbsms in 2011.
The purpose of the event remains the same: to provide practical, relevant and useful conversation about how social media is affecting the journalism that we do day in, day out. But the focus of that conversation has changed dramatically since 2011.
#SMS has therefore become a default yardstick that allows us to measure the incremental, daily changes in newsrooms around the world caused by the pervasively disruptive influences of the global families of Facebook, Twitter, YouTube and their many relatives.
Back in 2011 we defined mainstream media in a way that we'd now probably describe as legacy media. What is mainstream in 2014? It'll be fascinating to hear from the great early king of social media Andy Carvin - once of National Public Radio in the USA, now of the new aristocracy at Pierre Omidyar's First Look Media - about the innovations emerging there.
Three years ago we looked at the need for technical innovation and changes in mindset to drive acceptance of these new tools in churlish, conservative-minded journalists the world over. This year we're going to hear from CCTV Africa's Cynara Vetch about how the latest technology is giving old-fashioned feature phones a second social lease of life. And the controller of digital and technology for BBC Global News, James Montgomery, will reveal what he's doing to get social with WhatsApp's 450 million users.
But while some challenges change, others stay the same - although we find ourselves looking for better answers. Last year's panel at #smsnyc on making video social has evolved into a wider discussion about how to make shareable - quality - content. We know all about cat videos and listicles, but how do we harness those techniques to make more compelling journalism and engaging storytelling? BuzzFeed's Luke Lewis, Martin Belam, inventor of UsVsTh3m, and Laura Oliver from the Guardian will be grilled by the New York Times' Aron Pilhofer.
The big legacy brands still matter. That's why the BBC's director of news and current affairs, James Harding, will be talking to Charlie Beckett, director of Polis at the LSE, not just about what his organisation is doing but how social media is shaping journalism.
And where is the balance of power? Does Twitter need us more than we need Twitter? What further innovations lie ahead? Twitter's global head of news Vivian Schiller will be making a rare public speech.
The full agenda will give you all the details. At the moment there are no tickets left - but we're asking everyone who's signed up already to let us know if they can't come, so we're hoping to be able to make a few more or a few returns available. We've got a waiting list operating. So do put your name down and we'll let you know.
It will of course be tweeted. You know the hashtag! We'll be blogging all the sessions and, just as we did with the previous two events, recording them, with the videos going up on our YouTube channel as soon as possible.
See you next week.
Videos of the sessions at #smsldn will appear on our YouTube channel in the near future.
#smsldn London Social Media Summit