The new iOS 8, like earlier editions, is being keenly studied by journalists who rely on Apple's operating system in their day-to-day work. We asked the College of Journalism's mobile journalism expert Marc Settle for his analysis of what's changed and the implications for journalists: 
My intermittent reports on each new version of iOS, the  operating system which powers iPhones, iPods and iPads, can lead to accusations that I'm worshipping at the altar of Apple when I should be admiring Android instead. After all, around four out of five smartphones currently sold run Android; it is undeniably the global OS leader.
Yet when it comes to journalism Apple's devices are consistently chosen by leading news organisations around the world, including the BBC, for their staff to use to provide broadcast-quality material.
Given that, what are the changes in iOS 8 which could make a difference to how a journalist will use their device in the field?
First, three short caveats. My pre-launch testing of iOS 8 was on an fifth-generation iPod, so you may find minor differences depending on the device on which you install iOS 8. You won't even be able to install it on an iPhone 4, iPods earlier than fifth gen, or on the original iPad. And the iPhone 6 will bring other, as yet unconfirmed, benefits to journalists, such as a better camera and a bigger screen to make editing footage easier.
So, first impressions: the overall look of iOS 8 is the same as iOS 7 (unlike the radical redesign of iOS 7 compared to iOS 6) apart from a few minor cosmetic tweaks.
But there are many interesting changes to the iPhone's main journalistic applications: recording video, taking photos and recording audio.
Until now the only way to adjust the exposure of a photo before taking a shot was to tap on the screen to tell your device from where to take the exposure reading. In iOS 8 the camera lets you adjust the exposure much more precisely: tapping on the screen now brings up an icon of the sun and, by moving a slider up and down, the image will get brighter or darker.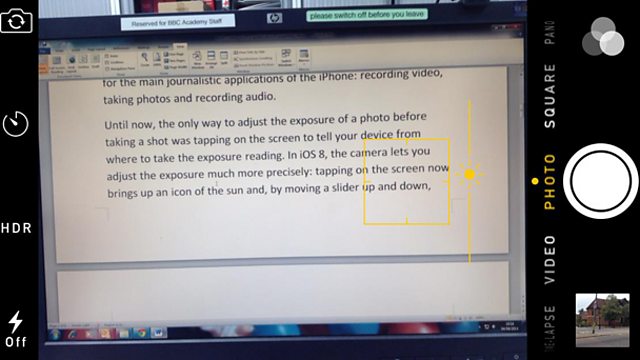 And once you've taken a photo you'll have many more options for post-processing it, such as adjusting the shadows, brightness, contrast, vibrancy, and rotating it a few degrees left or right. All these edits are non-destructive - so you aren't stuck with the edits if you change your mind.
These changes to image processing are another example of Apple incorporating features offered by third-party apps into iOS.
That's also the case with the new 'timer mode'. Previously this could only be done via an app, but now it's part of iOS 8. Put the device on a tripod and you can set it to three or 10 seconds and get into the shot yourself if you want.
Rapid-fire 'burst mode' is also improved for older iPhones, which might help capturing just the shot you need.
For video, the main addition is a new 'time-lapse' function: the device takes shots at regular intervals which then run together to form a speeded-up video.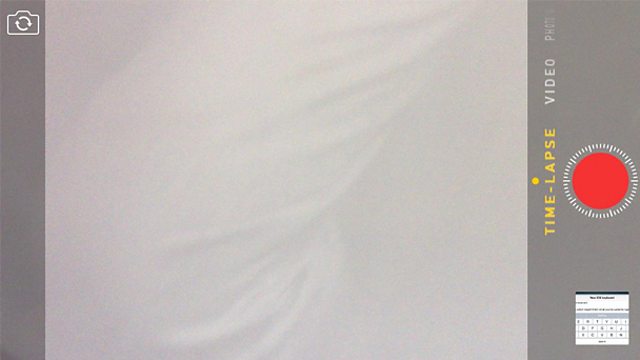 It works fine - a five-minute time-lapse was crunched down into 20 seconds - but it's a rather blunt tool, being a simple binary 'time-lapse or no time-lapse'. Third-party apps that give you much finer control over how often the images are taken still have their uses. Instagram's Hyperlapse app, which stabilises as well as shoots a time-lapse, has in early testing produced better results.
Further enhancements to photos and videos are expected in the coming weeks and months once app developers roll out their updates based on iOS 8. For the first time they are able to access manual controls for the camera, which means their apps (although not the on-board iOS camera) can now have complete control over functions such as ISO, aperture and shutter-speed.
Back to changes which are in iOS 8 from day-one. For any journalist who's had the 'oh-no' moment of deleting a photo that's still needed, the good news is that deleted photos can now be recovered via a new photo folder, logically called Recently Deleted.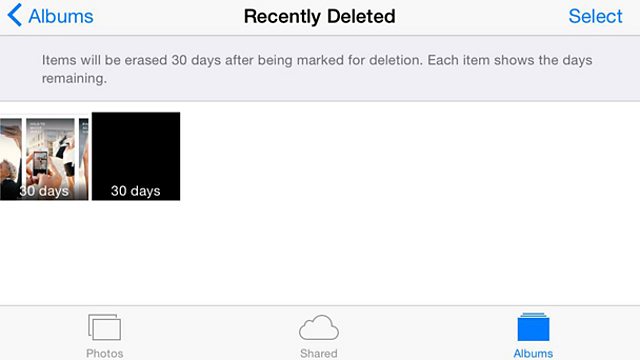 To retrieve the images deleted in error, go to the Recently Deleted folder, select the photos you need and tap 'recover'.
Finally for the camera, apps can communicate with each other much easier than before. This means that if you take a photo with the native iOS camera you no longer need to open the image from the camera roll, import it into the app, edit it, export it back to the camera roll, import, edit, export etc, etc. You can now access the functions of third-party apps without needing to open the photo in that app.
While all these editing functions sound exciting, the broader question remains: how much processing of a photo should a journalist actually do, rather than simply presenting the scene as accurately as possible?
Turning to audio changes, there's one tweak of note to the Voice Memo audio recording app: when you're editing you can add an additional segment after what's already been recorded. In theory this could let a reporter make a sequence of clips of different people on the same track. However, I've found it to be quite buggy so far, and nowhere near as intuitive as some third-party audio recording apps.
In his next post Marc Settle will look at changes to location and messaging features in iOS8 and a new way to help you locate a lost iPhone
Other blogs about smartphones by Marc Settle
Filing and recording: Smartphone journalism