BBC rushes filmed inside the Papal plane, including Caroline Wyatt's brief encounter with the Pope.
Embedding with British Forces almost always meant arriving at a dusty base in a foreign desert and being shown to a tent. Not necessarily a hugely well-appointed tent. And not always a tent that was heated, though there was usually a warm welcome from the soldier, Royal Marine or airman or woman who came to help us schlepp 250kg or more of luggage from the airbase to the tent.
If we were very lucky there was a Portakabin, which made us feel as though all our Christmases had come at once. Occasionally an embed on a ship meant a cabin and the relative luxury of a gently swaying bunk bed.
Embedding with the Vatican is rather different. The bureaucracy ahead of time is not dissimilar, although the Vatican neither demands a medical fitness test (luckily) nor even written evidence of your last confession (phew).
Nor does the Vatican ask us to sign the equivalent of the Ministry of Dence's Green Book, in which we had to promise not to reveal anything that could imperil operational security on British military operations, and allow an MoD press officer to vet our pieces for such material. Perhaps the Vatican feels that the Pope's Divisions (with apologies to Stalin for borrowing the phrase) are enough to ensure his operational security - although on his recent trip to Cuba and the US both nations' police and special forces were out in significant numbers, just to be on the safe side.
Those travelling with the Pope, however, do have to sign a document agreeing not to reveal the contents or give out copies of the embargoed speeches before the papal words are spoken. We are entrusted with the contents of those speeches on the morning of their delivery, at 05:00 - never a particularly wakeful time for a journalist, although it is when the Pope starts his day, with prayers.
The Vatican's hope is that we will read and reflect and give accurate accounts. That embargo seems fair enough - and is not uncommon in journalism in most areas today, in an era of 24-hour news when instant analysis is vital. And, at the risk of stating the obvious, it really does help to have read a document thoroughly before commenting on it.
So far, so familiar. But travelling with Pope Francis and the VAMPs - Vatican Accredited Media Personnel, the journalists accredited to the Vatican in Rome - is an eye-opener at any hour of the day or night.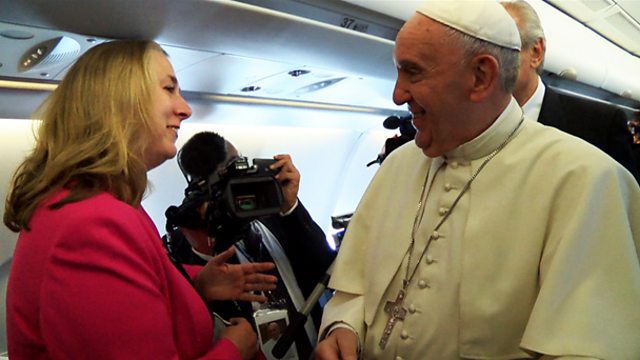 In the café downstairs at Rome Fiumicino airport, the cappuccino is hot, sweet and as fragrant as the many VAMPs who surround us - the Vaticanisti, as they are also called, who follow and parse the Pope's every move.
They come from Italy, the US, South America, and elsewhere, many travelling with the Pope on every foreign trip. A full 76 VAMPs flew with Pope Francis to Cuba and the US on his recent visit, including VAMP number 72 (me, this time around, replacing my 69 of the previous trip) and VAMP number 40, my colleague, Julian Miglierini, the BBC's Rome bureau chief. Julian upheld sartorial standards with a smart Italian suit and tie, while I've had to invest in a whole new Vaticanista wardrobe in a failed attempt to match up to the female Italian, French, Spanish and US VAMPs.
Many of my colleagues had seen and interpreted several popes, becoming as expert on the changing nuances as any Kremlinologist during the long years of the Cold War. From the glorious days of Saint John Paul II to the more difficult times of Pope Benedict XVI, they've seen, discussed, filmed and written it all.
I listen in to animated conversations in Spanish, French, German and English on the Papal plane - an Alitalia flight from Rome, with the Papal crest embroidered on every antimacassar. (American Airlines was responsible for the return flight and it seemed the two airlines were competing to see who could serve the most delicious food and the best vintages. It was one of those trips where I almost regret giving up wine.)
It rapidly becomes clear that Pope Francis has rewritten the rulebook. For the past two years the Vaticanisti have been chronicling a Roman Catholic leadership that has enjoyed an unexpected new lease of life and has a new narrative that is no longer focused solely on child sex abuse by the clergy, financial scandals or the decline in church-going in the West. Pope Francis's global popularity, and what has been hailed by many across the world as his unique moral authority, has made the Vatican front-page news again, often in a good way, at a time when few secular leaders enjoy the same stature.
Many believe this papacy harks back to the glory days of Pope John Paul II in terms of global relevance and stature. Even though many VAMPs say they were keen to cover the papacy of Pope Benedict XVI, the press coverage was rarely positive, and fewer international broadcasters fought for places on the flights for his trips. This 78-year-old pontiff's popularity shows little sign of diminishing and the VAMPs have been delighted by the concomitant upturn in their own fortunes, as their editors call for thousands of words and broadcasts on the 'Francis Effect', sending them travelling for thousands of miles to capture his image, his words and his deeds.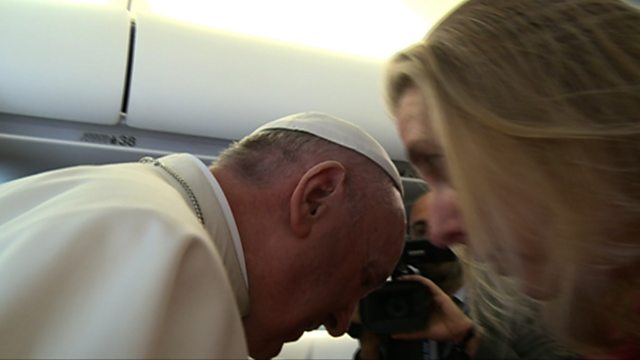 Making myself understood (in Italian)
But do the VAMPs get too close to the Vatican, and is embedding with the Vatican liable to compromise good journalism? I am not sure that it does, although travelling with the Pope certainly has an impact.
It is always harder to write difficult or unpleasant things about someone you know or have met, and some journalists avoid getting too close to their subjects in case friendship compromises their journalism, as it almost inevitably does. Not that most VAMPs are friends with the Pope - although some of the Argentinian journalists are: he baptised the children of one VAMP, Elisabetta Pique, who has written a book about him, drawing on the many years that she has known him.
Flying on the same plane doesn't quite count as friendship, or even familiarity enough to exert a compromising effect. It's not the same as being on patrol in a hostile desert. There, you know that the soldiers you are writing about may be called on to save your life if something goes wrong. Your coverage probably betrays more gratitude for bringing you back in one piece that day than is entirely seemly.
But even the sceptics and the critics of the Roman Catholic Church might find this pope hard to resist in person. He is disarming, and has a personality that feels like a force of nature: irrepressible, jocular, open. He was dubbed in US the 'People's Pope', and you can see why.
A little over half an hour after the Vatican plane takes off, as we fly high in the heavens over Italy and Spain, the curtain at the front of our cabin opens and, rather than a steward with the drinks trolley, it's the Pope. He's wearing his white zucchetto, and a rather tired smile. As Father Lombardi, his press secretary, introduces him, Pope Francis rubs his eyes with balled-up fists, a gesture that reminds me of my smallest nephew when he's tired. It is early, and nine long days of travel lie ahead.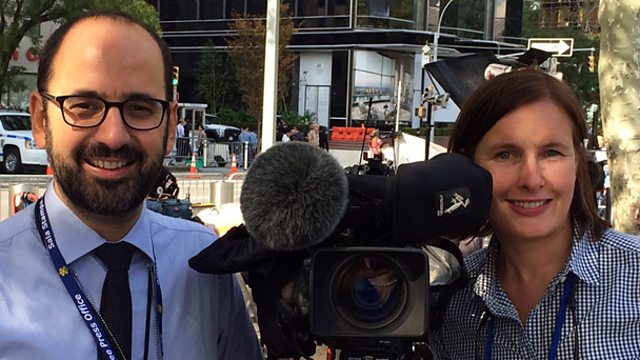 Rome bureau chief Julian Miglierini and camerawoman and editor Maxine Collin
The Pope perks up as he greets us all and slowly walks down the aisle to meet the Vaticanisti travelling with him to Cuba and then the US. As he stops to chat briefly and to shake hands, I ask Pope Francis if he's been to Cuba before - having recently helped it emerge from its long Cold War standoff with the US. Just once, he replies, but only for an hour at the airport, on a stopover. And then he continues down the line of journalists and camera crews all eager for their brief audience with the leader of the Roman Catholic Church.
On the Vatican trip to the Philippines and Sri Lanka, many of the Filippino journalists asked for Papal blessings and prayers for themselves or their families. On this visit too it's clear that some of the journalists are both devout Catholics and genuine fans. I overhear some live broadcasts in which they talk of 'amazing' or 'typically brilliant' speeches by Pope Francis - not descriptions you often hear from UK journalists, whatever their field.
In fact broadcasting about the Pope reminds me more of the journalistic rules for covering the royal family than of coverage of politicians by the Lobby - although both of those specialisms also have their own form of VAMPs, and flying with the royal family and the prime minister also seem to require a slightly more formal dress code than for most other journalistic specialisms.
Both the political lobby and the royal rota also require a certain amount of compromise by the journalists within each. Journalists, for example, know about events that will happen in the future and times or dates for those events which they are not allowed to disclose publicly until they happen. Members of both lobbies sign up for embargoes and depend on the official (parliamentary or Palace) acceptance of their credentials.
Perhaps I had been in the 'Papal bubble' for too long by the middle of the trip. On our arrival in Washington, our (superb) BBC camerawoman/editor Maxine Collins took a look through our unedited rushes and gave a derisive snort and a gasp of laughter. "You had the Pope right there in front of you - and you asked him about his travel?" she said, looking aghast. It was true. I had.
I explained, slightly shame-facedly, that when the Pope did his greeting or handshake at the beginning of the journey it was understood that this was just a courtesy gesture that allowed journalists to meet the Pope, and vice-versa. Not a time for interview-style questions, but simply a chance to meet and greet.
For the rest of the trip we worked hard on what other questions I could have asked. Favourite colour, perhaps? First car? Favourite Beatle? Actually, one journalist on the plane had wanted to ask that last question at the Papal presser, but was overruled.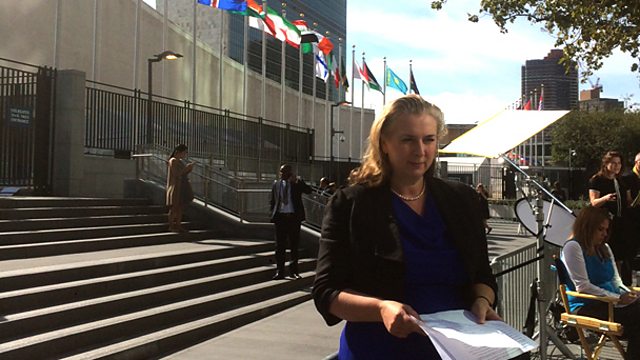 Outside the UN in New York
So was my easy question already a compromise? Self-censorship? Well, yes. And no.
There are plenty of chances to ask proper journalistic questions at each of the papal pressers on board the flights. Though, then again, that's the subject of another compromise.
Each language group among the VAMPs agrees one or two questions each on the subjects they are most keen to ask about. And those questions are not always easy ones. They are broadcast and on the record. And while they're the subject of immense discussion and debate ahead of the presser, I have not yet seen a serious question self-censored or over-ruled by the press officers on board the flight.
This trip included several tough questions over why the Pope had not managed to meet Cuban dissidents and whether Catholic bishops had been let off too easily over child abuse. Pope Francis answered them all, in full.
His press conferences on the plane often lasted up to two hours, as he elaborated on themes that sometimes make headlines - from the 'don't be surprised if you get a punch' if you insult what is dearest to someone, as he feigned a punch, in the context of the Charlie Hebdo attacks; to the phrase that Catholics should not 'breed like rabbits', in answer to a question on artificial contraception - an answer the Vatican later issued a clarification about, saying the Pope had not wished to offend those with large families. (Or indeed rabbit breeders, who also objected, although I am not sure the Vatican press office apologised to them.)
It's clear that the Vaticanisti are not afraid to broach difficult or controversial issues or worry about being thrown off the flight if they do. They are, however, respectful in the way they ask the questions of the Pope: always polite, and occasionally, yes, deferential. In that, it's a little more like the royal rota than the political lobby.
Dunroamin
After just a year of following the Vatican I couldn't say whether it was more difficult to ask tough questions of previous popes. But there's no doubt that this is a pontiff who loves to communicate, and can do so fluently in Italian or Spanish, using down-to-earth language and telling stories as he does so, usually about the people he has met and spoken to. He can communicate with a warmth, directness and humanity that is rare in any leader, secular or religious. That also commands the respect of the journalists on board. Although, perhaps disappointingly for the Anglo-Saxons, he rarely ventures his off-the-cuff remarks in English, although he does conduct Mass and give speeches rather more haltingly in his most recently acquired language.
In all, then, Pope Francis is, you might say, God's gift to journalists: a leader always happy during press conferences to explain, expand on a theme, to talk at length about the issues facing the Church and, more often than not, to give 'good copy'. He doesn't have a 'line to take' issued by a special adviser, and he doesn't talk in carefully tailored phrases so as not to offend any segment of voters or imperil operational security.
Perhaps that is part of his appeal to much of the public around the world, Catholic and otherwise, including some people of no faith at all who nonetheless like what he says on saving the environment and helping the poor and the dispossessed.
He appears to communicate the truth as he sees it, with an apparent openness that is rare in the leadership of any major global institution. As the CEO of the Roman Catholic Church, he has even spoken out without sugaring the pill to his 'middle managers' in the Curia about their own shortcomings, in his 'ills of the Curia' Christmas speech in 2014. Those ills included gossiping and attachment to fancy vestments. The speech apparently shocked much of his audience with its directness.
And on the whole, the journalists who cover the Pope are as robust a bunch as those who cover any other subject for a living. The members of the Anglo-Saxon press, UK or US, on board are perhaps more outspoken in their questions and attitudes, and perhaps take a more generally critical and nuanced view of the subjects they cover than the media of some other nations (with apologies for libelling many brilliant, fiercely independent journalists elsewhere). The New York Times is not known for soft-pedalling, and nor I hope is the BBC, although both have their critics.
Some of the coverage of the visit in the US did focus on the numerous child abuse cases that have bankrupted many dioceses and blighted so many young lives. Many journalists covering the Vatican have taken a closer look at what the Vatican has done to ensure that such abuse does not happen again, and tried to hold parishes and dioceses to account. And many journalists and parishes alike have concluded that much more must still be done to tackle such abuse.
Likewise, the Vaticanisti have also covered the Vati-leaks and other scandals over Vatican finances and the Church's attitude towards families, equal marriage and a host of other issues. However, it remains a difficult beat because many of those inside the Vatican are not nearly as communicative as Pope Francis, and some within this ancient institution are fiercely resisting change, and light being shed on the inner workings of a Church hierarchy that has lasted, unreformed in many crucial ways, for centuries.
It does, however, help to be reporting religion at a time when Pope Francis is trying to tackle many of those difficult and, for the Church, divisive issues. His own openness about the Church at the beginning of the 21st Century perhaps enables journalists to be as open in their questions as the Pope appears to be in his answers - and his own questions of the Curia.
But, then again, maybe I just don't want to give up my temporary accreditation as VAMP number 72? Or perhaps it is the case, as Humbert Woolfe so beautifully summed up in his epigram of many years ago, that:
You cannot hope
to bribe or twist,
thank God! the
British journalist.
But, seeing what
the man will do
unbribed, there's
no occasion to.