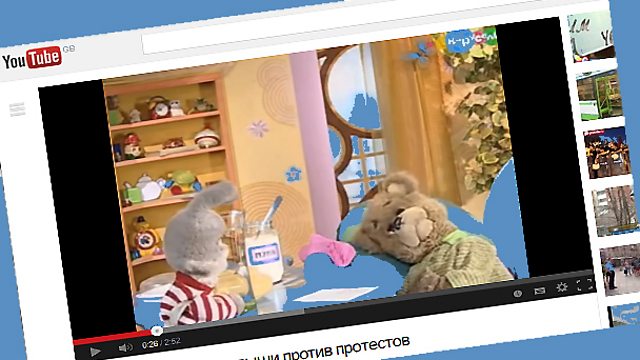 One of Russia's best-loved children's programmes has come under fire from opposition activists after allegedly parodying the anti-Kremlin protest movement.
It all began when Little Hare Stepashka - one of the stars of state TV's Goodnight, Little Ones - asked Teddy Bear Mishutka to help out in the kitchen.
Mishutka was tired and did not want to help. He was also offended at Stepashka's lack of sympathy. "I'm holding a protest action, a lie-down one - a strike against unfriendly treatment," Mishutka huffed.
Stepashka was non-plussed. "What is a protest action?" he wondered. Presenter Oksana Fedorova was on hand to sort things out. "This is when someone disagrees with someone, and, see, he starts protesting," she explained.
But Oksana was not impressed by Mishutka's protest, and she and Stepashka set about making cakes. At the word 'cakes' Mishutka quickly sat up. "I'm tired of protesting," he announced. "I want to make cakes with you."
The show quickly sparked a debate on social media where opposition users detected clear signs of political bias.
"Now Goodnight, Little Ones has joined in the propaganda," wrote blogger Rustem Adagamov, who played a prominent part in the protests following the disputed parliamentary election in 2011.
Journalist-activist Arkadiy Babchenko told readers of his blog that he and his family had stopped watching Goodnight, Little One a long time ago. The "zombie-box" (television) is for "vegetables", he said.
Others were more light-hearted. Twitter user Gera Chechen quipped that Mishutka had already "applied for political asylum in England, the USA and countries in Eastern Europe".
To opposition activist Roman Dobrokhotov the programme's message was clear: "If you start protests, you won't get any cakes."
But popular microblogger Kreutzwald thought it could be more subtle. For some reason no-one has noted the significance of the fact that the "rebel and dissident" was Mishutka, the teddy bear, he tweeted - a clear reference to Prime Minister Dmitriy Medvedev, whose name is based on the Russian word for 'bear'.
The programme-makers say they are "shocked" at the reaction to Mishutka's protest. "I assure you that we did not intend any hidden meanings," spokeswoman Yevgeniya Khludentsova told Ekho Moskvy radio.
She also said that this is not the first time Goodnight, Little Ones has been embroiled in political controversy. In the 1960s, a cartoon about a roving frog was seen by some as a parody of Soviet leader Nikita Khrushchev, who was doing a lot of travelling at the time. "There was even talk of closing the programme down," Khludentsova said.