Deadline day is approaching for BBC journalists wishing to apply for the latest University of Michigan and Reuters Institute Fellowships. Richard Lawson from the Reuters class of 2011 gives a flavour of what the new intake of fellows can expect - and a few tips for anyone planning to apply. The closing date for both schemes is 22 March: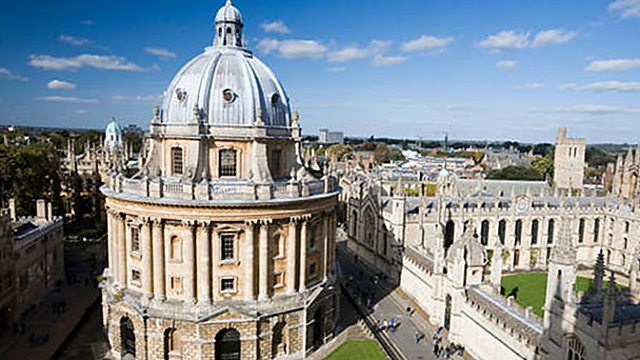 Anyone who's done a journalism fellowship will tell you there are moments when it's just pretty surreal to be back at university.
This was especially acute for me as I'd been an undergraduate at Oxford nearly a decade before I came back as a fellow at the Reuters Institute. Callow memories lurked around every street corner - good, bad and invariably drunken - and, though the coffee was better and the students now seemed to spend all day on Facebook, almost everything else was as I remembered.
Still, that was only the surroundings. Doing a Reuters fellowship wasn't some exercise in nostalgia and regression but one of the best experiences of my professional and personal life.
I was the only Brit on the programme, surrounded by fascinating, provocative and impressive journalists from all over the world. In my one term there, in late 2011, I had co-conspirators from Finland, Austria, Italy, Burma, Egypt and Romania.
We spent the first month getting used to being removed from our newsrooms - an enormous and rather alarming jolt to the system as the daily fix of news and deadlines was brutally removed. Then, for the next two months, temporarily freed from our shared addiction, we got stuck into thinking about journalism from first principles again.
We argued passionately about what our profession should stand for. We swapped stories from the field; we thought long and hard about our own individual ethics; and, above all, we talked a lot about what the shape of journalism was likely to be in the difficult years and decades to come.
The debate was robust and rooted in the real world - and, while a lot of these conversations happened spontaneously, in cafes or at the pub, the Institute does a very good job of helping to inspire them through three excellent weekly seminars.
The first is given by a journalism fellow (I talked about my experience of being an output editor at the World Service during the London riots). The second is by an influential figure from the British or international media (where the calibre of speaker is incredibly high). And the third is by a key player in British public life (for instance, the then head of the UK Civil Service, Gus O'Donnell, came and spoke to us at length).
There's no formalised teaching here and you cover a bewilderingly wide range of journalism-related subjects (in my term this included new models of digital journalism, phone hacking, the state of newspapers in Burma, the relationship between NGOs and journalists during humanitarian crises, and so on). Thinking about it now, I'd like to think I gained an enormous amount of confidence from having the chance to discuss journalism at such a high level.
The other - perhaps more traumatic - aspect of the fellowship is the 10,000-word research paper. Fortunately, I loved working on mine, where I explored how the BBC, Al Jazeera English and CNN covered the death of Osama Bin Laden, and how each one tried to be impartial in its own way. I enjoyed meeting and interviewing journalists outside the BBC, and was grateful for the opportunity to spend lots of time reading about my subject in Oxford's ravishingly beautiful libraries.
But some of the other fellows found the process more challenging, perhaps because the Institute was keen for us to engage with academic research. If you're hostile to the very idea of this, the programme probably isn't for you. If you're open-minded about it, however, there's excellent supervision and support from the Institute throughout, and in the end almost everyone wrote something impressive.
The Reuters Institute stands at the crossroads between journalism and academia: a research paper can fall more or less anywhere on the spectrum between the two.
So what's my advice for anyone thinking of applying for the Reuters fellowship? In short: just go for it; if it fits in with your personal circumstances. I suppose deep down I was hoping it would give me a new lease of life, and in many ways it did just that.
The Institute gives you new ideas and contacts; it makes you realise how distinctive and valuable the editorial culture of the BBC is; it allows you the time to ask lots of questions about how you do your job on a day-to-day basis; and - without wishing to tempt fate - I do seem to have had a little more luck with the dreaded BBC board system since doing it.
You should make sure you plan your research carefully before you get there, as writing a research paper is fairly intense and you don't want to be doing it once you're back on the BBC rota. Make sure that your proposal is something you really care about (this sounds obvious but I saw one or two fellows struggle with this, at least at first).
Talk to BBC colleagues and to the Institute itself (which has several former BBC people on its staff) before you apply and (if you're accepted) before you go there. Above all, you owe it to yourself to investigate further.
How to apply for the Reuters Institute and University of Michigan Fellowships