Journalists at Norway's largest tabloid newspaper, VG (Verdens Gang), didn't have to imagine the trauma of the explosion which rocked central Oslo on the afternoon of 22 July 2011.
It happened right outside their office.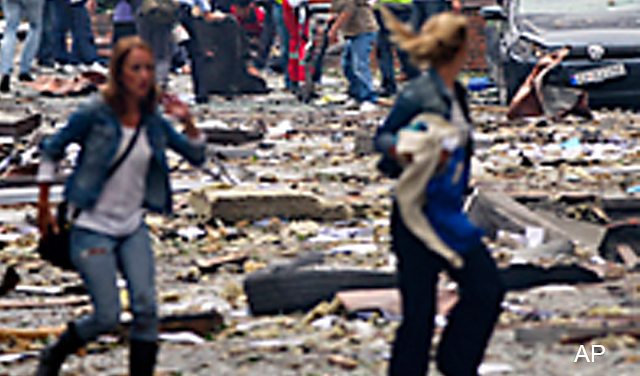 Aftermath of the Oslo bomb
The blast detonated by
Anders Behring Breivik
blew out windows at
VG's
headquarters, but much worse was soon to come.
A few hours later Breivik opened fire at Utøya Island, killing 69 people.
Executives at the newspaper knew the events of that day were likely to have a profound affect on their employees and immediately set up a programme of compulsory psychological counselling. "We had crisis counsellors available from day-one," VG's executive editor, Helje Solberg, told me.
"One-on-one therapy was mandatory for everyone. We also had meetings with all our staff where we talked about what had happened.
"The bombing happened near our offices and staff working there were affected, but it was also very demanding for journalists who were talking to the families of those who were killed. Those people also needed follow-ups.
"There were quite a few very young journalists working with us just for the summer and they needed special attention. Some of them knew people who had been killed."
One-hundred-and-twenty people working for VG saw therapists in the immediate aftermath of the Norway tragedy. Three months on, a small number are still receiving help for symptoms such as insomnia, anxiety and flashbacks.
Helje Solberg says staff welcomed the opportunity to talk about the events of 22 July, even though the counselling was compulsory. "I haven't heard a negative word about it because it was so obvious that we needed it," she says. "People have really taken care of each other and it has brought the organisation together as a team."
Most large news organisations now recognise the importance of equipping staff properly for the physical dangers faced in hostile environments; they provide flak jackets, helmets and safety advisers. Some in the news industry, however, feel the potential risks to the mental well-being of journalists are too often overlooked.
"We tend to focus a lot on journalists getting physically injured - and that's a real possibility - but we can forget the possibility of psychological injuries," says Gavin Rees, Director of the Dart Centre Europe for Journalism and Trauma.
"We as journalists talk to people about very harrowing things that have happened to them and we expect them to be emotionally affected. But there's a certain old-fashioned school of journalism that thinks somehow the reporter is Teflon-coated and won't be similarly affected."
BBC News has recently reviewed its training and is now offering new two-day courses in how to implement the Trauma Risk Management or TRiM system. A range of trauma awareness resources are also available to BBC staff via the Gateway intranet.
First developed by the Royal Marines, TRiM training teaches non-medical professionals how to provide peer support to each other.
The potential for post-traumatic reactions after an incident like the Norway tragedy, or after an extended deployment to a hostile environment, are obvious. In other situations, however, the triggers can be more subtle, but just as psychologically damaging.
"There are an awful lot of stories that can potentially have an impact on journalists," says Sarah Ward-Lilley, the BBC's Deputy Head of Newsgathering.
"You might have a reporter in local radio who finds themselves first at the scene of a house fire or a road traffic accident. That can have a profound effect on them, but they may not have had any preparation for that.
"We're also making sure managers understand what trauma is and what it isn't, and making sure they're not frightened to talk about it."
Sarah Ward-Lilley insists most people exposed to traumatic incidents find their own ways of recovering without needing professional help.
TRiM training, she says, is designed to complement rather than replace these individual coping strategies. "The last thing we want to do is change the natural processes that go on," she says. "The thing we need to do, however, is make sure we don't miss the people who haven't got a coping mechanism; who when they come back from a difficult story have got stuck somewhere that isn't good for them or who have been changed in some way."
Patrick Howse, a senior broadcast journalist with World Newsgathering, is one of the first BBC employees to complete the TRiM training course. "It's excellent," he says. "It basically comes down to keeping an eye on your mates and the people you're working with.
"It's extremely important that we all look after each other and try to help each other. It has to be a collective effort.
"The TRiM system gives you tools to do that.
"It's more than just a concerned fellow colleague sitting down and putting their arm around you. It creates a safe, impartial and non-judgmental framework that won't influence your salary or your next deployment."
From Libya to Afghanistan, and in countless domestic news stories, journalists are exposing themselves daily to potentially traumatic experiences.
Patrick Howse believes the news industry needs to take the issue of psychological well-being seriously if it is to avoid an epidemic of mental health problems in the years ahead. "We face an awful lot of trauma in this business and there's a lot of damage being done to people," he says. "Some people really get it, but some people are either in denial or think if you can't cope you should get another job.
"If you're asking people to do more, you've got to look after them."