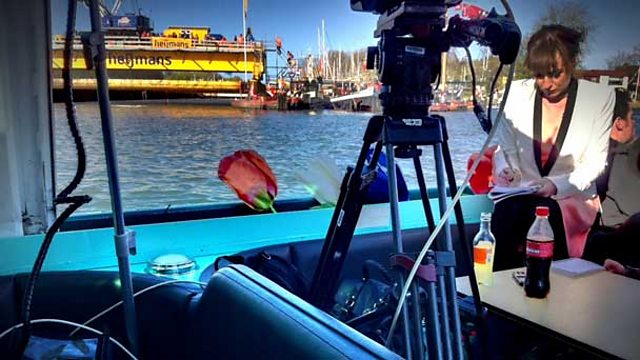 It was the biggest date in the Dutch calendar, only this year a new king would be sworn in too. Willem-Alexander was to be crowned - though not literally - and become the youngest monarch in Europe following the 33-year reign of his much-loved mother, Beatrix.
Queen's Day in Amsterdam promised to be a spectacular occasion with the population of Amsterdam expected to more than double - crowds of 1.6 million festooned in patriotic orange, representing the Royal House of Oranje Nassau.
The question was: how could we, the BBC, do things differently to make our coverage stand out amidst the 1,000-plus other journalists who'd signed up to attend? Answer (courtesy of the creative South Asia editor Jo Jolly): broadcast from a boat.
A clever concept but its implementation required some progressive technological thinking.
Did the technology exist to make this possible? Mark Tyrrell, BBC Newsgathering's resources and development manager, said: "Oh yes," recommending WMT kit, similar to the more commonly used (and more catchily named) 'Live U'.
These kits are part of a new generation of bonded 3G backpacks, and they work by sending feed into separate servers in the BBC's Master Control Room (MCR2). The technology has phenomenal potential to enhance our coverage of live events.
Mark Tyrrell describes a trio of benefits: "It's about flexibility: you're not carrying that much kit. Freedom: you can roam and you're not tied down by the limitations of a radio cam which relies on a stationary SAT truck. And simplicity: once it's all set up, it's one button to turn it on, one cable between the camera and the backpack, and one person to operate…"
The WMT backpack made its BBC debut during the Olympic torch relay, but we'd never used it on water. Crews use a SAT truck/radio cam combination to cover the Oxford Cambridge boat race, for instance.
For Queen's Day we had been invited to join a royal river pageant, but our SAT truck was in lockdown with the main BBC World News crew in the centre of Amsterdam. Plus there would be no assurances of how far we would be sailing down the river; a SAT truck signal might not stretch the distance.
We put the WMT backpack through its paces on a ferry test on Amsterdam's IJ waterfront - planned location of the royal pageant. It connected perfectly. MCR2 could see and hear us with only a negligible delay.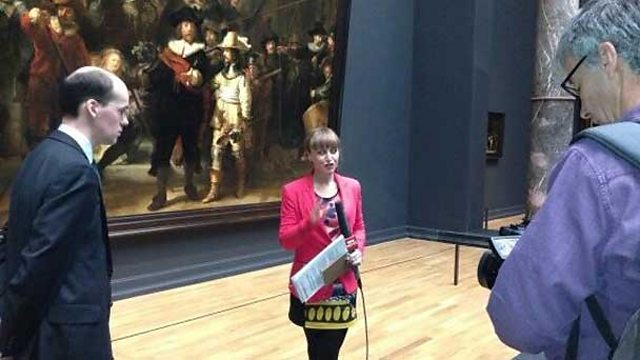 The next day, the city's famous Rijksmuseum was re-opening - a fortuitous opportunity to see if it would be good enough for live TV. Standing in front of Rembrandt's exquisite 'Night Watch' (above) looking into a camera that would send the live shots back into London's New Broadcasting House, and internationally on BBC World News and the BBC News Channel, I was almost as in awe of the technology as I was of the art - almost.
The email from BBC World assignments editor Matthew Shaw confirmed the broadcast quality: "Fantastic stuff, it looks amazing."
Our first location on Queen's Day was Dam Square. We were outside the Royal Palace and New Church, scene of the abdication and investiture of a new monarch, along with a 20,000 capacity crowd all frantically Facebooking and tweeting. Our iPhones were only getting sporadic signals, which meant no communication or 'talkback' with the gallery in London.
The 3G backpacks are technically eight mobile phones all operating together. One of the main risks, according to Mark Tyrrell, is sharing a public network - and in this instance a very busy one. The 3G network was not reliable enough to broadcast on, so our backpack depended instead on its 4G inserted SIM cards.
For talkback, heroic Brussels-based senior producer Piers Schofield produced a battered old Nokia that would (apparently) resort back to the 2G network - yes, the one that everyone else has abandoned. He too was impressed with the operation: "This small backpack with a large extendable antenna meant we were fully mobile. Cameraman Nick Woolley extended the antenna and had the live shot ready within two minutes. On the virtually empty 4G spectrum, we had a live TV picture comparable to a satellite truck - and infinitely cheaper."
Nick Woolley, a BBC cameraman more familiar with war zones than royal river pageants, turned his immense dexterity to setting up our portable studio in a corner of the boat; surrounded by (genuinely) dancing Dutch policemen who were equally intrigued by the technology.
And then, with me perched on the edge of the boat, we were broadcasting, live, doing headlines and talking into packages on World News and the News Channel; from the water, on a boat behind the newly enthroned royal family - showing audiences the same view that the royals were enjoying, in full HD and in real time.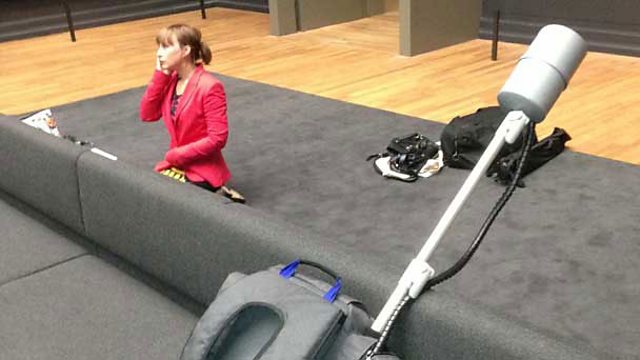 So what are the possibilities for the future?
"It swings right back at you as journalists," laughs Mark Tyrrell. "You need to think about how to be creative and intelligent to maximise the potential. Understand under which circumstances it would benefit the broadcasting - think about the freedom it gives you, without the cumbersome nature of a SAT truck."
Matthew Shaw adds: "In Amsterdam, we could put on a great World co-pres with a satellite truck but now had the ability to inject a real feel for the event from the perspective of the thousands of people crowding the streets and lining the canals. Live U is transforming the way we report stories across the world."
So how does it compare in terms of cost? Each backpack costs between £12,000 and £15,000, and then there's the cost of running eight SIM cards. If you get an 'all you can eat' data package on a monthly contract, the cost per hit will be reduced each time; an extra incentive to get out and get creative in the field... or, well, anywhere.