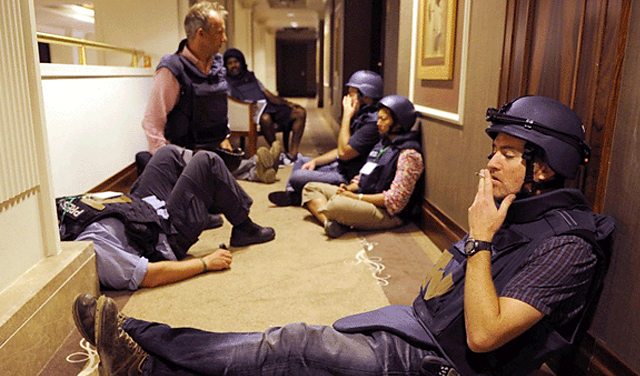 Journalists in the corridor of the Rixos Hotel, Tripoli, Libya
In the age of 24-hour news, every war needs a media star. In the early days of rolling news it was Peter Arnett of CNN. A decade later, John Simpson was credited with "liberating" Kabul from the Taliban. In 2003, Rageh Omaar's reports from Baghdad earned him the soubriquet the "Scud Stud".
In recent days, as power in Libya has slipped from Colonel Gadaffi's hands, the standout performer of the news channels has undoubtedly been Alex Crawford of Sky News.
On Sunday and the days since, Crawford - not forgetting her team of Garwen McLuckie, Jim Foster and Andy Marsh - has provided riveting live coverage of the rebel advance into Tripoli.
In his book Frontline, my colleague David Loyn wryly notes that "American television crews travel abroad with the same amount of kit as a major imperial expedition of the 19th century or indeed the ancient army of King Darius." Crawford and her team have scooped their rivals using little more than a laptop and a small BGAN satellite dish powered by a car cigarette lighter socket.
Crawford's reporting has unquestionably been world-class. She has been praised by all sections of the news industry, including many people who would normally be considered rivals. A shower of awards will surely follow, to add to her three RTS prizes - and rightly so.
But let's not lose sight of the fact that war reporting is not a game of football in which there are 'winners' and 'losers', title contenders and bottom-of-the-league strugglers.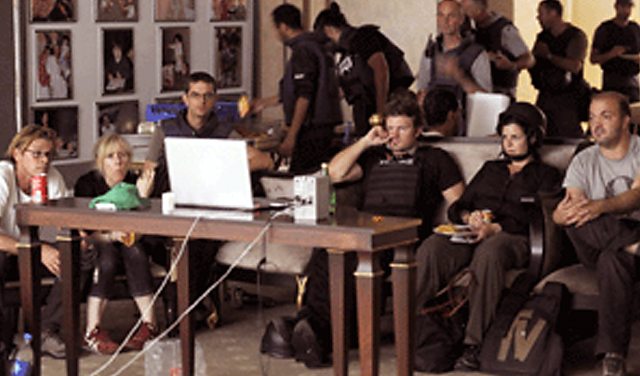 Journalists at the Rixos Hotel, Tripoli, Libya
While Alex Crawford was broadcasting from Green Square on Sunday night, my colleague Matthew Price was hemmed in with his team at the Rixos Hotel (above and left)
as fierce fighting continued outside the building
.
Flipping between the news channels, the political commentator Iain Dale posted a tweet of almost breathtaking ignorance. He described Price as a "wimp" for wearing his flak jacket inside the hotel, speculating that "he's been told he can't go out because of 'Elf and Safety'."
Earlier this year, Matthew won the Sony Gold Award for News Journalist of the Year. He has two Emmy nominations to his name. Dale's comment prompted an immediate Twitterstorm.
To his credit, Dale made a swift and unreserved apology and took up my suggestion of making a donation to the Rory Peck Trust, a charity working to support the welfare of freelance newsgatherers. 
The deteriorating and increasingly volatile situation in the Rixos since Sunday has highlighted the stupidity of Dale's ill-considered tweet.
Arguing over which broadcaster is 'winning' the Battle for Tripoli may be fine sport from behind the shelter of a laptop screen. In the real world, however - outside the hothouse atmosphere of Twitter and blogs - journalists are putting their lives on the line in the most perilous circumstances - as Rupert Wingfield Hayes' report from the Libyan frontline made vividly clear. According to Reporters Without Borders, almost 40 journalists have been killed so far this year.
In the fevered and competitive world of 24-hour news it's inevitable that comparisons will be made between each network's coverage. But, please, let's leave the post-match analysis of which broadcaster 'won' the media war until all our friends and colleagues working in harm's way are home safely.