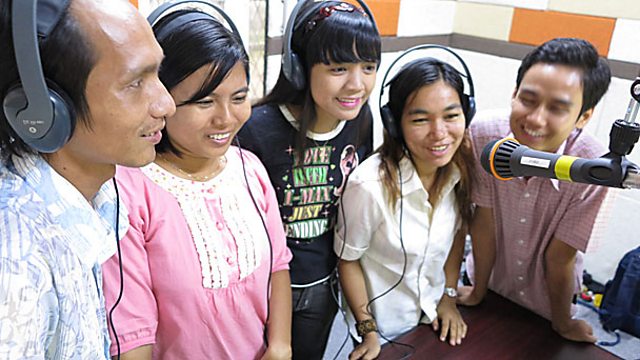 When I first arrived as a journalist in Burma in 2008, our newspaper, the Myanmar Times, like all publications, underwent censorship. It was a time-consuming and clumsy process.
Every Saturday night we waited for the Press Scrutiny and Registration Division under the Ministry of Information to read the draft of the newspaper and strike out articles, headlines or photographs it disliked.
It used thick felt-tip pens. We'd use this mutilated copy to adjust the paper before it was printed, enlarging photographs and adding less sensitive articles to cover the news gaps. But after nearly five decades this heart-breaking process ended.
On the evening of the announcement last August, I met with some of the young Burmese journalists I now train through the BBC's international development charity BBC Media Action. One explained: "I'm so happy. It means more freedom. I am braver to hold the pen and write now."
Once infamous for locking up journalists, bloggers, poets, and for censoring everything from hip hop lyrics to artwork, Burma (officially known as Myanmar) has seen democratic reform on an unprecedented scale. The end of pre-publication censorship was one incredible moment in a year of unbelievable moments for press freedom. A new press law was drafted; independent press associations were allowed to form; journalists were released from prison while others, including many of our BBC colleagues, were allowed to enter the country to report officially for the first time.
As one young trainee journalist explained: "If you published news that the government didn't want, it would threaten: 'We will raid your office tonight!' Now those kinds of things no longer happen."
The growth of BBC Media Action's work inside Burma has coincided with these changes. At the start of last year we met more than a hundred young people in villages and cities across the country to ask them what media they trusted and listened to and what issues concerned them most.
With this information we began the youth radio show Lin Lait Kyar Sin (in English, Bright Young Stars - whose production team is pictured above). It's an opportunity for young Burmese to discuss their concerns, such as finding a job, problems about drinking, sex before marriage, how to prepare for exams, and how young leaders are pushing for peace in the country.
As the country opened up, BBC Media Action began to run broadcasting workshops for newspaper journalists and FM presenters. Out of these training sessions we produced Lin Lait Kyar Sin with the BBC Burmese service, reaching 7 million Burmese on short wave radio.
Alongside face-to-face training, we launched a six-month online journalism course. An incredible group of experienced Burmese editors became mentors for 50 young Burmese journalists who logged onto courses each week and submitted assignments for grading and comments.
After years without formal journalism training and support, much more is needed. Self-censorship is still common; the fear of court cases against journals and newspapers is growing; the influence of corporate and political interests is a worry; and more work on media legal reform is required. Indeed, the journalists we work with are still cautious about the changes. "We have been let out of one cage," they say. "Now we are in a larger room but maybe we are in a jail nonetheless. We still don't know."
At the start of 2013 the government dissolved the Press Scrutiny and Registration Division. That same week, on the tree-lined street that once housed it, BBC Media Action's office opened its doors.
Every day, as we walk past the gates of the now defunct censorship board, discussing upcoming stories, what training is essential or how we'll source equipment for the new radio studio which will be used by BBC colleagues reporting from Burma, I'm reminded of how far things have come. A space has opened up and there are many dedicated and talented Burmese journalists ready to take advantage of it.