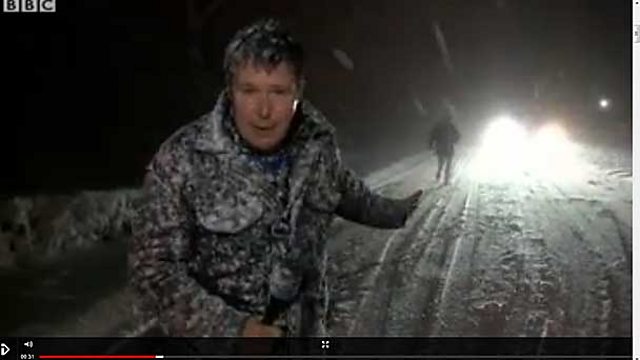 Yes, of course, we knew there was snow on the way. The Met Office had put the West Country on amber alert - and the BBC1 News at Six wanted an item for the Wednesday bulletin about the incoming white stuff
But in the middle of the afternoon we faced a significant problem: no snow. Cameraman Andy Alcroft, satellite operator Phil Morse and I sat in our vehicles at Taunton Deane service station in Somerset glumly looking up at the skies as nothing but raindrops fell. Hmmm.
We consulted BBC West's weather guru, Ian Fergusson, who was examining his radar maps at a desk in the Bristol newsroom. "Ian, we need snow at six. Where should we go?" Quick-as-an-English-summer-is-over, he answered: "The Mendips."
I've always had every faith in Ian. I trust his judgment implicitly. But as we drove 15 miles north through warm, green fields I really wasn't convinced he was right this time.
And then it started.
At 4.30pm, just as we arrived on the Mendips, giant flakes the size of feathers started sticking to anything they touched.
We pulled off the A39 and put our vehicles in a pub car park. All things considered, we thought we'd be fine. The A39 is a busy main road which the snow-ploughs and gritters always keep moving. The car park was nice and level so we assumed we'd get out easily straight after the Six. We'd all had a health and safety snow briefing the week before. Just in case.
We cut a short package, fed it to London from the truck and then set up for a live 'hit'. It all went well and I thought I'd be home in Bristol by 7.30pm to watch Borgen on my sofa.
Wrong.
Half-way through the Six broadcast we realised how quiet it was out on the road. It slowly dawned on us that no traffic had driven past for several minutes. A few more minutes passed. Still no traffic. There was clearly a problem. In both directions.
A farmer stopped and told us he'd been forced to turn back from a trip to Wells because even his 4x4 was struggling in the snow. A bus appeared from the opposite end of the road. Its driver had also abandoned his journey. We were at a busy cross roads but we couldn't travel in any direction. The irony wasn't lost on any of us.
The pub was obviously a good place to start. A couple of 'committed' villagers were inside sipping their pints. We sat down, chatted to them and had a think.
With the snow now over a foot deep - and still falling - our priority had to be getting to safety. The trouble was we were in a very remote spot: a couple of houses surrounded by miles of open countryside. The landlord didn't have rooms but he said we could sleep on his floor. We looked at the carpet and decided we'd rather try to escape…
Andy's edit van had been fitted with special winter tyres so that would clearly be our best option. We loaded our crucial kit into his van (camera, tripod, editing laptop, my hair wax) and gently pulled onto the road.
We managed to drive for about five minutes before we came to a long line of flashing hazard lights. None of the drivers could get any further. And neither could we. The hill was too steep and covered in too much snow.
Andy and I got out with the camera, gathered some shots, interviewed some stranded motorists, recorded a piece-to-camera, and decided the best thing was to head back to the pub car park. At least we knew we would be able to sleep there - even if it meant lying on stray pork scratchings.
We checked to see if any of the other drivers had medical needs - or if they simply wanted to come with us. They all wanted to wait in their cars until a snow-plough came to clear the road. We made sure that they had alerted the police about their location and situation - and then, in true journalistic style, we headed back to the pub.
Sadly, a Somerset real ale was the last thing on our agenda. We had work to do. Four hours after sitting in the rain at that service station we now found ourselves right in the middle of a news story.
En route I filed pictures and lines of copy into Quickfire (the BBC's internal news system which goes to all outlets). Andy drove. I did a couple of quick phone interviews for Local Radio and BBC Radio 5 Live and started writing a voice piece which I would file into Radio Traffic as soon as we got back to the truck.
Surprisingly, given our location, Andy managed to get a faint 3G signal on his dongle, which meant we could create our own little wi-fi cloud in the edit van and send pictures and audio material back to London even before the satellite truck was powered-up.
Looking at Andy's cracking pictures we knew we had all the elements for a good report. Especially his shots of a young woman, covered in snow, walking home down a country lane after her car had broken down. My nose-dripping piece to camera looked pathetically wet and miserable - but this was no time for vanity. It told the story. We spoke to the Ten O'Clock News team, described what we'd gathered - and got cutting.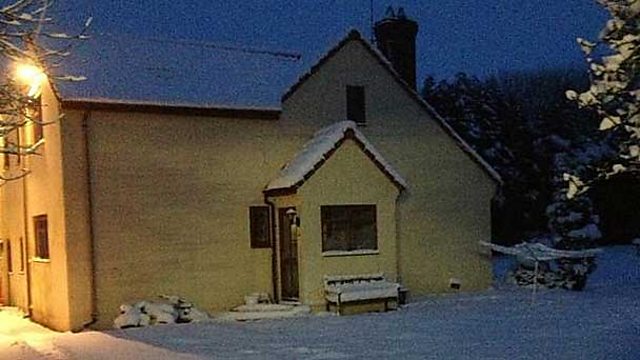 Sluijmers family farmhouse where Jon Kay sheltered overnight
While we'd been driving earlier I'd spotted a sign that said "PINELEA" (above) at the end of a long drive. I rang Kirsty Gardner, our bureau editor back in Bristol, to see if she could find out who lived there. Within 30 seconds of logging onto the Electoral Roll she had the name - and then the phone number - of the farmer.
I called him and explained our situation. Without hesitation he agreed to come and help us, and offered us a room for the night. He wasn't the only one. Our reports on Local Radio, 5 Live and Twitter resulted in more offers of assistance. People with four-wheel drives rang in saying they would come to the rescue. The power of the BBC! 
With Phil in charge of our Upod truck, we filed our piece for the Ten, sent some more material back to Points West in Bristol and Breakfast in Salford for the following morning, and did a live 'top and tail' for the bulletin. Then finally Phil lowered the snow-smothered satellite dish and we started trudging across the fields to our temporary farm house home.
The farmer and his family were incredibly kind. They'd made up three beds for us in their spare room. We explained what had happened. They listened, smiled - and clearly thought we were idiots. Then we crashed out and went to sleep.
By the time we woke up the next morning the snow had stopped falling, the road had been cleared and we knew we would be able to get out. But before we did there was one last request. BBC Breakfast - where I sometimes work as a presenter - wanted me to do a short live piece about what had happened to us. Susanna Reid's opening question was a killer: "Jon, didn't you read the forecast?"
It was a good question and it started an interesting debate on Twitter about journalists deliberately heading INTO a story and then becoming part OF the story. Some Twitter users accused us of being "stupid" and "selfish" - potentially putting ourselves in a situation where we might have needed help from the already struggling emergency services. Others said our reports had conveyed the danger and power of snowfall in a way that we sometimes struggle to do because we are rarely in the 'right place'.