Almost two years ago I became interested in how Twitter accounts could act as channels for instant communication to a self-selected audience. I wanted to see if I could create audiences without spending hours - or rather seconds many times over - doing all the tweeting.
So I set up Twitter accounts that were fed with content automatically. I used keyword searches that would deliver stories about particular subjects direct to Twitter without my having to do anything. Twitterfeed is an amazing service - even if you only want to provide yourself with news about a certain subject.
With the latter in mind I started with six accounts offering news of technology companies such as Amazon, Facebook and Microsoft. I then added some more topical ideas: an account for the London Olympics in the run up to summer 2012, and one with news of Facebook's coming stock market flotation. Finally, I went local, with three accounts for news of my area in south-west London.
Weekly, and then much less frequently as I got bored with the experiment, I recorded the number of followers of each account. I finally stopped checking altogether more than six months ago.
Then last week I took another look. All this time the accounts had been tweeting away happily, with or without an audience. Here's what I found: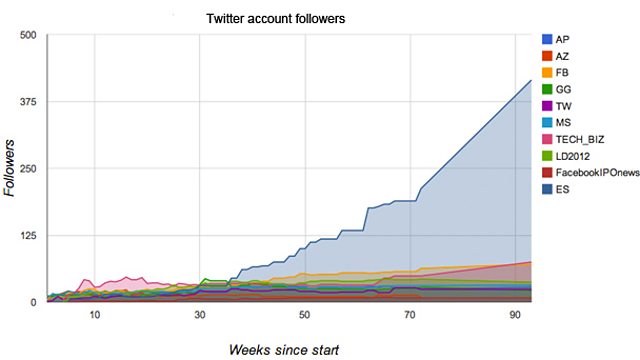 Of the 10 accounts I'd been tracking, only one had taken off: East Sheen News (the blue ES line on the graph) has left the rest dead in the water.
OK, it's still only got 417 followers, having sent out more than 2,000 tweets, but that's not such a bad result. Consider its competitors: East Sheen Village, run by a local shops group, has 198 followers; East Sheen Primary, the local school, has 73; and Sheen Shufflers, a running club, has 253.
Two others that I started afterwards, Mortlake News and Barnes News, have also beaten all the rest - with 225 and 257 followers respectively.
So why have the local accounts taken off? Perhaps through a lack of competition. I have unwittingly chosen three of the local paper's smaller areas and offered each something more specific than a money-making news operation can be bothered with. So The Richmond and Twickenham Times has a Twitter account with 4,699 followers but covers a much larger area. Per head of population in my areas, my accounts may not be too far behind, despite costing nothing and having almost no person-time spent on them.
When I looked at the local accounts again I felt a bit guilty: people had been sending messages I hadn't responded to; asking for retweets they never got. I wonder if people realise these are automated accounts? And would they object if they did?
Sometimes, when I was taking a more active interest, I responded to 'complaints' about stories that had been tweeted when a keyword had produced something that was nothing to do with the area. For instance, one of my search terms for the East Sheen account is 'Richmond Park'. That resulted in a link to a court report about a case in Bournemouth because of a reference to a Richmond Park Road in that town.  
I got a tweet asking "is this feed run by a bot that thought it was local?" I hope the questioner was surprised to get my cheery reply: "Yes... most of the tweets are picking up search terms I've entered: you're right about the problem on that one!"
But to offer more of a chance for feedback, I have now asked for responses to a 'confession':
Would like to know if you realised tweets here are generated automatically & do you care?
Here's what I got back:  
it is news to me, but actually doesn't bother me at all. I guess some might, if they thought they were communicating with a person
and, more sceptical but still not particularly concerned:
Qu[estion] is what's aim of the account. Would query whether enough local news content to link to automatically, need to generate own           
Well, yes, that would indeed by better. But if what's on offer is better than nothing then it still seems worth doing.