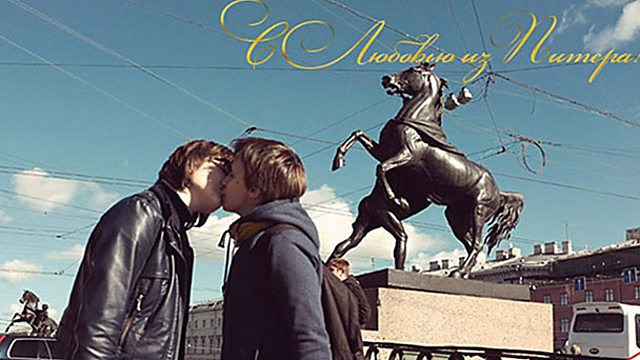 As Moscow
prepares to pass legislation
that would ban the promotion of homosexuality among children, a number of liberal Russian magazines and websites have challenged the widespread homophobia in the country with a series of special editions and campaigns in support of the embattled gay community.
The cover of the issue of the popular arts magazine Afisha that hit the newsstands on 25 February was emblazoned with the colours of the rainbow flag - the international symbol of the LGBT (Lesbian, Gay, Bisexual and Transgender) pride movement. In the bottom left-hand corner was the following quote: "I don't like it when people accuse me of something for which I'm not to blame. I can't stomach it when they treat me like dirt. I can stand up and say: It's not going to be like this any more."
These defiant words come from an interview with Aleksandr Smirnov, a 39-year-old gay man from a small town in the Russian Far East who now works in the municipal government in Moscow. In it Smirnov talks about his hard struggle to come to terms with his sexuality and his fears for the future. He says he is "aware that after this material is published I may be sacked".
This was one of 30 interviews with gay men and lesbians from various walks of life that formed the centre-piece of Afisha's special gay edition, which was published a month after Russian MPs passed the first reading of a bill that would introduce fines ranging from 3,000 roubles (100 dollars) to 50,000 roubles for individuals and officials found to have been "promoting homosexuality among minors".
The other interviewees included mechanics, engineers, health workers, IT specialists, a confectioner and several journalists. Two of them hold senior production and editorial posts at the niche liberal TV channel Dozhd.
The rallying of Russia's liberal media to the cause of gay rights began in the spring of 2012 when the 'homosexual propaganda' bill first went before parliament, and when Russia's second city St Petersburg passed its own law banning the promotion of 'homosexuality and paedophilia'. A number of other Russian cities have similar laws on their statute books.
In April 2012 the metropolitan magazine Bolshoy Gorod ran a feature canvassing opinion among the gay community and its supporters about the likely impact of the new laws. This February it returned to the subject, running a special 'gay week' on its website. It listed five reasons for the initiative including the need to help gay teenagers, who feel "scared and humiliated" growing up in a "homophobic society".
Six months earlier the small independent website Colt.ru had hosted a 'gay day' which included a witty riposte to St Petersburg's 'homosexual propaganda' law - a series of nine photographs of gay and lesbian couples kissing and embracing in front of some of the city's best-known historic landmarks, including the bronze equestrian statue of Peter the Great (pictured above), the Aleksandr Column outside the Winter Palace and the Kazan Orthodox cathedral.
Bolshoy Gorod and independent political weekly The New Times also enlisted Russian celebrities in the struggle against homophobia. As in the US 'It Gets Better' project, journalists, actors and musicians offered words of advice or encouragement to their young gay compatriots. But unlike in the US version none of the Russian celebrities who took part was gay, at least not openly.
In fact, no major celebrities or politicians in Russia are openly gay. This is because a public 'coming out' would be tantamount to professional suicide, as journalist Anton Krasovskiy recently found to his cost.
Krasovskiy was hosting a debate on the 'homosexual propaganda' law on Kontr-TV, an internet TV station thought to be funded by the Kremlin, when he declared: "I am a homosexual. And I'm just as much of a human being as you, the same as our president, the prime minister and other people in the presidential administration or the government."
A few days later he was out of a job. Technically, Krasovskiy resigned, but he was clearly forced out - Kontr-TV had already removed all his programmes from its site and closed down his email account.
The absence of gay people in public life is indicative both of official disapproval of homosexuality and widespread homophobia in Russian society, which has been fuelled by the reassertion of Orthodox Christian values in the wake of the Pussy Riot controversy - the trial and conviction of members of a feminist punk band for staging an anti-Putin protest in Moscow's main Orthodox cathedral.
State TV has played its full part in this reactionary backlash. For example, in a recent report about plans to legalise gay marriage in France and the UK, one of official channel Rossiya 1's crop of keen young reporters, Olga Skabeyeva, told viewers: "If we are to believe the statistics, 40% of children brought up by homosexuals have venereal diseases."
Given this sort of thing it is hardly surprising that, according to a recent poll, three-quarters of Russians think that homosexuality is an illness or some kind of aberration. The same poll found overwhelming public backing for the law banning 'homosexual propaganda'.