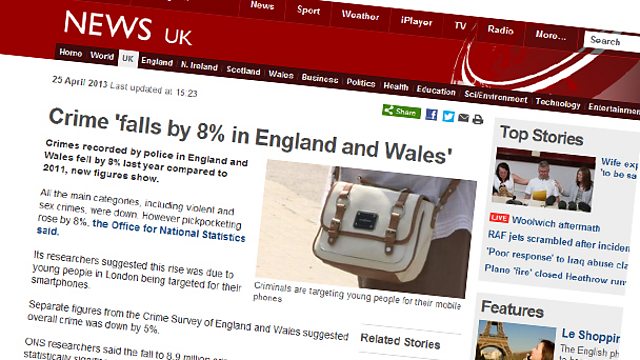 Crime stats report
As a programmer, I'm very comfortable with data. So I'm excited by the prospects for greater access to interesting data and the move towards more data-driven journalism. It's a brave new world in which everyone is a potential data journalist.
The data journalist's role is to find stories hidden in data - either summarising the data and identifying how it affects the audience or teasing out new meanings from it. Unfortunately this usually involves reducing the dataset to that which is relevant to the story. And that means restricting additional meanings that audiences could draw from it.
When the latest crime figures were released (above) the headline was '8% reduction in reported crime'. While this is a good story for the country as a whole, it may not reflect an individual's own situation. By providing the audience with the ability to reshape the data to suit their situation, the story becomes a lot more relevant - for instance, by offering a way to narrow down the data to local areas.
As the field of data journalism has matured and access to open datasets has increased, personalised data presentations are becoming more common. The police website (below) allows you to view crime statistics by location, and even comparisons with other areas.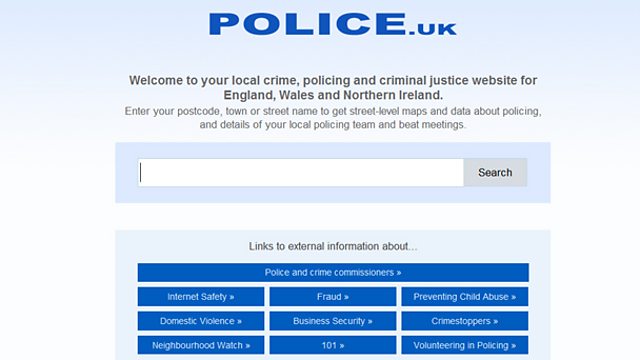 Police website
While this access to data is a great step forward, I can foresee more open and personalised access to these interesting datasets where news organisations provide the tools and help direct and curate stories that the audience bring to the surface.
The Guardian now offers data visualisations that are often interactive and embeddable, with the raw data used to create them readily available.
However, this raw data is often dense and requires importing into another software package, such as Excel, to manipulate and interpret it. There is still scope for more intuitive tools to be provided - creating the chance of more interesting results.
A reader of a story on national crime statistics, for instance, could drill down into the figures for their area and then expand the timeframe to investigate trends over recent years. Perhaps there was a sharp dip in violent crime in recent years: what could be the cause? Was there a corresponding change in local council leadership, or policing policy?
Building these intuitive and powerful tools won't be easy, but an impressive presentation by Bret Victor shows how it is possible to combine flexibility and ease of use to create attractive data-driven visualisations.
By combining these tools with a way for the audience to feed back what they discover, static articles could become interactive discussions. Journalist would start by setting up the initial presentation; audience members would explore and find their own stories.