A colossal 80-part series highlighting the plight of international journalists who have been imprisoned, persecuted or killed in the past year has been one Finnish newspaper's remarkable commitment to raising the profile of journalists' safety: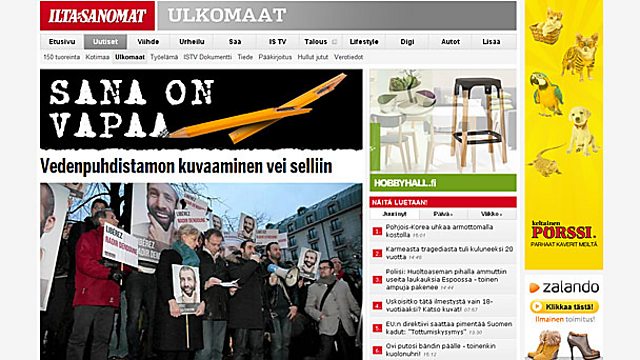 It was just another idea among several others during a hectic news day last November: why not introduce compelling accounts of how tough life can be for so many journalists worldwide.
Violations of freedom of speech are far too often displayed only through cold statistics. In many cases issues of free speech only appear on the editorial pages. The real stories and emotions behind the bare numbers are rarities. So let's make more room for storytelling.
I quickly gathered 10 prominent journalists from our joint newsroom at the Ilta-Sanomat newspaper and Taloussanomat online business service. The idea was extremely simple. Ilta-Sanomat has been celebrating its 80th anniversary since last February. We would round off the anniversary by publishing, on a daily basis, a story of a journalist who has either been persecuted, jailed or killed during the year. (They include French-Australian journalist Nadir Dendoune who was arrested in Baghdad in January and whose campaign for release was featured in a recent edition of Ilta-Sanomat, pictured above.)
By the end of February 2013 we would have a total of 80 impressive stories. Together they would highlight the value of our ability to report and express opinions without fear. Finland has been topping the World Press Freedom Index for years. We should not forget our duty to promote and cherish this basic right.
The project started in mid-December by running a story about Uzbek journalist Muhammad Bekjanov. He was due to be released from prison in early 2012, but a 13-year imprisonment in appalling conditions was not enough for the authoritarian Uzbek government. Bekjanov was sentenced to an additional five-year term.
No-one from the outside world, not even his wife, has met this tortured journalist in six years. According to the Committee to Protect Journalists (CPJ), Bekjanov has been imprisoned for longer than almost any reporter worldwide.
Compiling the list of persecuted journalists has been quite a labour-intensive task, but not because of lack of information. Thanks to numerous sharp-eyed NGOs including Reporters Without Borders, CPJ, UNESCO and the International Press Institute, we have been able to both understand the overall situation and delve into the particular cases.
But selecting the cases has not always been easy. Our aim has been to offer a diverse set of stories including various types of violations and an adequate geographical focus. Telling a single journalist's story has been, in some cases, almost impossible.
For example, we know far too little of what is going on inside North Korea. Our solution has been to tell the story of the unknown reporters who are risking their lives while reporting clandestinely for the Japan-based Rimjin-gang magazine.
Feedback was immediate. We have received a lot of encouraging messages from readers and colleagues. People have also expressed approval for the project through social media.
The stories not only tell of the plight of individual journalists but offer insights into their countries.
Some teachers suggested that we extend the topic and publish a special edition for schools, mainly for lower and upper secondary students. A 16-page magazine was eventually sent to more than 800 schools in Finland, free of charge, in the first week of February. Copies have been requested for journalism classes at Finnish universities too.
What next? Although the initial Ilta-Sanomat project (a sample of which is here in translation) will be finished by the end of February, there is more to come. UNESCO is planning to publish a couple of dozen of our stories on its website, and translate them into the official UN languages. Together with journalism-based Päivälehti museum, we mounted an exhibition of free speech using the material already published. And with the Helsingin Sanomat Foundation we are organising a nationwide discussion forum on how freedom of speech projects could be introduced into newsrooms all around Finland.
Could this project have an official legacy too? Finland has an established role in international peace mediation. I would very much like to see free speech advocacy extended increasingly on the Finnish agenda - of course with the help of professional journalists and Finnish NGOs. Encouragingly, the Ministry of Foreign Affairs has already shown interest in developing the idea further.
The BBC College of Journalism and the University of Sheffield's Centre for Freedom of the Media (CFOM) held a special briefing on journalists' safety in London last October. Watch a video of the London symposium and read blog posts by some of the front-line journalists who attended the event: