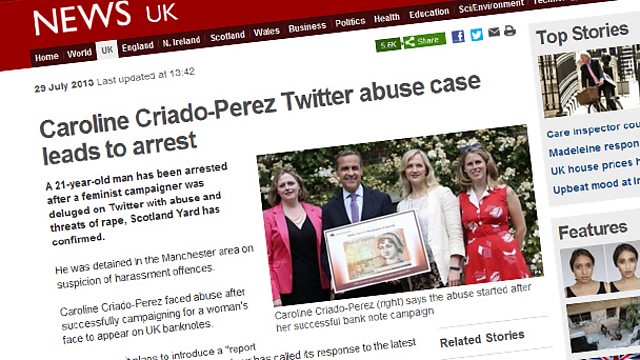 Caroline Criado-Perez Twitter arrest, from BBC website
The abuse faced by Caroline Criado-Perez became a huge talking point over the summer of 2013. She was the campaigner who had founded The Women's Room and led a highly successful social media campaign to have a woman represented on UK bank notes.
The Bank of England was about to delete Elizabeth Fry from its notes, leaving them a female-free zone (with the exception of Her Majesty). Caroline's campaign persuaded the bank to think again and put Jane Austen on the £10 note.
But what followed was truly extraordinary. Caroline faced an onslaught of extreme misogynist hate from anonymous online commentators: serious and unpleasant actions culminating with threats of rape. And she was not the only target. Other women who had supported the campaign, including Stella Creasy MP, were subjected to similar abuse.
This episode highlighted what a number of female journalists were already all too aware of. As soon as they veered into writing anything vaguely controversial which had even a hint of a feminist angle, the 'below-the-line' onslaught began. There were torrents of comments on the web page, mostly anonymous, which paid little heed to merits of the argument but descended into straightforward personal abuse.
When I was researching an edition of the Reuters Institute's Challenge series on Women and journalism I found this was a topic that many female journalists expressed concern about.
The Observer features writer Elizabeth Day is one of many who observed that the problem of usually anonymous online abuse or internet trolling is far worse than for their male counterparts. As soon as they veer away from anodyne subjects women are liable to receive savage and unpleasant, very often personal, attacks in online comments or on social media. An article about this tendency in 2013, "I'm coming to rape you bitch", highlighted some gruesome and almost unprintable examples.
Helen Lewis, deputy editor of the New Statesman, whose job includes moderating online comments, observes that "My male colleagues get abuse, and they think that they know what it's like. But it's not the same type of abuse; it's not directed at the same things; and it doesn't tend to be at the same intensity."
One commenter "called for my fingers to be chopped off", Evening Standard columnist Rosamund Urwin has written. "Another asked if I could go and jump off a cliff because the world would be better for it."
"Men get told they're stupid, women get told they're ugly," says feminist blogger and columnist Laurie Penny.
According to Lewis and others, some female journalists are so intimidated by this kind of anonymous and unpleasant personal abuse that they are deterred from dealing with more controversial topics. Gaby Hinsliff wrote a comment piece in the Guardian in October 2013 about the problem of caring for the elderly and how it tends to fall disproportionately upon women - hardly a controversial topic. But she complained later on Twitter that even a whiff of a feminist thought had brought out all the usual suspects and hundreds of highly critical, abusive and often anonymous comments.
Many female journalists have adapted and benefitted greatly in the world of social media - but these torrents of anonymous abuse illustrate there is a negative side to this. Just as CNN  anchor Candy Crowley, who moderated one of the 2012 Obama/Romney presidential debates, attracted disproportionate and highly personal social media attacks (about her body size and clothes) after her participation in the in 2012 foreign affairs debate, so many less prominent female journalists encounter a version of the same experience.
Yet the inventiveness of social media has in turn produced a response to this. A popular Tumblr site, 'Said to lady journos', has been a way of retaliating and it has gathered a healthy worldwide following by disseminating examples of the kind of offensive online and offline comments which many women receive.
The launch of the 2014 Orwell Prize on 21 October is being marked by a debate at the Frontline Club, in London, on 'The Internet and the modern self' which will explore this issue of online comments and anonymity which leads to unpleasant behaviour, very often targeted at female journalists.