In the first of our blogs from contributors to the upcoming Social Media Summit, co-hosted by the BBC College of Journalism and the New York Times, Julien Pain explains how France 24 is merging the power of international amateur media and traditional journalism: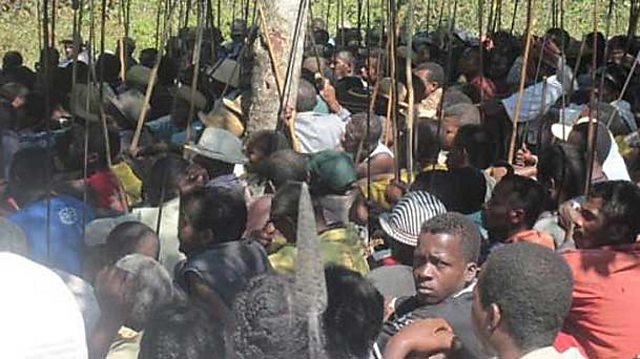 Internet and TV journalists, and even print journalists, do not always agree on how best to cover the news. Defenders of traditional journalism hold, with good reason, that desk-based research cannot replace on-the-ground investigation.
But the rivalry between online and on-the-ground journalism is becoming increasingly futile. Instead of merely theorising on this, I'd like to provide a concrete example: The France 24 Observers.
The Observers is a participatory journalism project that uses both the internet and television. Recently, the team reported on a massacre of zebu (cattle) thieves in Madagascar by starting our reporting online, and by finishing in the Madagascan mountains.
It all started with an email. An observer from our network sent one of our journalists photographs of scores of dead bodies in a south Madagascan village. We called the observer, who told us the bodies belonged to 86 cattle thieves, known as 'malasses'. They were killed by villagers as they attempted to steal the villagers' zebu, a breed of cattle common in Madagascar. The villagers claimed they had the right to defend their zebus, and the authorities agreed with them.
We verified the authenticity of the amateur images and published an article on our website ten days after the bloodshed. The article was based on our Observer's account of visiting the spot where the killings took place, as well as information gleaned from telephone conversations with the authorities and local media.
We then put together a video segment for our weekly TV show. Up to this point our journalists had carried out all their research from afar. They had used the internet to download the images and record the observer's account via Skype. The story had received relatively little space: 660 words on the website and a minute and 30 seconds on TV. We had a feeling we were missing parts of the story, and had unanswered questions. Was this really a case of legitimate self-defence? Why weren't the Madagascan authorities investigating the massacre? In this case, long-distance investigation had its limits, so we went to Madagascar to find out more.
Several months after the incident we found ourselves in the remote village of Fenoevo (pictured top) in Madagascar's Fort Dauphin region. We filmed a 12-minute TV report: the first episode of our new TV show Observers Direct.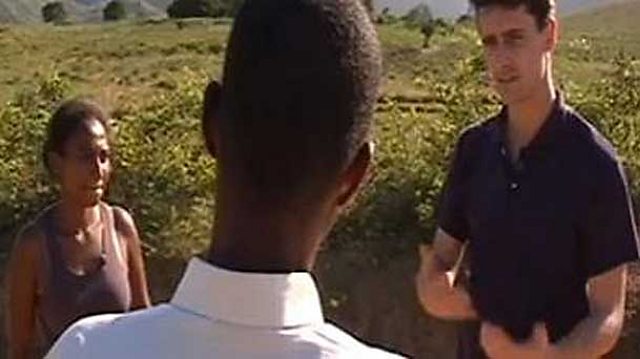 Julien Pain reporting in Madagascar
Over about 10 days, with our observer as our guide, we met the villagers who carried out the massacre and we discussed it with the local authorities. We quickly realised this story was much more complicated than it had first appeared. The villagers' explanations were incomplete, and sometimes even contradictory; moreover, they did not match with the authorities' version of events - that this was just self-defence.
It appears that what some billed as a battle between heavily armed thieves and local villagers was probably more akin to a mob killing. There is a good chance the 86 people killed were indeed 'malasses', but the bottom line is they were executed, summarily. The authorities, incapable of maintaining security in the area, declared this tragedy an act of self-defence.
This shows how a story can be reported at different times using different media. The internet and social networking sites allow journalists to report the news quickly, even when incidents take place in remote, hard-to-reach places. Online tools can be used to verify information and establish direct contact with witnesses. Thanks to smartphones and Skype, we can gather images to illustrate stories that otherwise would never have made it on to television screens. The more images we can find - even amateur images - the better we can cover news from every corner of the world. 
However, on-the-ground research is sometimes the only way to fully understand an event. That is not to speak ill of the internet: journalists will find a wealth of fascinating accounts and stories if they know how to search for it online (which is indeed my speciality). Moreover, media organisations unfortunately do not have the means to send their journalists to all four corners of the globe whenever an interesting story crops up. Still, it is impossible to get to the bottom of some stories, as in the case of the massacre in Madagascar, from afar.
Our Madagascar report exemplifies how journalists can use various media to cover one story. We started by working solely on the internet; we then reported the story on TV in a short format; and finally we headed out into the field to film a longer report. These different forms of media are not in conflict - they complement each other.
Increasing numbers of journalists are working behind computer screens instead of getting out into the field. Part, but not all, of the reason for this shift, which has been debated and criticised within the profession, is to save money. The France 24 Observers reversed this shift: we went from the internet to the field. As a participatory journalism project, our web-based research eventually led us to do on-the-ground reporting in order to delve deeper.
Perhaps we can finally put the pointless conflict between internet and TV journalism behind us. After all, there is only one kind of news: facts that have been verified.
Julien Pain will join a panel debate on international journalism at the Social Media Summit #smsnyc in New York on Saturday 20 April 2013.
This article was previously published by France 24.