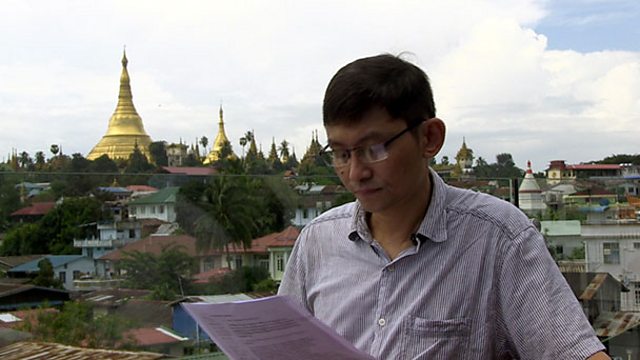 The task of interviewing Burmese journalists about impartiality, self-censorship and multimedia journalism for the
BBC College of Journalism's new Burmese site
seems relatively straightforward. The video journalist working with me, Ali Fowle, had recently made pieces about political prisoners, Buddhist extremism and government land-grabbing.
But while filming our interviews we encountered many of the everyday issues that journalists face in this transitional period in Burma, also known as Myanmar.
The interviews were with the journalists Ko Ko Aung (above) and Tin Htun at two locations in the city: a rooftop bar overlooking the iconic Shwedagon Pagoda and a downtown internet cafe. The decision to film on location was met with knowing smiles from Ko Ko and Tin. "Good luck getting permission," Ko Ko said.
Mentioning the BBC here carries mixed connotations. For decades it had been banned. Despite this, BBC Burmese is listened to by more than eight million people in Burma, including Aung San Suu Kyi, and has been broadcast on shortwave continuously since 1940.
Those 73 years have included five decades of repression and censorship of journalists. Laws in 1962 and 1975 gave the government absolute power to grant and withdraw publishing licences, and obliged media organisations to submit all printed matter to be censored prior to publication.
Other laws designed to control freedom of expression, and the climate of fear they engender, have not yet been swept away. But prior censorship ended in August 2012 and the body responsible for the practice, the Press Scrutiny and Registration Division, was disbanded in January 2013.
Several Burmese media organisations whose websites were censored until as recently as August 2011 are now setting up offices in the country. For the BBC, exile ended formally just weeks ago. But the memory of the BBC being banned and blocked online can give it an unwanted association.
The night before filming our interviews the bar owner requested a full synopsis of what would be said. Worried we'd lose the venue, I invited him to come and listen. Writing the synopsis, I too ironically found myself self-censoring - substituting "self-editing" for "self-censorship" - but only for convenience, and only in private communication. I felt none of the pressures that still influence Burmese journalists to censor themselves.
The laws overseeing journalism are in transition. An independent government-appointed body called the Interim Press Council had its media bill passed in parliament in October, after a year of consultation with the media industry.
But since March the Ministry of Information has controversially pushed its own media bill without any consultation. Public pressure led to many of its retrograde clauses and fines being changed, but government licensing of media - and so the threat of being put out of business for unfavourable coverage - remains.
A similar broadcasting bill aims to put licences under the control of two bodies. One of these has been described as a "government controlled body" whose make-up will include the alarmingly titled "director of the directorate of public relations and psychological warfare".
Defamation has been a criminal offence in Burma since colonial times. Prior censorship, for all its ills, offered publishers some protection against any claim of criminal defamation lodged by an official. This no longer exists, and threats have since been made.
Beyond this legislative transition, there is still little faith in the independence of the judiciary, and this too discourages contentious reporting. As I went through the cutaways for the impartiality interview at the end of filming, Ko Ko questioned my suggestion of a shot of the courthouse. It would not suggest impartiality in Burma, he informed me.
On the morning of our last interview, on multimedia journalism, the owner of the internet cafe could not be reached and the staff would not allow us to film.
The internet has played a well-known role in facilitating freedom of speech in many countries. Although censored until last year, even the sluggish internet in Myanmar has enabled courageous citizen journalism, including Nay Phone Latt's reporting of the military crackdown in the 2007 Saffron Revolution, or Maung Thura's videos of Cyclone Nargis. Both of these reports resulted in imprisonment, although the two were released in 2011.
Ironically, the last censor-in-chief in Myanmar used to write short stories during prior censorship - uncensored - on his Facebook account.
Internet cafes still represent the most likely access point for most people in Burma, where home internet set-up costs are 10 times the average monthly income.
Mobile phones and smartphones are widely available, but SIM cards are prohibitively expensive. Since April, a monthly $2 lottery with just 100-120 winners each month has laughably purported to make them more accessible. This has contributed to mobile phone uptake of only around 10% of the population, only slightly more than North Korea.
In January this year the telecommunications minister and four others were removed for alleged corruption, and in June two foreign companies won the rights to operate telecommunications networks.
With these telecommunication companies poised to pour in billions of dollars, recent public consultation on the rules and regulations governing the sector closed, apparently with satisfactory results, and the mobile market is finally set to expand in August 2014.
On the next day of our filming we heard that five homemade bombs had gone off in Rangoon and Taung Oo, including one at Traders Hotel, which was to be our next location.
It was the run up to Eid and the explosions were immediately rumoured to be attacks on Muslims. A government statement afterwards claimed they were detonated by a business group to scare off investors, illustrating the difficulty in accessing reliable information.
Anti-Muslim sentiment in Burma is widespread, and not just isolated to the ongoing conflict in Rakhine State. It has taken hold in groups like 969, which gained wider notoriety after the censorship of a July issue of Time magazine that implied the organisation included Buddhist extremists. The 969 symbol appears on a handful of shop fronts in Rangoon, signifying that Muslims are not welcome to enter.
A leading 969 monk called Wimala Biwuntha said recently of the government: "By letting us give speeches to protect our religion and race, I assume they are supporting us." It's an assumption that reveals some of the naivety that exists towards this new level of freedom of expression.
It is perhaps in this conflict, as well as the border conflicts, one of which Ko Ko talks about in his interview, that the line of impartiality is the most difficult. This is true for Burma's most admired politicians as well as the journalists holding each side to account.
We shot our last interview in our third-choice location, which suffered from a more universal problem for video journalists: road noise.
But we finally caught some luck. Our delays had pushed us on to the morning of Eid and the national holiday meant that Boyjoke Aung San Road's usual roar of buses was reduced to an intermittent grumble.
A new security guard, hired by the cafe to look out for bombs presumably, watched on as we filmed the interview, ready to cut up and start the long slow process of uploading it to the internet.
Censorship in Burma: 'One cage opens' but caution remains
College of Journalism launches four new language websites
College of Journalism's Burmese site (if the text doesn't display properly, try another browser)
Access the College of Journalism's 11 free language websites