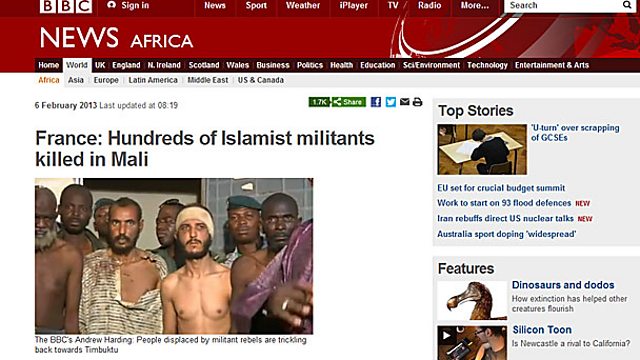 Last week Artyom Liss, head of the
BBC Russian
service, took to Twitter to ask followers what the word Islamist means to them. It was in anticipation of taking part in a broadcast debate with other BBC language service heads about the use and abuse of a word that has rarely had as many outings in news reports as it has in recent weeks.
From the Algeria hostage crisis, believed to have been orchestrated by "a veteran Algerian Islamist militant" to the "hundreds of Islamist militants" reportedly killed in Mali or the shooting of "anti-Islamist politician Chokri Belaid" in Tunisia, it's a descriptive term with which we're becoming increasingly familiar.
The Times newspaper, with its headline this week "'I stabbed him in the throat': liberated city takes its revenge on the Islamists", is not the only publisher to use the word as a standalone noun.
As for Artyom Liss's Twitter followers, there was a common if crude theme to their take on 'Islamist'. "The answer I got back from quite a lot of people was 'a bearded guy who runs around wielding a Kalashnikov'," he told the latest episode of the new BBC World Service programme Fifth Floor (catch the discussion about 10 minutes 20 seconds into the recording).
The Russian editor was joined by BBC Urdu's Aamer Ahmed Khan and Josephine Hazeley of the BBC African Service to chew over an issue that presenter David Amanor said had already sparked heated debate in the BBC African newsroom. The concerns of journalists there seemed to centre on the use of 'Islamist' as journalistic shorthand for Islamist militant/extremist/rebel/terrorist, or in circumstances when the militancy or violence referred to has nothing to do with Islam.
Aamer's view was that precise language is the only way to avoid misleading readers and audiences. "The confusion is where you use [Islamist] interchangeably with the words 'militant or extremist'. It's just plain wrong - as wrong as calling a tortoise a coconut," he argued colourfully.
Besides, not all militant groups are Islamist. The Taleban in Pakistan? Yes. It would be inaccurate to describe the Taleban as just a militant organisation, Aamer believes. But al-Qaeda? In his opinion it is not necessarily an Islamist militant group because its driving political focus is anti-Americanism.
An uncompromising Josephine Hazeley thought the word 'Islamist' should be qualified whenever it is used: "If you're talking about a group that espouses violence by using, unfortunately, the Islamic religion, you should qualify it."
Her Russian counterpart concluded that 'Islamist' is an empty shell of a word: "It's bit like 'the international community' - a convenient term when you don't really know what you want to say."
Well, perhaps not always. Ian Jolly, the BBC newsroom's style guide editor, offers this guidance to BBC journalists; he starts by distinguishing between 'Islamic' and 'Islamist':
"The first simply refers to anything related to the religion. The second is derived from Islamism, defined in the dictionary as 'Islamic militancy or fundamentalism'.
"Our own view is that an Islamist is someone who derives a political course from Islam. But it's vital that we make clear what sort of course that is. For instance, there are Islamist political parties in various countries and Egypt has an Islamist president.
"So, if we are talking about Islamists pursuing a violent course, we should say so - 'Islamist militants', 'Islamist rebels', 'Islamist extremists'. But context is, as always, important too and once we have established what we're referring to then 'Islamists' on its own can be an acceptable shorthand.
"The Times headline [quoted above] does have that context, in that it's clear what sort of Islamists were involved, because it talks about liberation and revenge, hence implying the violent taking of the city."
In general, though, Ian says to be specific. "Although sometimes even these labels are no substitute for a more detailed explanation of what is motivating a group or individual," he concedes.
The BBC News Style guide is available to BBC staff.
Listen to Fifth Floor on BBC World Service radio or online
.