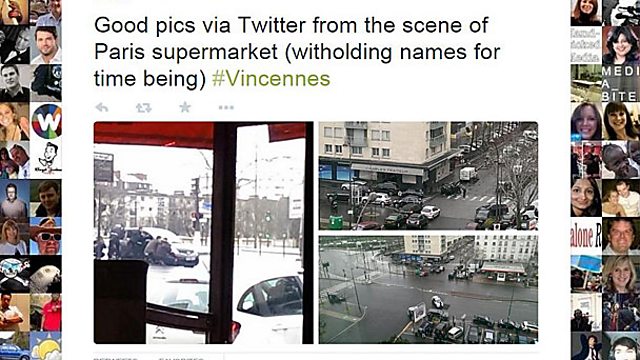 The fast-moving sequence of events that unfolded after the attacks on the Charlie Hebdo offices called for a succession of fine judgements from the BBC News social media team. I asked assistant editor, social news Mark Frankel about the particular challenges the Paris story had thrown up and what, if anything, he and his team had learned from the coverage:
Lots of big breaking stories are complex - think the Boston bombing, the AirAsia plane crash - but the Paris attacks stand out, says Mark Frankel.
"The story was multi-faceted from the start. It was surprising because it was happening in a part of the world where we're not used to terrorist attacks and it played out in unexpected ways. It moved swiftly from murders of journalists and police to a manhunt, dramatic car chases, multiple hostage-taking to the storming of both siege locations."
Very soon after the first reports came through of the attack on the satirical magazine, Frankel's team and colleagues in the BBC's UGC (user-generated content) hub were viewing video and stills of the getaway car taken from a rooftop and posted to Twitter, Instagram and YouTube.
"One of the videos in Instagram was a bit shaky but we could hear French voices saying things like 'Hide… Get down!' Through the UGC team, we tried to contact the owners of the videos and stills we saw and to authenticate them. Did what we were seeing match information we were getting from agencies?
"Those images that we felt confident were an accurate portrayal of events on the ground and did not put people at risk were used swiftly online and on our social media accounts."
The pictures that were perhaps the most heart-stopping footage of the whole Charlie Hebdo attack were more difficult to deal with. They showed a masked gunmen getting out of a black Citroen and shooting dead police officer Ahmed Merabet as he lay on the ground, pleading for his life.
"That was almost immediately on YouTube and retweeted widely by other news organisations and individuals. We discussed the footage in the newsroom, at a senior level, and decided quickly that this was of a different order," Frankel explains.
"Yes, it showed real events, but there was loss of life and the pictures were fairly graphic, so we were not comfortable putting it out in raw form."
The Frenchman who posted the original video on Facebook seemingly had his own reservations, and in fact he took the video down quite quickly, though not fast enough to halt circulation via YouTube.
BBC News screened before and after segments of the film but not the shooting itself, and explained to audiences the context in which the footage had been edited.
"What was difficult was deciding exactly how to edit those pictures. And all this took time while elsewhere people were getting the whole video unfiltered.
"Naturally, you don't want to sit on what might be the strongest pictures of the whole story, but we're just not in the business of showing graphic images."
The sieges at Dammartin-en-Goele, 22 miles from Paris, and at the kosher supermarket at Porte de Vincennes in the east of the capital presented a different set of challenges. Like in other hostage situations, official information was scant and contradictory, Frankel says.
In Dammartin, where residents were in lockdown, there was no shortage of eyewitnesses to some of the actions of the special forces and these people were sharing what they could see on social media. The UGC hub found a number of people in the town who were prepared to talk to the BBC newsroom by phone, once it was established that they were genuine by verifying their location.
The supermarket siege was a lot tenser, with people taking to social media from businesses across the road from where the gunman was holding hostages. One man in particular was cowering in a bar nearby taking still images, through the window, of police surrounding the supermarket and tweeting them out.
"The UGC team was able to establish exactly where he was but not that he was safe enough to be identified. So we used his images on television, on our social media and live online blog. Unusually, we made clear that we believed the pictures to be authentic but that we were withholding his identity on safety grounds," Frankel says.
Another eyewitness sharing images of events at Porte de Vincennes, but from a rooftop vantage point, soon began tweeting that he didn't want his Twitter handle used and later changed his Twitter ID.
There are inevitable comparisons with coverage of the Boston marathon bombings of 2013, but Paris was not a re-run, says Frankel.
"In Boston there was a rush to publish in a way we didn't see over Paris. There were initial contradictions about casualty numbers and arrests so we had to take care about attribution, but that's different to going hell for leather to publish.
"In Boston there was a lot of misinformation: about further blasts and arrests that didn't happen. Here there was some skittishness about later false alerts around Paris, but that was more about jumpiness than misreporting. On a story of this size, it was incredible that there was not more misinformation."
Frankel is a French speaker, as are a number of his team, and with help from the BBC language services they translated and retweeted eyewitness material.
At end of the week they also screened some live Twitter feeds on the News Channel and BBC World from colleagues on the spot - like Piers Scholfield of the BBC Brussels bureau and Europe correspondent Chris Morris. "That's something new that only works when you have confident social media writers at the scene," Frankel says.
Another device was to tweet updates as bullet points rather than 'bombard' audiences with alerts as the double siege stories developed, for example. The team also posted updates on the comments section of Instagram.
Were there lessons from the Paris attacks that Frankel will take to the next comparable breaking news event?
"Co-ordination was the big thing. We did get into our stride: sending alerts to colleagues across BBC News by ENPS and physically walking the newsroom to make sure everyone who needed to know was aware what material was in and being checked. But I think we need to find ways of making that sharing easier - perhaps a WhatsApp group next time, to get information to editors faster."
He adds: 'This was certainly a test of how we balance the desire to show the strongest images with our obligation to ensure the safety of the public. And that's becoming a more familiar skill, outside the UGC hub as well as inside it.
"I think there is now a greater understanding of the value and limitation of UGC. A kind of maturing."
From #CharlieHebdo to #MarchRepublicaine - five momentous days as told by @BBCBreaking
Twitter basics for journalists: Q&A with Mark Frankel