It's now well established that meaningful, agenda-setting conversations happen on social media. Platforms like Facebook, Twitter, Weibo and YouTube have served as a source and catalyst for some of the biggest social, political and cultural movements over the past decade. These platforms have proved themselves as newsgathering and news distribution tools for journalists and news organisations - especially for a unit like BBC Trending.
But there has also been a shift away from public networks towards more private forums on chat applications.
Here are some examples: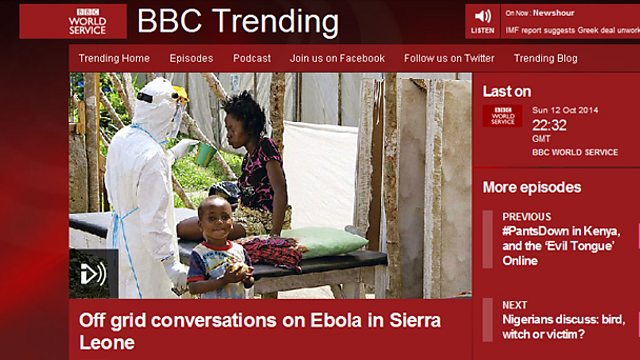 In October 2014, at the height of the Ebola crisis, a considerable amount of misinformation was being spread on social media, adding to the hysteria. The topic was a hugely sensitive one. The BBC had launched an Ebola Service on the messaging application WhatsApp to provide public health information. Some of the messages being sent to this service indicated that private groups of Sierra Leoneans had formed on WhatsApp so that they could speak more freely about the situation.
After being in communication with a member of 32 such groups for a few days, my BBC Trending colleagues and I were invited into four. It was a slow process. We needed to ensure the other group members were comfortable with us being privy to their conversations. Once in, we got an insight into the different ways the groups were being used.
Some shared news and information. Others exchanged more sensitive and graphic content - which could not be independently verified. One member told us that they were in the group because they didn't trust the authorities to give them the full story and they believed the crisis was being downplayed to avoid panic.
It's a big challenge reporting on a story like this - particularly from the privacy and verification perspectives. Our WhatsApp experiences convinced me of the huge potential that chat apps present for journalists. Since then we have reported on many other trends involving chat apps.
You can read my blog about this and listen to more.
Secondly, in June 2015, I spoke to the Indian activist and rape survivor Sunitha Krishnan about alleged rape videos that were being shared on WhatsApp. What she told me was shocking and disturbing. Krishnan had been alerted to a trend where groups of people were sharing what appeared to be a gang rape video among their friends.
What she did next was unexpected if not unprecedented. Rather than immediately report the video to police, she edited it by blurring the victims face and uploaded it to YouTube. Everyone could see it now. Her strategy was to 'shame the rapist' and she started a hashtag campaign. In the following weeks she was sent more videos on social media and she took the same action to #shametherapist.
It's such a controversial and risky strategy, and led us to ask Krishnan if she was taking the law into her own hands. It also raised many editorial questions for us. How could we tell this story in a responsible way?
Despite this being a video trend, we did not make a video report. We covered the story on our radio show. In a follow-up text piece, we did not use screen grabs or link to the videos. We recommend that readers do not search for them.
The story highlights how closed platforms are becoming a hotbed for controversial, and in this case illegal, activity, and how public shaming has become a way people are trying to fight 'rape culture'.
You can listen to my interview with Sunitha Krishnan, and you can read BBC Trending's blog about it.
In China there has also been a migration from public to private forums as huge numbers sign up to the messaging service WeChat. Along with this shift there has been a distinct change in the type of stories that trend on Weibo, China's equivalent to Twitter.
The controversial stories that were popular on Weibo a few years ago have become harder to find. China's most prominent bloggers are now posting about what they had for breakfast rather than discussing contentious issues like political corruption or pollution. I spoke to Tommi, a blogger in Beijing, who's had his Weibo account shut down 10 times. He reckons Weibo has become "boring" and says people don't discuss sensitive topics anymore.
Angus Grigg, the Shanghai correspondent for Australia Business Review, investigated what's happened to China's bloggers. He told me that there's an increased culture of self-censorship on Weibo because of new internet laws which say that if you publish an allegation that gets more than 500 shares you could be found guilty of spreading rumours and could face up to three years in jail. The result has been a dramatic reduction in the number of allegations being made on Weibo.
The move on to WeChat and other private networks is definitely worth keeping an eye on - for journalists hoping to find original stories. Meaningful conversations on closed platforms have the potential to be a source of engaging, original journalism. The challenge is to find and report them.
Anne-Marie Tomchak will be speaking at News Rewired on Thursday 16 July in a session entitled Unheard voices, untold stories. To catch up with the BBC Trending unit, visit BBC Trending or its YouTube channel. You can get in touch with Anne-Marie on Twitter @AMTomchak.