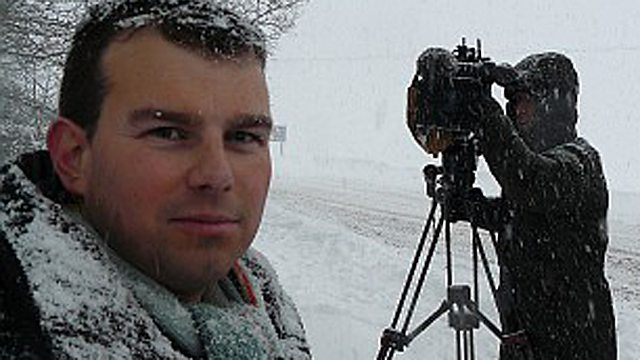 Last month a BBC crew was stranded overnight in the Mendips after the extreme weather that correspondent Jon Kay (pictured bottom) and his colleagues were covering literally stopped them in their tracks.
As the snow returns to parts of the UK this week, here are ten top tips on staying safe while getting the story, compiled for BBC News by Glasgow-based correspondent James Cook (pictured right):
1. On a weather story you may need to drive when the general public are being advised not to. So, if you don't feel that your vehicle is up to the job, ask around to see if there are any other company vehicles available locally. Failing that, hire a 4x4 - it will be a lot cheaper than a law suit.
2. Pack a road map as well as a satnav. It may help you find a route which the satnav doesn't think of, to get across that hill or down into that village. Try not to drive through water or snow. And don't pass 'road closed' signs unless the police allow you through.
3. Stock up well. That includes food and water, a snow shovel, de-icer and spare windscreen washer fluid.
4. Dress for the part. If you get cold/wet you'll stay that way. So, even if you're up against a deadline, don't leave the vehicle until you're warm and waterproof. Thermal leggings and a thermal top make a huge difference. Waterproof trousers are a must, as is a decent jacket and the right boots. A good downy jacket for the snow is not necessarily the same as a good waterproof jacket for the rain. Remember, vehicle stopping distances are obviously much longer in snow, so carry high-visibility vests and use them.
5. Think before you stop to film or record. Consider other road users, and don't stop if it isn't safe to do so. If you really need to stop, be prepared to clear a space for your vehicle. Consider a light -weight Go Pro camera on the front of the vehicle. Carrying a full camera in the passenger seat for point-of-view shots, while tempting, can be dangerous.
6. Make friends with your local Met Office and BBC forecasters. They will likely be keen to help you get to the right place safely, and are often keen to hear from you on the ground to help with their forecasts too.
7. Stay connected. A VSAT dish (two-way satellite) can be a life-saver. Otherwise, find out where your 3G coverage extends - coverage maps are available online. I have a different network on my phone and my iPad, and the sat truck's 3G runs on a third network. Failing that, make sure someone in the newsroom is feeding you the latest lines by text or phone.
8. A little local knowledge goes a long way in bad weather. Find out which roads are closed/where the story is. Call people in cafes and post offices before you leave. People love to talk about the weather.
9. Use websites and apps for real-time updates and Twitter as a source of information and pictures. In Scotland, for instance, the ScotTraffic app showing live traffic cameras is useful. Consult sites such as RainToday or the Met Office latest observations page. In flooding last year, I searched on Twitter for 'Stonehaven' and had some great pictures showing the extent of the damage within minutes of it happening. Remember to message the user posting the photo for verification and permission.
10. Remember, everything takes much longer and uses much more energy in bad weather. Don't rush. Scale your ambitions accordingly. Try to persuade the newsdesk to do the same. It should be made to listen as it is your safety at stake.