They work in war zones, embedded with the British services, capturing digital news footage, images and stories from the front-line that end up in the mainstream media, across platforms. But you will never see their byline.
 The British Army combat camera teams (CCTs) collect material which, "for reasons of national or foreign security, operational necessity or general sensitivity, would not ordinarily be available to the public media", the Army says.
So how does that work editorially? CCT producer Captain Mauricio Gris of the Household Cavalry, who will again be working alongside a cameraman and photographer in Afghanistan from 9 March (and is pictured below directing his team), provided some insights in this quick Q&A: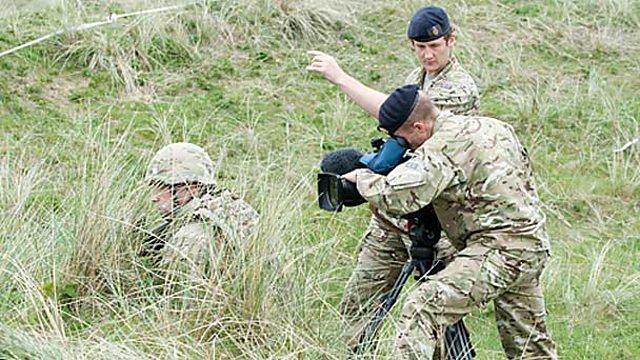 What is your journalistic background?
I didn't have any training prior to starting this job, apart from a course in film direction at the New York Film Academy. However, once I'd been selected I was put through a number of training courses run by the Army's Defence Media Operations Centre, which gave me a good grounding. 
After that it was mostly on-the-job training shadowing Civil Service specialists who between them have worked with all the major journalism organisations in the UK. I was also deployed for a month to Afghanistan acting as a fixer for a civilian team, which taught me a huge amount about the nuts-and-bolts level of newsgathering.
I hope to do an MA in broadcast journalism at City University when I come back from my tour as a CCT producer so that I build on the practical experience with some theory. 
What are the editorial principles behind your work?
Operational security, or OPSEC as it is known, is the single main editorial principle. The material we put out must not endanger the Army, its people, or its operations.
The other principle concerns the line between propaganda and news. As our main function is to support mainstream media with material, all interviews and material are delivered as unedited rushes with all the rough bits left in, to guard against claims of censorship.
How much editorial independence do you have?
We have editorial freedom within the Army, recording material for our own channels and at regional level. But national and international media engagement is mediated by the Defence Media Centre. Editorial independence can be a thorny issue as it comes down to personal perception in some cases.
If you sometimes work alongside journalists from other organisations, do you find yourself making differing editorial decisions?
The team works alongside many journalists, and the only real editorial differences come from our slightly differing audiences. If the mainstream media is there - and we aren't supplying all the material - we would focus on our internal audience, which requires slightly more detail from the story because of its baseline professional understanding of the subject.
Would you ever not transmit content you have shot? If so, why and what?
Operational security and concern for families are the two big factors that would stop content from being transmitted.
You are trying to convey the reality of what happens but at the same time you have to think of the damage you could cause to families watching loved ones doing a dangerous job. And you obviously don't want to make that job any more dangerous.
Where is your material published?
Our content is used across all national and regional broadcasters, but the Army does not ask for credit, so you won't see our names anywhere. Some channels' editorial guidelines mean that the amount of material used is controlled.
In addition, all our material is archived at the Imperial War Museum. There is footage there that goes back to the world wars. Our predecessors won two Oscars during World War II. 
I feel most sorry for the photographers who often make front covers but only get 'Army MOD' on the credit.
What are you most proud of covering?
On my first deployment I took my recorder down to visit the Brigade Reconnaissance Force. I'd been informed it had experienced some tough fighting. I had no-one in mind - I just went down to speak to the guys.
They pointed me in the direction of a fresh-faced 19-year-old soldier called Rifleman Wilson. The story he told me with humour and understatement was incredible. This boy had not only survived being shot in the head but had continued to fight on afterwards. He had, in the course of the battle, been personally targeted by the man who failed to kill him the first time, and he had continued to do his job.
I left and wrote up my story, submitted it for operational security clearance and waited for permission to release it to the press. A little while later, word got back that they wanted to hold onto it and that it had caught the attention of someone. I heard nothing more.
I was a little deflated as it seemed my first journalistic attempts had been thwarted by bureaucracy. However, eight months later I was going to London to interview gallantry award winners. On the list I saw 'Rifleman Matthew Wilson MC'. The young soldier had been recognised for the action that I had talked to him about.
I don't claim in any way that my story got him that award, as his action was already being talked about when I got there. But I was proud that, despite my lack of formal journalistic training, I had managed to find and tell a story that would gain national interest.
Mauricio Gris talks about front-line safety, cooperation and the production aspects of his job, on the BBC College of Production website.
Visit the College of Journalism's specialist section for practical advice on reporting the military.