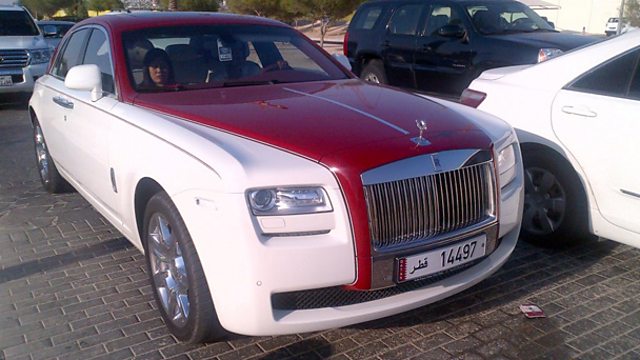 Rolls Royce in Qatar colours
When I first told friends I was moving to Qatar most of them asked if I could 'score them' some tickets for the 2022 World Cup. Others assumed I was going to work for Al Jazeera.   
But, rather than joining a broadcaster, I'd decided to become a fully fledged civil servant - working for ictQATAR (or the Supreme Council of Information & Communication Technology), Qatar's information and communications technology (ICT) policy and regulatory body.
Why?
Well, in a region where the use of ICT is growing rapidly, the opportunity to lead a new department exploring its societal impact was simply too good to miss.
Oh, and, as one particular friend pointed out, I also get extra points for moving to the only country in the world which begins with the letter 'Q'. 
From reading various online forums before we arrived, we expected to find Qatar rather dry. In every sense. The reality, seven months in, appears to be a little different.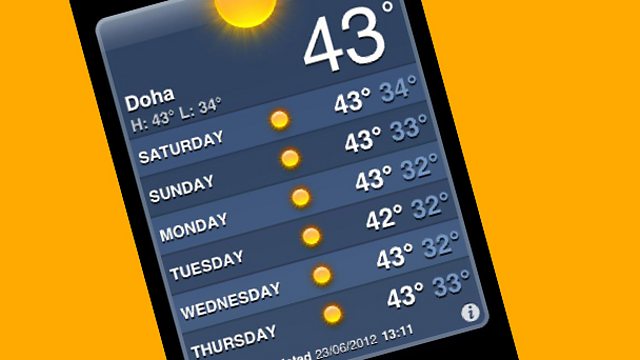 Consistent weather
This is a very diverse country which is changing very fast. Not only is the World Cup acting as a stimulus for change, but so too is the country's 2030 vision - a roadmap to move beyond oil and gas to a knowledge-based economy.
Delivering this ambition has required both income diversification - including the development of the Shard, the purchase of Harrods and investment in parts of Paris - and a huge influx of foreign workers. In the past eight years the population has grown from 750,000 to 1.8 million, with 145,000 people moving here in the last year alone.
That puts a huge pressure on infrastructure - most obviously manifest in the daily traffic jams. It also presents some fascinating developmental challenges, as the country aims to preserve and enhance its culture and heritage in the digital age.
These cultural challenges, and the occasional tension between digital opportunity and digital threat, are not unique to Qatar. And they're not unique to any given generation either.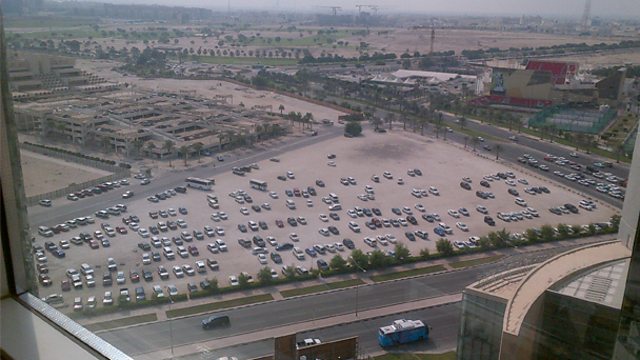 View from the office
The Arab Digital Generation (ADG), those born between 1977 and 1997, was recently described in a
new report
by Booz & Company as a "segment of society [which] strongly distinguishes itself from earlier generations… [and] although they have similar digital characteristics than [sic] other young people around the world, they are distinctly Arab in that they reflect the traditions, challenges and tribulations of their region."
This sentiment can be seen, for instance, in a renewed emphasis by many young people on the importance - offline and online - of the Arabic language across much of the region, as well as the relatively slow take up of e-commerce. While young people "increasingly research products and services online", they still prefer to buy in person. And they're not unique in this respect: Booz found that "members of the ADG - and the overall population in the region - are reluctant to engage in online commercial activities, due to a lingering mistrust of e-commerce."
This was a sentiment which could probably have been applied to large percentages of the population in the West a decade ago, yet now even my mum bids on eBay and buys her Christmas presents from Amazon.
To assume therefore that it is only a matter of time before the same is true in the Middle East would, however, probably be a mistake. As the BBC's Middle East editor Jeremy Bowen recently told the Daily Telegraph: "The Arabs do not have a desire to become the West… They would like Western levels of prosperity - fast food and all that - but people have their own identities…"
This means that the Arab internet is unlikely to be a mirror of the Western internet, any more than the Chinese internet will be. It also means that, online, Western values and services won't necessarily become universal.
Indeed, as the world's economic axis continues to tilt, these new digital world values may become imported into the West, rather than our values being the prevailing ones exported across the digital globe.
It's a future which will be fascinating to watch and one I am looking forward to immersing myself in.