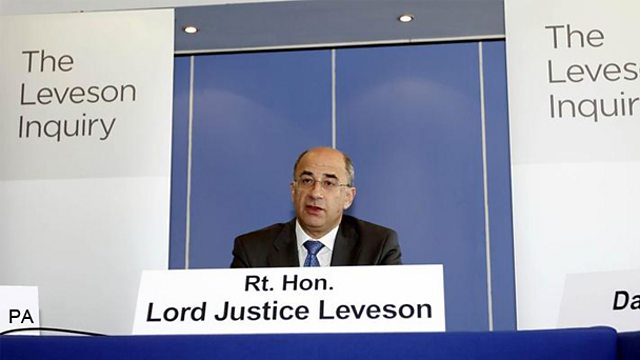 When David Cameron announced a full public inquiry into the press following the phone-hacking affair, he said he believed its regulation should be under a "new system entirely".
In the search for that "new system entirely" there no longer seemed to be solely a binary choice between the two traditional models: a body that only handled complaints about the media or a body that licensed media.
Few, including the status quo institutions themselves, argued for either model. The Press Board of Finance (Pressbof), the body which had traditionally funded, and some would say controlled, the Press Complaints Commission (PCC), now said there had to be a regulatory element as well as the handling of complaints. Ofcom said its statutory model wasn't right for regulating the press.
All of the submissions which various organisations and individuals tabled for consideration by the Leveson Inquiry advocated a version of 'independent' regulation, but they differed on the degree of independence, whether newspapers would be obliged to join, and whether the state had any role at all.
There were essentially three models:
The first was a new system but not truly a "new system entirely". The national newspaper owners represented around the board table of Pressbof had been on something of a journey during the Leveson Inquiry. One of the most influential members, perhaps the most influential, was Paul Dacre, editor-in-chief of the Daily Mail. Dacre began by attacking the inquiry itself at its first event, a seminar. Leveson's team was a "panel of experts who – while honourable distinguished people – don't have the faintest clue how mass-selling newspapers operate".
Dacre wondered aloud: "...Am I alone in detecting the rank smells of hypocrisy and revenge in the political class' current moral indignation over a British press that dared to expose their greed and corruption?"
But half way through his speech there was a sudden change of direction. "OK," he said, "enough of being defensive. The truth is we are where we are. The perception is that the PCC is broken. It needs to be reformed if it is to regain trust, so may I make several suggestions."
He suggested an ombudsman with the power to summon journalists and editors to give evidence, to name offenders and, if necessary, in the case of the most extreme malfeasance, to impose fines.
This was a surprising development and immediately raised the issue of how such fines could be imposed. Would it require some statutory involvement?
The answer came when Lord Hunt, the new chairman of the PCC, told Leveson that he could achieve this through a contract agreed with newspapers rather than any statutory involvement to which he was completely opposed.
As the Leveson Inquiry neared the end of its public hearings, this contract model had been refined but not completely resolved within the industry. According to Lord Black, representing Pressbof, he was presenting "a snapshot of where the industry's thinking has got to at the moment". Black called it "independently led self-regulation", by which he meant that the system would be generated by and funded by the industry but in all component parts of the regulator there would be clear independent majorities.
But when Leveson and his counsel, Robert Jay QC, took Black through the detail they revealed that, for instance, industry representatives would effectively have a veto on the choice of the independent chairman and that there would five independents and 12 editors on the Code Committee.
The second model, proposed in different versions by the Campaign for Press & Broadcasting Freedom, Professor Roy Greenslade and the National Union of Journalists, was a regulator based in statute - effectively a press version of Ofcom. The regulator would therefore be set up by, but not run by, the state. The idea did not command much outside support.
The third way was a new model in UK media regulation, but one widely used in the legal profession. It was 'independent self-regulation' but with what became known as 'statutory underpinning' or 'statutory back-up'. One version was proposed by the Media Standards Trust (MST). I was one of seven past or present editors and media executives who helped draw up the proposal. The MST wanted to: 
Oblige large news organisations to join an independent self-regulatory organisation
Ensure the system worked by establishing a backstop independent auditor recognised in statute
Introduce basic internal complaints mechanisms, and transparent compliance mechanisms, within large news organisations
Protect free speech by imposing no regulatory obligations on anyone but large news organisations.
The proposal therefore had two elements which would have the force of statute: a legal requirement on large news publishers to join a self-regulatory body and the creation of a statutory oversight body. Other versions of 'statutory underpinning' were put forward by the Media Regulation Roundtable and the Co-ordinating Committee for Media Reform.
By the summer break Lord Justice Leveson seemed, from the questions which he and Jay put to witnesses, to be unconvinced by some of the details of Pressbof's solution. Lord Hunt, looking for endorsement of his plan, told Leveson he was "pleading for an opportunity to make progress now" because of a "number of parliamentarians who are intent on clipping the wings of the press".
His plea fell on deaf ears. Leveson replied: "You say: 'If we receive a green light, we'll set up a new system.' I'm afraid I don't have coloured lights in my armoury."
On the penultimate day of public hearings, the Lord Justice ventured the view, to no great surprise, that he could not see himself recommending a pure statutory regulator in the mould of Ofcom. Significantly, he added that he could not understand the reluctance of the press to have 'an underpinning' based in law to ensure regulation was robust and mandatory on newspapers.
So what of Ofcom, the statutory regulator whom Lord Justice Leveson had very firmly invited to submit evidence on possible solutions? Clearly it was to be spared any broadcasting-style role in press regulation, but some other involvement could not be ruled out. Ofcom's submission, pointedly subtitled "A response to Lord Justice Leveson's request", could equally have been called: 'We've just got out of jail once, why on earth would we want to touch any of this with a bargepole.'
Ofcom argued, apparently successfully, that a full statutory regulator would not be right for the press. Beyond that its conclusions were a triumph of fence-sitting, littered with 'coulds' rather than 'woulds' or 'shoulds'. For instance, because "there could be concerns" about whether self-regulation would be sufficient, a minimal enabling statute "could be necessary in some areas".
In its final covering letter, Ofcom said that any new voluntary regime of press regulation should be reviewed within three years "by somebody who is sufficiently independent and who is supported by an independent secretariat".
And who might that be? Ofcom didn't say, but one of its former executives, Tim Suter, a consultant on media regulation, had no doubt in his submission that his old employers were the right people to review or oversee the new press regulation body.
Professor Purvis was one of the Press Review Group members who prepared the Media Standards Trust's submission to the Leveson Inquiry.
This is a shortened and edited version of an essay by Stewart Purvis from a second, updated edition of The Phone Hacking Scandal: Journalism on Trial, edited by John Mair and Richard Lance Keeble and published by Abramis.