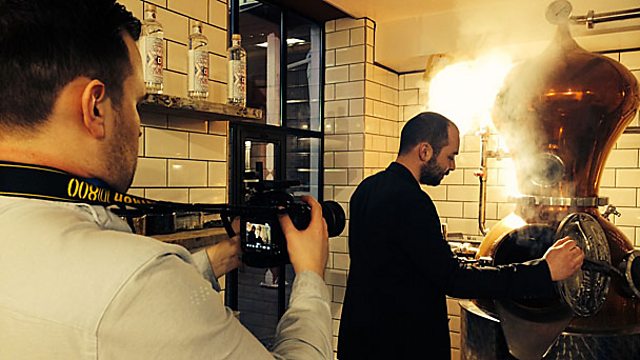 Tonight a piece of television history will be made. At 6:30pm, within the M25,
London Live
will beam from the capital's TV screens and a fantastic new multimedia website will launch in conjunction at Londonlive.co.uk.
The arrival of London's new channel, chiefly publicised through our partners at the London Evening Standard, has been tipped as the biggest in UK TV since Channel 5 was unveiled in 1997.
I could trace the journey all the way back to when Jeremy Hunt, the then culture secretary, proposed the introduction of a network of local television channels in 2009, but my journey began precisely two months, three weeks and four days ago at a welcome party in High Street Kensington's Rooftop Gardens: the humbling first day of my career in television journalism.
Being thrown into a conference hall with 40-odd new faces that day, some with enormous amounts of media experience, was certainly intimidating, especially considering I'd only graduated from my master's degree in multimedia journalism six months earlier. Yet in those few months these 40-odd new faces have become my friends, and tonight we'll work flat out to make the launch of London Live truly successful.
It's been a fascinating journey. I left Bournemouth University last summer with a distinction in multimedia journalism. I even picked up the BBC College of Journalism Student Innovation Award for my multimedia project carried out in Kosovo which investigated ethnic tensions between the partially recognised state's Serbian and Albanian population. And I'd managed to get some freelance work, mainly behind the camera assisting on a music video for the British band Editors in Spain, and on shoots for independent film-makers and car manufacturers. As a graduate, these achievements felt great, but I still lacked that elusive first 'professional' job, as many graduates do in the UK.
You see, getting a job in journalism is hard. A lot harder than I'd expected. Before my interview with Vikki Cook and Jane Mote, the head of news and current affairs and launch editor of London Live respectively, I'd applied for 71 full-time jobs and internships.
But I think having a fresh approach to certain aspects of the working media - a good understanding and respect for multimedia, interactivity and user-generated content, or filming techniques and the use of DSLR cinematography - helped in my application.
I think many people are sceptical of local TV in the UK. It's unfairly synonymous with cat-stuck-up-tree stories. But London Live will be different. It really won't be like anything you've seen before, in terms of our news output, and our team of journalists based in Kensington is determined to make sure content isn't, as Vikki Cook puts it, "worthy but dull".
We have an hour-long debate show which follows a hard-hitting London documentary every Sunday on cutting-edge issues such as girls in gangs or police stop-and-search. We have London's first dedicated football show where clubs such as AFC Wimbledon or Millwall will get just as much airtime as Chelsea and Arsenal.
There will be five and-a-half hours of news and current affairs every day, including a three-hour breakfast show called Wake Up London, an hour-long lunchtime show named Headline London, an evening entertainment show called London Go, and finally London Live's Not The One Show, broadcast Monday to Friday between 7pm and 8pm.
Expect to see visually stunning television, in studio and on location, and expect to see new faces on screen. Also expect good journalism, but by equal measure expect irreverence. Don't expect to see suits and stuffy offices - expect to see us out and about in the capital enjoying all the wonderful things it has to offer. If you're a Londoner, I hope you'll switch to London Live this evening to check us out.
London Live is on channel 8 on Freeview, channel 117 on Sky, channel 159 on Virgin and channel 8 on YouView. Online at Londonlive.co.uk
BBC College of Journalism Student Innovation Award: 2014 shortlisted entries
The future of local TV - another way forward?