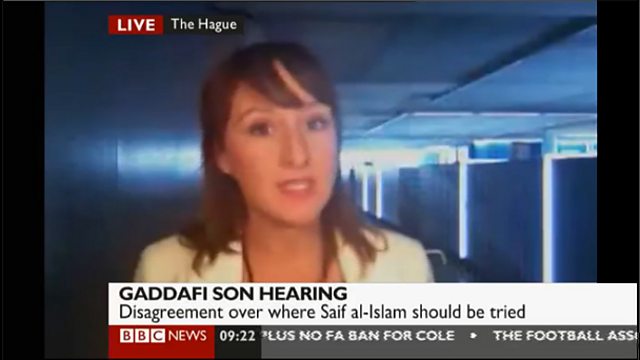 Anna Holligan live on the BBC News Channel
It was a major development in one of the biggest foreign news stories of the past 12 months: the first time Libyan lawyers were to appear at the International Criminal Court (ICC) in the Hague, in the latest round of their legal battle to be allowed to put Saif al-Islam Gaddafi on trial in Libya.
But with the man in question still locked away in Zintan the story didn't quite justify mobilising the BBC's expensive newsgathering operation. In the absence of fancy SAT trucks and Bgans, I had to find another way to ensure we could still provide full coverage, to satisfy the audience and my editors.
At the ICC, we rely on Wi-Fi - provided free in the media room. It's strong enough for Skype, but not for Luci or Quicklink Live. For those who are fluent with BBC broadcasting language, SCAR and DAC have special Skype lines: it's just like coming up via traffic. And for those who aren't: in theory it's the same as calling your mum on Skype.
Except when you call the BBC one of the helpful technology experts in the bowels of Television Centre will connect you through to the right TV gallery or radio studio - and advise anyone who's interested that you're there.
And so I dialled.
My self-assembly job let me broadcast live on TV and radio, as well as tweet and file dispatches - all from a spot directly under the courtroom. It was a vantage point from which I could also monitor proceedings via the big screen.
This is what my set-up looked like: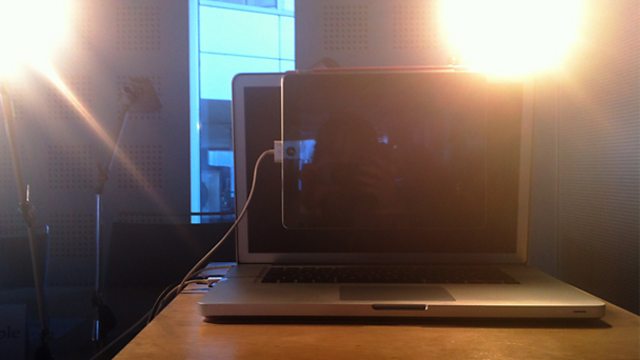 An iPad, hung over the top of a 15-inch MacBook, with a Luci Live mic adapter attached to one of the USB ports, an iPhone charger plugged into the other - all balanced on top of an ISDN line wooden box. Lighting provided courtesy of ICC media room standard issue desk lamps.
These days, in the field, multiplatform proficiency is essential. For me, it's about enhancing our ability to do proper professional broadcasting on a budget.
One of the pros is that you no longer need to find a safe spot for a satellite dish (to avoid microwaving people who are unaware of the potential perils of more conventional technology).
But nothing is perfect. There have been a few occasions when I've spent all night swotting for a 5am World live from the Hague Bureau (otherwise known as my apartment) only to have the connection fail at the last minute.
After the ICC hearing, I popped out to check on my bike. Coming back through security, the guard looked surprised: "I just saw you on TV through there" he gestured towards the war crimes court canteen.
It had worked. This time. Which is what it's all about.
It can be DIY: as a Dutch politician said as he saw me on my way to work: "it's the BBC on a bicycle".