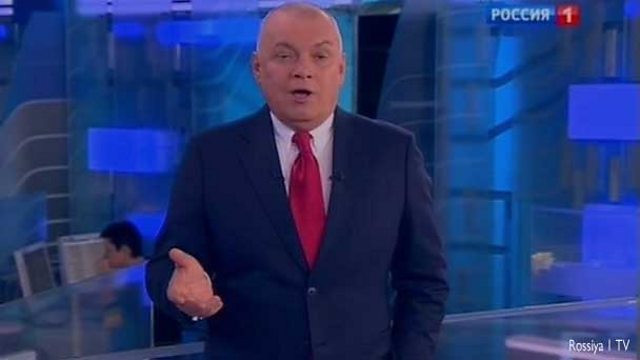 Russian state TV's bellicose rhetoric is causing mounting concern after the man known as the Kremlin's "chief propagandist" boasted of Moscow's ability to turn the US into "radioactive ash".
In the middle of a polemical commentary on US weakness and Russian strength in the wake of the disputed referendum in Crimea on 16 March, official channel Rossiya 1's star presenter Dmitriy Kiselev (above) dropped a bombshell.
Framed against the backdrop of a lurid mushroom cloud, he boasted that Russia was the only country "genuinely capable of turning the USA into radioactive ash".
He went on to describe with apparent relish Moscow's system of "guaranteed retribution" - Perimetr or Dead Hand - which he said would deliver nuclear strikes "in the right direction" even if all the country's command posts are wiped out.
"Psychopathic"
Several prominent Russian Twitter users reacted with disbelief and horror.
"I can't believe what is going on in my country," tweeted opposition activist Ilya Yashin.
"Even in the Cold War they avoided saying this kind of thing," wrote former MP Gennadiy Gudkov. He called Kiselev's outburst "psychopathic".
Other users suggested Kiselev needed medication or hospitalisation. One posted a photo-montage of him being carted off by men in white coats.
Pro-Kremlin social media activists defended their man - pointing out that he had been talking about nuclear retaliation rather than a first strike.
Kiselev has become notorious in Russia and around the world for his outspoken attacks on homosexuals, his regular branding of President Putin's opponents as "fascists", and his relentless attacks on the Ukrainian politicians and activists who helped dislodge former President Viktor Yanukovych.
As well as presenting Rossiya 1's flagship current affairs programme Vesti Nedeli (News of the Week), he has been appointed to head a major new outlet called Rossiya Segodnya (Russia Today), which is to reinforce the Kremlin's international media presence.
The Economist has described him as Russia's "chief propagandist". Media reports mentioned his name as one of the possible targets of US or EU sanctions in the wake of the referendum in Crimea.
But Kiselev is just one of a number of presenters and reporters on Rossiya 1 and other state-controlled channels known for their extreme anti-Western views and inflammatory rhetoric.
"Dangerous"
Russian media observers have been watching developments at state TV with mounting disquiet and dismay over recent months.
One critic has said Rossiya 1 is coming to resemble TV in North Korea. Another commentator likened Kiselev's polemics to the compulsory "two minutes of hate" in George Orwell's dystopian novel 1984.
Opposition activist Maksim Kats shares their concerns. "National TV channels influence the world views of very many citizens in our country. The propaganda on them is very dangerous and society should not allow it," he wrote on his popular blog.
Accordingly, Kats has recently launched a project called Anti-Propaganda in which he and his fellow activists will "assess to what extent news bulletins on national TV channels use propaganda techniques".
Kats has been a cautious critic of the Kremlin who has done his best to engage with the authorities in an effort to improve the lives of ordinary citizens. His great enthusiasm is urban planning.
He was also one of the key figures behind opposition politician Aleksey Navalnyy's campaign in the Moscow mayoral election last September.
An Anti-Propaganda video analysis of a Rossiya 1 report on the Moscow peace march on 15 March found that it contained 13 examples of propaganda, including three outright "lies".
The following day Kats tweeted that he would be restricting the amount of time volunteers are exposed to state TV. "It can drive normal people out of their minds," he said.
Source: BBC Monitoring research, 17 March 2014
Stephen Ennis's other College of Journalism blogs about Russia
College of Journalism's Russian website
BBC News: Ukraine Crisis