Lately, following the news agenda in Turkey has become a full-time occupation in itself, with the country's political scene in flux and a new scandal or crisis breaking on a weekly, sometimes daily, basis. Last weekend's
renewed protests in Istanbul
in which thousands clashed with riot police over controversial new internet controls was just the latest upheaval.
One night last week I sat down to catch up with news and analysis of the day only to notice that the Turkish newspapers had been quick to take down "objectionable" content. This is in line with new amendments to the Internet Law 5651 that came into force on 5 February. A blocked story on the Radikal newspaper website reported criticisms of the new restrictions by the German conservative parties (CDU/CSU). I was able to gather that much from the headlines. The notice below the headlines said the story was "deleted after four hours, due to the new internet law" because the content was deemed objectionable. I read elsewhere that there is now a call for the freezing of Turkey's EU negotiations due to increasing government pressure.
The law has been criticised as a major clampdown on freedom of communication and privacy of personal data because it gives powers to the Turkish telecommunications authority to block content that "violates privacy" or is "discriminatory or insulting", without having to seek a court order. It also allows internet service providers to store data on their users' traffic for two years. In Turkey there are about 40 million internet users, more than half the population.
Ironically, President Gul announced that he ratified the law on his official Twitter account on 18 February. Within hours of his tweet the hastag #unfollowcbabdullahgul began to circulate, causing Gul to loose tens of thousands of Twitter followers in a very short time.
Critics believe that moves by Recep Tayyip Erdogan's AK Party to tighten the government's grip on the internet is a result of a corruption investigation that involves government ministers and Erodgan's son. Since the bribery and corruption investigation began last December there has been a major cabinet reshuffle, a purging of thousands of police officers, and a reassigning of hundreds of prosecutors and judges. The investigation was cast as an attempt to topple the AK Party government by a US-based cleric with influence in the police and judiciary, ahead of local elections in March and the presidential race five months later.
Since mid-December a number of voice records have been leaked from various YouTube and Twitter accounts of ministers' phone conversations, and those of their sons, involving attempts at bribery. The leaks also revealed a direct attempt by the PM to influence the mass media. One recent recording is of a conversation in which Erdogan asks the owner of a national media group to censor reports about government criticism by members of opposition parties. He admitted intervening in the editorial decisions of that news organisation and others in an international press conference earlier this month.
Dogan Akın is the editor-in-chief of T24: an independent online news portal which has become a refuge for veteran journalists who lost their jobs because of increasing government pressure on media organisations over the past year. Speaking live on a national TV channel last week, Akın said the government seems to moving towards a "party-state" reminiscent of the 1930s single-party regime in Turkey where the government held the press and civil society in a tight grip.
Akın believes that after 11 years in government the AK Party wants to "create a new media architecture" - a step further than just having a number of pro-government news organisations that refrain from criticising its activities. In the country's current media environment there seems to be immense "intolerance", he said, of any views that don't suit the government viewpoint.
The new internet law is seen as one more measure to limit freedom of expression and curb alternative channels of communication. It has been likened by experts like Yaman Akdeniz to an "Orwellian nightmare". Currently, 40,500 websites are blocked in Turkey - 10,000 more than in April last year.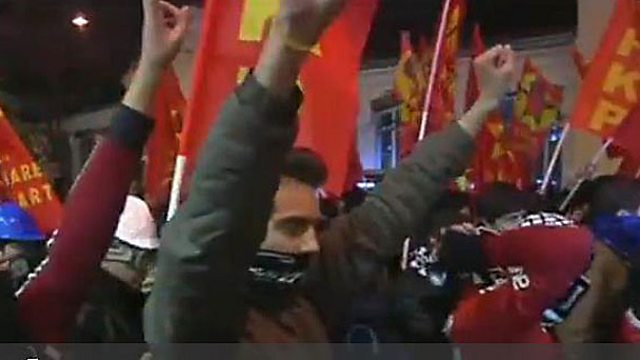 Since the
Gezi Park protests
 that began last May in Istanbul, the internet has become PM Erdogan's 'enfant terrible', enabling the use of social media as an alternative channel of communication during the protests, when the mainstream media remained silent.
Since May thousands have taken to the streets demanding transparency and accountability from the Erdogan government as it increasingly tightens its grip on civil and personal liberties.
It is hard to imagine we have seen the last of the riot police and water cannon in Taksim Square.
UPDATE: The new Turkish internet law was passed in the country's general assembly in the early hours of 26 February. One adjustment now anticipated would make it necessary for the government to seek a court order within 24 hours of taking down content.
Journalist's fears about new internet law
Turkish journalists: 'We have serious problems with freedom'
Turkey protests over government's internet usage law