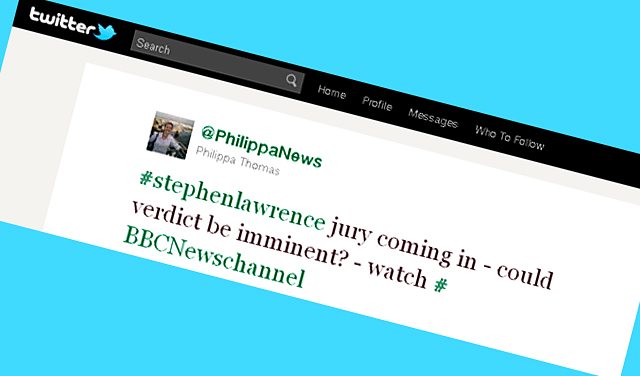 Philippa Thomas pre-verdict tweet
On 2.30pm at Tuesday 3 January, I sent out my last Stephen Lawrence trial tweet:  
"#stephenlawrence jury coming in - could verdict be imminent? - watch #BBCNewschannel."
Then the tables turned - the Twitter stream shifting from a tool to a source as I relied on it for hours of live commentary.
Within seconds of the jury foreman announcing that Gary Dobson and David Norris were guilty of murder, and the judge telling them they were to be "detained at Her Majesty's pleasure", we used Twitter to deliver the story, the reaction, the colour, and the quotes.
But in true BBC fashion I want to put that bold statement into context. These were the key factors:
- I had sat through almost the entire trial. I had heard the barristers making their detailed cases for prosecution and defence. I had seen the scientific photographs of minute specks of forensic evidence. I had studied the timeline of the handling of forensic exhibits over the best part of two decades. Above all, because the BBC had assigned me to the case for the full seven weeks, I had the ability to put tweets and texts into context for the viewers.
Trying to deliver breaking news via Twitter from a standing start would be an entirely different - and daunting - proposition.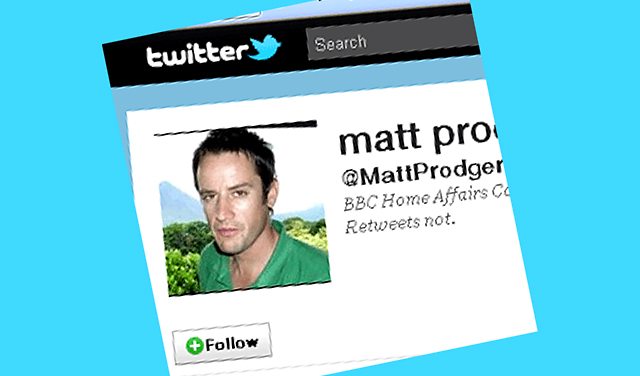 MattProdger on Twitter
- Twitter was not the only source, but it was my primary source of breaking news. When we ran from the building after learning that the verdict was imminent, we began our broadcast using the tried-and-tested technique of having our court producer Jeremy Britton texting from the courtroom. He was the man trusted to tell us that the jury had verdicts to give, that it was a double verdict on both Dobson and Norris, and that the judge had lifted his reporting restrictions straight afterwards. 
- It mattered immensely which Twitter accounts we followed. Perhaps that's too obvious to state: of course it's a basic rule of journalism to select the most credible sources.
We relied above all on the BBC's Matt Prodger (above) and Dominic Casciani(below). Like me, they'd been sitting in court throughout the weeks of evidence and argument, and knew the case inside out. I was able to have a brief chat with both of them on the morning of the sentencing, so they knew I'd be quoting them directly. They knew I was looking for the drama of the occasion. And they provided a stellar news service in those highly charged minutes when the murder verdicts were delivered, and the following day when the sentences were handed down.
BBC producer Sally Graham was the woman with the smartphone on the scene - handing me her handset as I spoke to camera. She was filtering for me, judging which tweets were 'ours' (from BBC sources) and which tweets from other sources - like Sandra Laville, from the Guardian - could be quoted to give our viewers powerful extra details.
And when Sally passed me the phone I then chose whether to broadcast what I saw. A few tweets gave me information which I thought might disrupt the flow of the moment, and were better mentally filed away.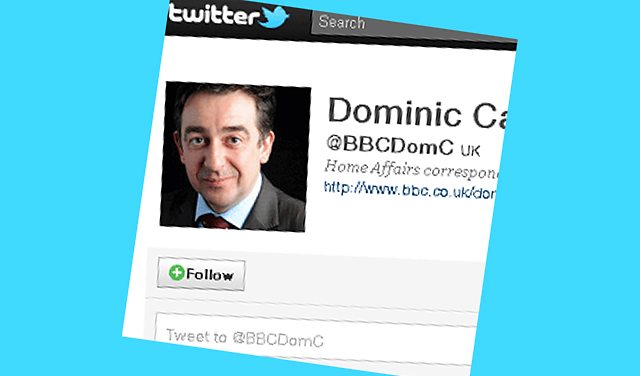 Dominic Casciani on Twitter
And, again, I can't stress enough that it mattered that the BBC had assigned me to the case as a whole, rather than just sent me to break the news on verdict day.
Reader Steve Wheeler left this comment on my blog: "I think that Twitter is no longer optional when it comes to breaking news, I think all that is in doubt is how much you and your colleagues will embrace it."
I agree that for journalists gathering news it's not optional. It's essential. And for those breaking news dramas of the verdicts and the sentences, my use of Twitter certainly got a lot of reaction.
Reader Margherita Douglas sent this to the blog: "I thought it was a gripping way to show the story unfolding, I was watching/listening you as I read tweets from various other journalists at the same time and felt like I almost could have been in that court room."
This tweet came from S McGivern @SMG614 when I asked for comments for this article: "You created a good sense of narrative and the twitter news source was quicker than actual News."
Neil Primrose sent me this delightful feedback from @Neil_in_Norfolk: "You've done an astonishing job making something hugely complex & harrowing human & manageable.Incisive skilled live journalism."
And I can't resist this one from Graham Spencer, @hermanworm: "I've tried to convince a sceptical friend of the point of Twitter. Will use your fantastic work this week as shining example."
But how about the wider BBC audience? For the majority, is this all a lot of fuss over very little? How many British news consumers use Twitter? What do those who don't feel about seeing us quote from tweets: appreciative, bemused or annoyed? 
And, as for court reporting, will we look back on the buzz about Twitter as hopelessly old-fashioned just as soon as we get the cameras in?
Just as I was writing this paragraph, a tweet popped up from Rebecca S in Brighton, @scandals66: "Won't live cameras will be in court soon? Surely, tis a transient, if gripping, form of justice reporting."
I wonder what you think?
This is the second part of Philippa Thomas' reflections on covering the trial.
The first part discussed the earlier parts of the trial and the innovation of Twitter in court reporting.
Philippa has also written about her Twitter coverage of the trial on the BBC News site.