Like any opening act at Edinburgh, I wasn't quite sure who would turn up for my session - if indeed anyone. But 'Getting Smarter with your Smartphone', at the very start of the first morning of the Edinburgh Television Festival, drew almost 50 delegates for a run-through of the issues film-makers and others need to be aware of if they want to record content on a smartphone.
The session covered aspects such as the best way to hold a smartphone (horizontal) and how sound can be improved with external microphones, to the best apps which could enhance your recordings.
One which sparked particular interest was Vyclone, which synchronises and then edits together the footage from up to four iPhones at once, to give a multi-camera shoot of the same event.
My session concentrated on the iPhone, its apps and accessories - and naturally I was questioned about this choice. Why, when there are so many other smartphones on the market, should there be such concentration on one device?
The sheer range of smartphones is of itself a large part of the problem, making consistency of training problematic when devices have such differing specifications, hardware etc. Apple's iOS platform is also (broadly) more secure than other operating systems such as Google Android - often because the former is running the most recent version complete with fixes and patches.
It's not just the BBC which is integrating the iPhone into its reporters' workflows. Earlier this year the company which owns USA Today and a number of other media outlets in the US revealed it too was buying into Apple.
This iPhone-related journalism has taken another step forward with a service launched on Monday by the Wall Street Journal (WSJ): WorldStream (below) is a video blog full of short clips shot by its journalists using just iPhones. It's been launched with its own promo video.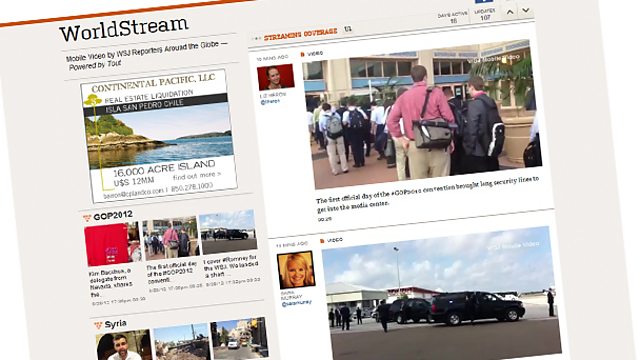 Mark Scheffler - the real-time deputy editor of video at the WSJ - led the training on iPhones. He told me he isn't averse to using other smartphones but the iPhone has "the most dexterity" for what they wanted to do. Around 400 journalists have so far been trained, with the goal ultimately being all 2,000 of the WSJ's wider network.
Scheffler emphasised that, although the reporters are shown how to use clip-mics and tripods, they're taught how to use their devices without accessories: "WorldStream is so mobile that a lot of times reporters will be in situations where they haven't brought those things along, so we teach stability techniques… we want reporters to be thinking about sound, too, so we advise them to try to find a sheltered spot, for instance."
The clips filed into WorldStream are all under 45 seconds long using a platform built by Tout, which already provides a service for sharing video clips of up to 15 seconds but worked with the WSJ to treble that. "If you start doing any longer than that," added Scheffler, "you might as well do a 60- or 90-second package."
His WSJ colleague Liz Heron, director of social media and engagement, says the short length was chosen deliberately: "People didn't seem to be watching long video - even five minutes… they weren't stopping to watch it when they found it on Twitter unless it was truly incredible. I thought that this would be a great opportunity to do something a little bit more bite-sized, impressionistic - almost like a video tweet."
The content on WorldStream ranges from interviews with politicians to raw footage from Syria, to reporters talking to camera, to reporters out of vision guiding viewers through what they can see.
There's heavy integration with social media, with topics also hashtagged so users can filter out subjects they're less interested in. On the evidence so far this could prove useful, because the stream of constantly uploaded videos means there's no consistency from one to the next.
The principle is clearly 'get it in, get it out there', with immediacy taking precedence over high production values. And although all clips are reviewed by editors before going live, some videos are shakier and have poorer framing than might be considered traditionally acceptable for broadcast.
That, however, is one of the virtues of WorldStream, as Liz Heron admits: "The fact we're explicit and say this is mobile video, shot by reporters on smartphones… there's no expectation this will be BBC-quality stuff.
"It's all about the content, the colour. It reminds me of the way many journalists use Twitter: they're giving you access to something you don't have access to on your own."
The videos that appear on WorldStream aren't destined to only be seen there. According to Heron, the clips should have "second, third and fourth lives" elsewhere on WSJ, such as being dropped into its live shows or forming part of longer packages, or being embedded into pieces published on its main website - and of course via a dedicated hashtag on Twitter.
Some 100 videos were already available on WorldStream within its first 48 hours, with a heavy bias towards the Republican Convention in Florida which the WSJ used as a springboard to launch the service. The real test, says Liz Heron, will come when a really big visual story breaks: "When we have dozens of reporters on scene, all experienced in shooting video, and can cover it in real time in a very visual way, that's when we'll see the power of the platform."