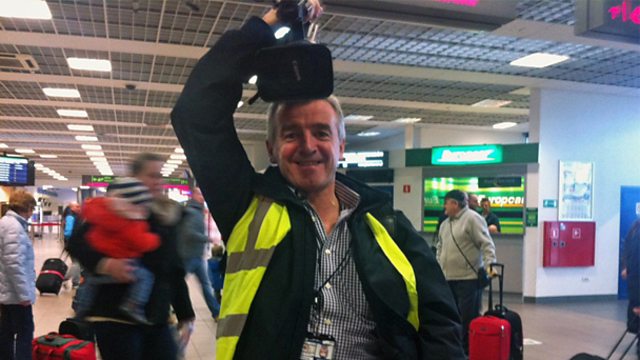 O'Leary helps with the kit in Poland
You might imagine that Michael O'Leary spends every waking minute trying to get himself and his company into the media. The chief executive of Ryanair is not exactly low profile.
But having dealt with the company for a BBC documentary (Flights and Fights, BBC Two, Thursday 20 June) I know it's not quite like that. O'Leary orchestrates his media appearances with the same efficiency he applies to other aspects of the business - determined to squeeze more out of less than you'd think possible.
So to publicise new Ryanair routes in Europe he commandeers one of the company's 189-seater planes and goes on a busy round trip - leaving Dublin in the morning, typically taking in three airports and getting home by late afternoon.
He gives a press conference at each airport and Ryanair's new services are duly mentioned in the local media.
The planes he uses for these trips would otherwise be on winter down time. O'Leary and just two other colleagues fly in the main cabin. He told me he pays for refreshments like any other passenger, to make the accounts come out right.
O'Leary agreed to participate in our film and gave us access to his senior colleagues in Ryanair HQ at Dublin airport, but didn't agree to be filmed in the office. Instead we were welcome to accompany him to Poland on one of the whistle-stop publicity tours.
His PR colleague had promised that O'Leary is 'on good form' on these trips - as indeed he was. If there was a lull he'd bounce up to us, volunteering to be filmed.
But he insists it's just part of the job. "I do a lot of public profile for Ryanair and I do no public profile anywhere else," he said. "I live a very quiet family life in rural Ireland. My kids and my wife like to live quietly, so I don't have any difficulty with that. I'm not some raving wannabe celebrity."
O'Leary's account of himself chimes with that of a former colleague, Hamish McKean, who was working at Ryanair when O'Leary joined back in the 1980s.
At the time, Tony Ryan, the founder of the airline, was still running it. O'Leary was Ryan's protégé. McKean says Ryan, a noisy, forceful character, advised the quiet O'Leary to raise his profile if he wanted to get on in the world. Ryan "wanted Michael to show a little more aggression - to project his personality more", McKean remembers.
Nobody today would ever accuse O'Leary of failing to project. But when we looked at how Ryanair gets its name in the media, O'Leary's media personality is just part of a bigger picture: a constant quest for free publicity.
Here's a case in point. Almost 20 years ago, every company was getting its first website. O'Leary couldn't understand why the quotes he was given for building one for Ryanair were so high.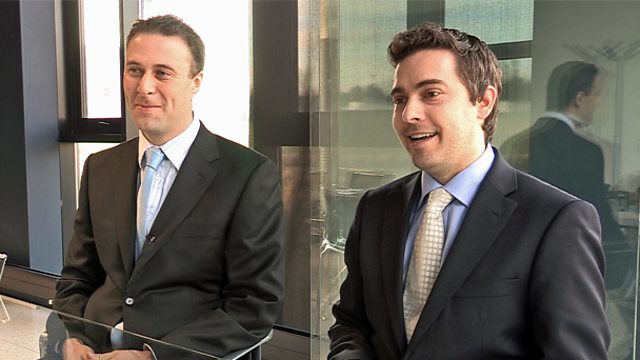 He rejected multimillion pound pitches from professional design companies and instead gave the job to two local boys, friends of someone in the office. John Beckett (right in picture) was still at school when he was invited to a meeting at Ryanair.
O'Leary negotiated Beckett's quote for the job down to just a few thousand pounds. He insisted that it be done fast and sent Beckett home to work on the site with his friend Tom Lineham (left) in their bedrooms.
It was a big break for the two students. But O'Leary knew he could make more from his modest investment by publicising the story that Ryanair's site had been built by teenagers. Beckett and Lineham soon found themselves at the centre of international media attention.
"Ryanair got millions of pounds worth of publicity and names in the paper and logos all over the place because we got such wide exposure," Beckett told us. But he has no complaints and went on to found a tech business, while Lineham became a successful dentist.
O'Leary's eye for a story has generated buckets of free publicity for Ryanair over the years.
Some of the stories - such as Ryanair charging to use the lavatories on flights - get exposure even when they're untrue. To journalists' shame, it has too often been a case of 'don't let the facts spoil a good story'. O'Leary knows what makes a good story.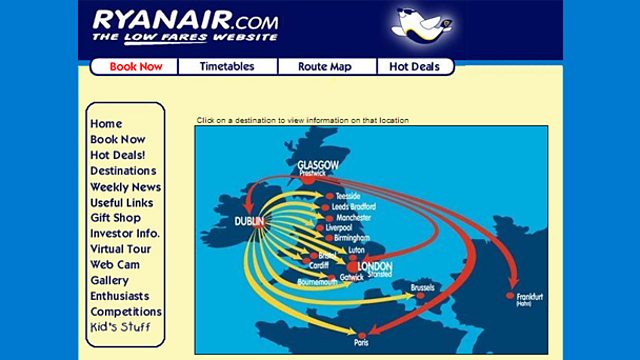 The first Ryanair website, by Beckett and Lineham