These days, the success of a newsroom depends on rapid reporting and the ability to find and utilise online data quickly.
Many media organisations use real-time messaging services and other efficiency tools to help staff communicate with each other and quickly get news online. But in an era of instant news and ever-increasing data, what more can journalists do to work effectively? Can another app or software programme truly support news reporting?
At the recent ReThink conference for Digital Cities Birmingham, Slack account executive Alia Lamaadar claimed that all media companies are now in the business of technology. She argued that by harnessing technology such as bots, journalists can further improve their reporting and reach larger audiences.
"Media has always had to be attuned to an audience and be receptive to trends as they happen," she said. "The teams that I've worked with in media are definitely the most innovative – they embrace their role as content creators and as technologists." (An example of how reporters and editors can use a Slack channel for breaking news is shown below.)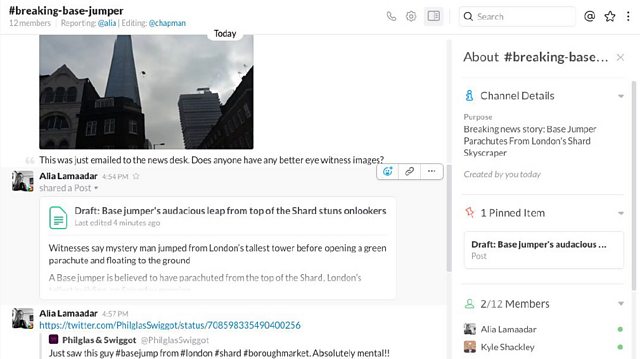 Lamadaar offered her key insights gleaned from working with media companies over the past year:
1. Strong teams win at real-time content delivery
Lamaadar felt that the ability for a team of journalists to instantly communicate with each other is vital because "there is increased demand for everything to be in real time, for content to be generated rapidly".
"That puts a lot of pressure on you as a team to be able to work together and collaborate, so you need to find ways to enhance that ability," she said.
Growing use of sharing and communication apps across the industry, to streamline and speed up workflow, certainly bears out the Slack executive's point. For example, journalists have used Trello to create shared online boards to track workflows, Evernote to create and share notes, ideas, research and clippings on any device, WhatsApp to instantly share updates and photos from reporters in the field, and Slack for team communication and producing automated information.
2. Automate tasks for operational efficiency
Automating mundane routines can also make a team more efficient and productive. This could mean setting reminders for people, projects, or deadlines – for example, reminding someone to submit a headline for a story. A team could also set up an RSS feed of competitor's headlines to be aware of what's out there.
"You could take newsletters, or Twitter notifications, or whatever is clogging up your inbox, and find a place to automatically produce that information," Lamadaar suggested.
Bots are certainly one way to achieve the goal she talked about. Simply, a bot is an automated software application that runs on the internet. Bots are often used for crawling through a large amount of information and collecting specified data much faster than a human could, which can be particularly useful for journalists, but can also raise ethical concerns.
Slack allows bots to be created by anyone using their API. Reporters can also use bots for Twitter, bots for web scraping, and some bots can write the news themselves.
For some examples closer to home, on Twitter the BBC has a Weather Bot as well as bots that tell you what songs are currently playing on Radio 1, Radio 2, Radio 3, 1Xtra, 6 Music and Asian Network.
3. Be strategic with your data
Major news organisations publish hundreds of stories a day. How do they decide which are the most important or likely to do well on social networks?

The New York Times built a bot (shown above) to identify the best stories to promote on social media such as Facebook. The bot uses artificial intelligence to look through data and predict what stories are likely to do well. Their 'blossom bot' posts get around 380% more clicks than a post predicted by a journalist. Al-Jazeera followed suit with a bot that looks out for breaking news.
"Be strategic," Lamadaar said. "You are the only people who have access to your data, so you need to be using it to the most competitive advantage."
4. Know your audience – and let them know you
Live blogging is a popular way of producing and consuming news, especially as people consume more news at work and want bite-sized content they can access on the go. Research shows that live blogs get up to 300% more page views and 133% more visitors than conventional articles on the same topic.
"When you're reading a live blog, you're feeling like you've got the inside scoop while the journalists are engaging around a topic. It feels more honest, even though it hasn't had the same editorial vetting," Lamadaar said.
(There are now a variety of apps to help journalists get started with live blogging. The Wall Street Journal and the New York Times built Slack live-blogging integrations to make reporting easier for their teams.)
"It's important to know your audience and understand how their consumption patterns are changing. Make sure you're tailoring how you speak to them, as well as the ways you speak to them, based on that information," she advised.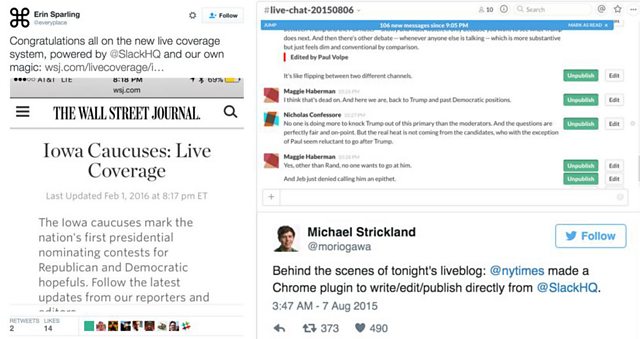 Examples of news organisations using Slack for live blogging
5. Explore new vectors of engagement
"The most successful teams are taking risks and embracing their role as technologists and exploring how they engage with their audience," Lamadaar said.
The New York Times built a 2016 'election bot' (below) that allowed teams working in any company to add a live feed to their internal Slack channel. This allowed reporters at any publication, as they were writing a story, to quickly get information such as the latest poll results.
But beyond simply generating the feed, the New York Times made it bi-directional. This meant journalists anywhere could ask the app questions like "what is the historical importance of Super Tuesday?".