The College of Journalism is running its second Student Innovation Award. Entries are invited before 30 September. Full details here. This post is a story of journalistic enterprise which might provide inspiration: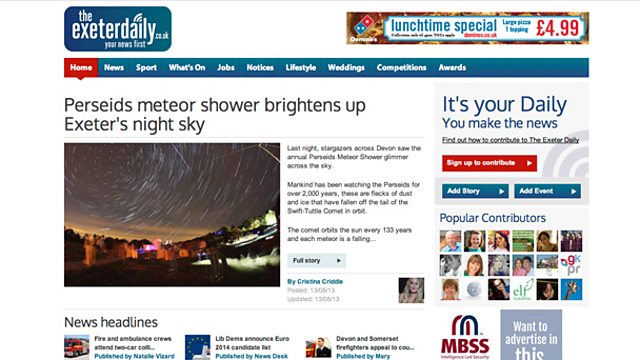 I left the Exeter Express and Echo in 2011 and immediately joined the dark side, establishing a marketing and PR company. Six months later, I was chatting to a friend who asked why I hadn't set up my own newspaper. After explaining that there were two reasons, the first being (despite evidence to the contrary) I am not a raving lunatic and the second that I didn't have cash to burn, I began thinking about his question.
In most of my senior positions, at some point we had been asked to conduct the classic exercise: 'If this were your business, or you were starting it from scratch, what would you do?' The truth is you can never really answer that question unless it is or you are. When you are sitting in an organisation that has pretty much been functioning in the same way for centuries, revolutionary change theories don't come easy.
But here I was, in a position to start from scratch. And so I set to work with a notebook and a piece of paper. I drew up an investment plan with a former colleague and worked out the minimum number of editorial staff I would need to run a digital newspaper. Print was, of course, out of the question… for now.
I decided that what I wouldn't do would be to simply replicate the old print model - something much easier said than done as old habits die hard. I decided that we wouldn't rely on a diet of crime and negative news stories, and that we would encourage (perish the thought) citizen journalism.
Meanwhile, I figured that if we struck up deals with the local sports clubs, the theatre, the local chamber of commerce and a whole host of other organisations that employ journalists as PR folk, we could manage with 1.5 news staff. That isn't a typo… 1.5.
How? Well, we went back to basics and took a brave leap into the future at the same time. The very earliest newspapers were handwritten and the work of individuals and so I began to reason, with the plethora of social media channels, blogs and digital resources, why couldn't one person (the 0.5 is for holidays) curate, commission, create and aggregate enough content to fill a daily online platform? It soon struck me that there was no reason at all, and so The Exeter Daily was born.
Within eight months of being launched it had notched up more than 500,000 hits and been visited by 100,000 different people. And all of this was achieved with no marketing budget, no print title to support it and, yes, 1.5 editorial staff.
We are not, nor will we ever purport to be, a like-for-like replacement for a traditional, local newspaper. In fact, we genuinely don't want to be. Our stock-in-trade is upbeat and positive community news, provided by the community itself. If a big story breaks we will cover it, but we don't go looking. We aren't afraid to 'splash' on a 'what's on' roundup or even a blog.
There is no gatekeeping as such. Anyone can register on the site and post content, with trusted contributors being given direct access and the rest being pre-moderated. Other than any overtly commercial content and submissions that don't fall under the legal, decent and honest criteria, more or less anything goes. It's a somewhat random, intangible and occasionally odd free-for-all, but it works.
Maybe that's because most of the current most popular global platforms are, by nature, somewhat random, intangible and occasionally odd free-for-alls. The game has changed.
In the blink of an eye, the barriers to reaching mass audiences have been demolished and the monopoly the big publishers and broadcasters wielded diminished. Consumer-to-provider and consumer-to-consumer conversations are easier than ever before and the trusted expert is no longer the writer with the local newspaper business card.
The jury is still out on whether our approach will work in the long term but we have already launched a second website in Plymouth and made others available for franchise. Revenues are growing, as are user numbers, and in the first seven months in business we were nominated for two major industry awards.
At the same time, my former employers were in the midst of 'transformation projects' being led by champions who were looking not only to align print and web but go one step further by adopting a 'digital first' approach. It's déjà vu all over again!
With many websites being shaped by centralised think-tanks, the emasculation of a swathe of once vibrant and, yes, ballsy newspapers is almost complete. And so the very thing that made newspapers unique and special and - certainly in what was Northcliffe's case - the very thing that set them polls apart from websites like ours has been snuffed out.
Marc Astley was a journalist for the former Northcliffe Media for more than 20 years, latterly as editor of the Exeter Express and Echo. He left the group in 2011 to form the PR and marketing company Astley Medi@. The following year he launched a digital news business, The Daily UK, which now has two websites, The Exeter Daily  and The Plymouth Daily, with others planned across the UK as part of a franchise model.
This is an edited version of a chapter by Marc Astley in What Do We Mean by Local? published this year by Abramis Academic Publishing and edited by John Mair and Richard Lance Keeble with Neil Fowler.