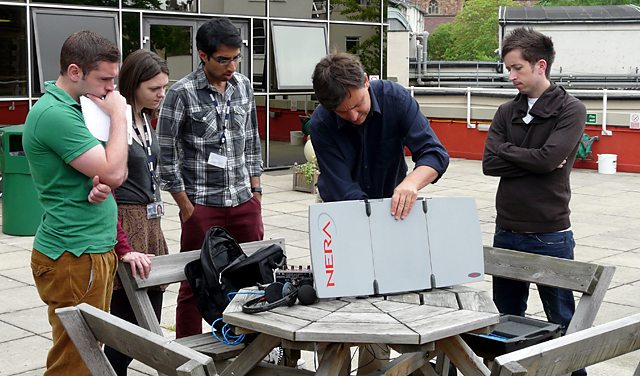 The BBC's award-winning Journalism Trainee Scheme (JTS) is highly competitive, attracting up to 3,000 applications each year.
The class of 2013 are currently in their work placements. The start date for JTS 2014 has now been confirmed as September 2014.
The scheme is aimed at journalists without much experience who are good writers with a nose for a story. At the end of the year they should be capable of applying for jobs as qualified broadcast journalists.
The JTS was set up in 2007 with a specific remit to target people from a wide range of backgrounds, including those who might not have thought the broadcast media was for them. In 2011, it won an award from the pan-broadcasting Cultural Diversity Network for promoting diversity in UK newsrooms.
There is no age limit, and the scheme welcomes career-changers as much as younger applicants. There are 12 fully paid placements each year.
After an initial course at the BBC College of Journalism, trainees move on to BBC newsrooms where they spend time in television, local radio and online. They could be based anywhere in the UK, from Belfast and Glasgow to London and Cardiff.
Some work in news, others in sport; one works in politics as the Gareth Butler Trainee, in memory of the late Gareth Butler who was an editor in political programmes. All are mentored by a senior journalist.
While there is no guarantee of a job at the end, JTS alumni are now working across the BBC, from Newsnight to BBC Humberside; from the World Service to Newsround.
So what are the requirements?
Talent, potential and determination count for more than academic background. Candidates have to get through a rigorous interview and assessment process. If you want to follow them, you'll need to:
be a good writer with great potential and lots of ideas to make original output
have a genuine interest in news and current affairs and/or sport
be able to write quickly, accurately and compellingly under pressure
have an eye for a striking image or an ear for good audio
be able to report the news fairly, accurately and without bias
be committed to intensive training and working - away from home
relish the challenge of helping the BBC to better serve its diverse audiences
be resilient and have the flexibility to work unsocial hours (including nights and weekends).
We aim to start recruiting in spring/summer 2014. Follow us on Twitter @bbcjts.