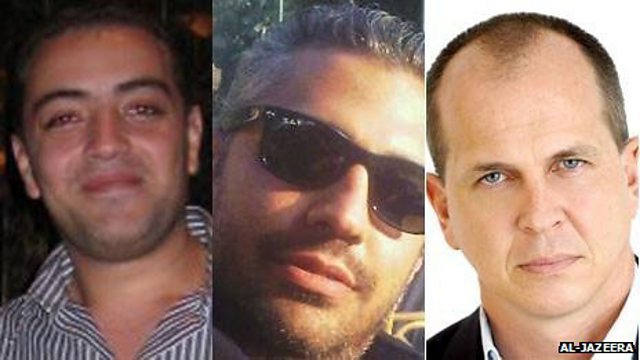 Baher Mohamed, Mohamed Fahmy and Peter Greste
The
arrest and detention
since late December of three al-Jazeera English (AJE) journalists in Egypt on what look like spurious national security grounds have triggered a wave of worldwide protests against the actions of the Egyptian authorities.
The parents of Peter Greste, an award-winning Australian-born AJE correspondent, made a heartfelt televised appeal for the release of their son and his colleagues Mohamed Fahmy, AJE's Cairo bureau chief, and Cairo-based producer Baher Mohamed. His father said the allegations against the TV team were "preposterous".
Al-Jazeera issued a robust denial of the Egyptian prosecutors' claim that the TV team had sought to falsify video footage to support the aims of a terrorist group and distort Egypt's image abroad. All the team's work had been of the highest journalistic standards, the network said. In the past two years al-Jazeera English has won several prestigious international awards for its coverage of dramatic events in Egypt and across the Middle East. 
A statement signed by 46 international editors and journalists who cover Egypt stated that the three detainees are well respected. The group insisted that upholding the rights of journalists and permitting the free flow of information best serves the interests of all Egyptians.
That statement also called for the release of all the journalists now held in Egyptian jails because of their work. Two other al-Jazeera employees, Abdullah Al Shami and Mohammed Badr, have been held in custody for more than five months.
Meanwhile expert non-governmental organisations have publicised forensically detailed evidence of the scale of the Egyptian governments' persecution of independent and critical media as well as other human rights abuses.
The US-based Committee to Protect Journalists says that since July 2013 at least five journalists have been killed, 44 journalists assaulted and 44 detained without charge in lengthy pre-trial procedures in Egypt.
The CPJ alleged on 13 January that Mohamed Fahmy, one of the three al-Jazeera English journalists arrested on 29 December, was being held in a windowless room in Cairo's notorious Scorpion prison and had been refused medical care for a shoulder injury. Peter Greste is understood to have been held in solitary confinement.
The Paris-based Reporters Without Borders says al-Jazeera is a prime target of an Egyptian government campaign of persecution of news media that it sees as Muslim Brotherhood supporters. The network's bureau in Cairo has already been closed and its equipment seized.
One al-Jazeera manager has described that persecution as an attempt at "ethnic cleansing" of opinions critical of the present government. The government headed by interim president Adly Mansour was installed last year after the army ousted former president Mohammed Morsi, who is now on trial along with many other Muslim Brotherhood figures.
RWB links the latest journalist arrests with the governments' decision on 25 December to name the Brotherhood as a terrorist organisation. That means journalists are now banned from possessing or disseminating Muslim Brotherhood material and face up to five years in jail if they do.
The joint statement by international journalist colleagues of the AJE detainees expresses particular concern that they may face charges that include belonging to a terrorist organisation and spreading false news that could endanger national security. Many well-known names including Christian Amanpour of CNN and the BBC's Jeremy Bowen and Lyse Doucet are among the signatories.
Egypt is ranked 158th out of 179 countries in Reporters Without Borders' press freedom index. The assault on press freedom taking place there matters a great deal because of Egypt's pivotal position in the Arab world. It follows a pattern which has already become familiar in other parts of the Middle East and elsewhere.
So current events in Egypt represent a new, severe warning of the arrival of an age of high risk for journalism. This poses an urgent challenge for global media as well as for the international community - meaning governments everywhere.    
The key features of what is happening in Egypt are large-scale arbitrary arrests, state officials and prosecutors acting with impunity above the law, and the conflation of the work of journalists with terrorism or criminality.
These things spell a drastic situation for media who are faced with an impossible choice between accepting the role of mouthpieces for the state authorities regime or becoming its targets.
Similar conditions for news media already exist in authoritarian states around the world. And they have also come into play to some extent in a swathe of countries which may be called 'swing states' or 'transition states', such as Pakistan, Turkey, Ukraine and Mexico, as well as large parts of the Middle East and Africa.
In all these regions independent journalism is now under severe pressure, as leading press freedom NGOs have plainly documented. Everywhere it is locally based journalists who mostly bear the brunt of such oppressive and dangerous conditions.
But already the world's major providers of international news are waking up to the existential risks posed by 21st Century-style repression of free and independent media.
Last November a group of seven leading international broadcasters - including the BBC and public broadcasters of Australia, France, Germany, Japan, the Netherlands and the US - put out a joint statement warning that increasing violence and intimidation against journalists "means that the work of international broadcasters is being impeded".
Senior editors and journalists from the Associated Press and the US network NBC addressed a special debate in the UN Security Council last July, testifying to the growing dangers of international reporting and calling for effective international action to improve protections for journalists, both in conflict zones and in areas of lawlessness and serious unrest.
The impact of such professional interventions from the media has already been significant. The deputy UN secretary-general Jan Eliasson stated that when journalists are killed or silenced information about threats to international peace and security is often buried. He said the Security Council might adopt a more proactive stance in standing up against suppression of media freedom wherever it occurs.
And just last month, on 20 December, the UN General Assembly adopted its first resolution on the safety of journalists and the issue of impunity. It urged all UN member states to adopt adequate laws; to ensure that police, judicial and army personnel fulfil the commitments made by all states under international law; and especially to make sure that those responsible for targeted attacks or persecution against media workers are brought to justice.
Impunity has now been clearly identified as a scourge that can create a climate in which the killing of journalists is seen by perpetrators as an almost risk-free way of silencing critical voices. CPJ estimates that murders of journalists go unpunished in about nine out of every 10 cases worldwide.
Remarkably, the UN also proclaimed 2 November as the annual International Day to End Impunity for Crimes against Journalists. The date was chosen because 2 November 2013 was the date when two journalists working for Radio France International were killed on assignment in Mali.
Journalists themselves need to understand what's going on here. They should know why the UN places such strategic importance on ensuring that governments create a "free and enabling environment for independent journalism", instead of seeking to stifle it.
Egypt is one reason why - one of many.
And that's not all. Journalists in Egypt and other states where press freedom is under attack are looking more than ever to their colleagues in the West for support in their struggle. Some of them hope the next phase in the defence of journalists' safety will include prosecutions undertaken by the International Criminal Court.  
Al-Jazeera, now one of the world's foremost international broadcasting organisations, backs the idea of an international media coalition. Among other things, the network suggests that participating organisations will organise high-profile "awareness campaigns", including coverage related to the struggle for freedom of speech and media freedom at particular times of the year - for example, around World Press Freedom Day on 3 May.
Other leading media are growing increasingly convinced of the need for new and stronger responses in the face of the troubling environment I have described.
A group of the most concerned global media organisations and front-line journalists will be gathering at the BBC in April for a special symposium focused on journalists' safety and ways of ending the scourge of impunity. Urgent problems in the Middle East, Latin America and other dangerous regions for journalism will be at the core of action-oriented discussions there.
UNESCO's latest newsletter flags this event coming up in London. I plan to write more about it here nearer the time.
William Horsley is international director of the Centre for Freedom of the Media and the media freedom representative of the Association of European Journalists
Other College of Journalism blogs by William Horsley
London symposium on the safety of journalists - video
Global media to monitor a UN plan to protect journalists from assassination
Iranian journalists face growing threat of imprisonment in pre-election crackdown
Burma's media in transition but self-censorship still strong
Media freedom faces 'greatest challenge since the Cold War'
Centre for Freedom of the Media (CFOM)
Association of European Journalists