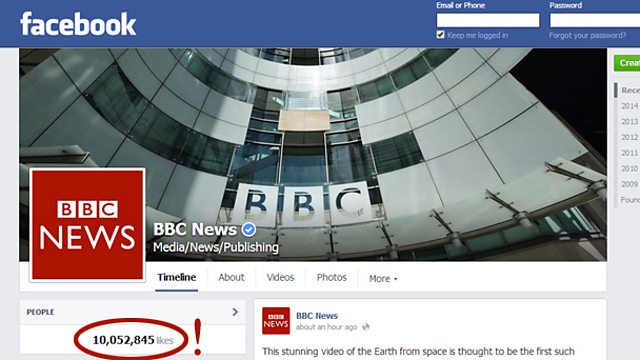 I recently read
this excellent piece
by Mat Honan on the perils of Facebook 'likes'. Mat set out to play Facebook at its own game - to see what would change if he "constantly rewarded" the algorithm robot and liked everything he found. Suffice to say the experience was pretty soul-destroying.
"There were no human beings in my feed anymore." Instead, Mat found he'd encouraged Facebook to bombard him with brands and commercial messages.
The BBC News Facebook page has just had its big 'moment in the sun'. Ten million lifetime 'likes' (or page fans) is a huge figure. More people watched the Fifa World Cup final on BBC One; but far fewer tune into BBC News at Ten every day. 
Of course many of those who've 'liked' BBC News on Facebook may not be genuine fans, but the growth of the page is still impressive: from 1.4 million to 10 million in a year, to be precise. 
Cue cheering, a celebratory team party, and much lauding across our social media accounts?
Well, 10 million page fans is a milestone and testament to lots of hard graft from a small team of social news writers working alongside online and UGC (user-generated content) colleagues. But for many of us immersed in social media metrics, the gold standard is all about 'engagement'. How is the content on our page being shared and commented on? Is it encouraging Facebook fans to explore other BBC News online content - and, if so, how long are they staying there?
Arguably the BBC News Facebook page still has some way to go on this measure. In a recent social media survey the page ranked 19th out of the top 25 most-shared Facebook publishers. Now I'm not sure that BBC News can, or should, emulate the Facebook approach of some of those publishers further up the list. But we should certainly offer our fans something they wish to share and discuss.
In practice we have seen a steady increase in referrals to stories on our website from BBC News on Facebook, and I'm sure our choice of content and approach to the page is paying dividends. We target different audiences throughout the day and night, have a dedicated 24/7 effort, and showcase great BBC video, visually appealing infographics and picture galleries, exclusive interviews and, of course, breaking news. We're also quick to engage with our fans in Q&As, to respond to comment when necessary and possible, and to own up if we get things wrong.
Mat says that to "like" and "favourite" are the "ego-feeders for the stuff we put online". He may be right. And while we're pleased about reaching 10 million likes, we now want to encourage our growing number of fans and followers to dwell a little longer and engage a little deeper.
BBC College of Journalism's Facebook page