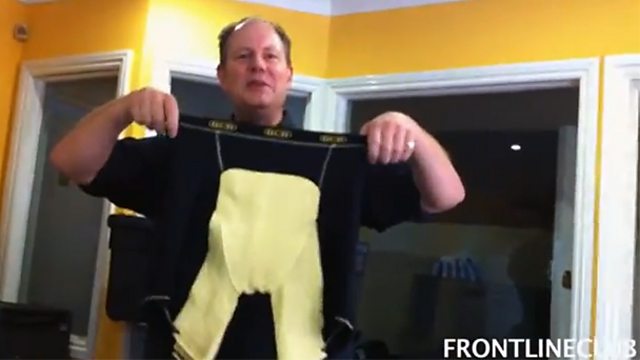 What do you need on a trip to a war zone as an embed?
Independent video journalist Vaughan Smith gives a complete run down of his kit as he prepares to join the Grenadier Guards in Afghanistan in a new video from the Frontline Club, of which he's founder.
Smith is most proud of a new addition to his luggage: "armoured pants" (above). "I like these," he confides, "They protect your inner thigh and your equipment from being blown off."
For all the cheery asides, it's clear that Smith takes his preparations extremely seriously, and he knows why: "You don't want to be spending your time in a dangerous place attending to the logistics… so you want it all to be there."
Unlike some journalists, Smith has no time for good luck charms. He says he takes a mathematical approach to the odds of landing in trouble, finding out the casualty rate in the area he's planning to visit. And he knows that "if you get blown up or shot there's only a 10% chance you'll lose your life".
His kit appears to cover every eventuality, but still has to be portable because "on an embed you will have to carry all your things for the odd half mile from place to place." So think carefully about how many bags you put it in, he advises.
Here are my notes on the items he's got in his bags, as detailed in his 25-minute video demo:
Camouflaged helmet
Flak jacket
Camouflaged rucksack for use on a day's outing
Portable first aid kit
Five to six litres of water, accessible from rucksack through drinking tube
Laptop
Batteries
Protective dark glasses (with rims to stop dust getting in)
Battery-powered fan
Tripod and plate for camera
Tripod strap - substitute for tripod bag
JVC camera
Battery to keep with the camera, even when not planning to film
Microphone
Three hard discs to transfer footage to
Memory cards to film onto
USB-powered fan
USB-powered light
Lens wipes
Fog-buster for glasses
Pen
Masking tape to cover any lights on camera, for shooting at night
Spare socks
Phone charger
Phone
Memory card case
Flip cam as second camera
Button mic for second camera
iPhone as third camera
Black lockable plastic box to put other bags into in plane hold
Straps to hang smaller bags onto vehicles
Soft camera rest to use on ground instead of tripod
Main kit bag
Washbag
Athlete's foot powder
Loo paper
Antibacterial gel
Two strengths of sun lotion
Eye wash
Diarrhoea treatment
Collapsible fabric shaving bowl
Shirts
Hard-wearing trousers
Lots of T-shirts
Anti-mosquito cream
Goggles
Imodium
Ankle support bandage
Breathing aid
Bandages
High-impact goggles against explosions
Night sight to film through with Flip cam
Blank DVDs to copy footage onto
Frontline Club books to give people
Copy of films he's made to show people
Water carrier
Spare batteries
Sling for camera to free up hands
Chocolate
Multi-socket points and lead
Toolbox to fix camera
Sweat soaker (preferably with anti-mosquito protection)
Battery charger for camera
Masking tape
More spare batteries
Instant coffee "my treat"
Flip flops "to prevent verrucas in the showers"
Mosquito net
Bivvy bag to put sleeping bag into when sleeping outside
Knee pads "you've always on your knees, standing around, and it's not good practice"
Roll mat to sleep on
Fold-up seat
Pillow
Blister tape
More spare socks
Tin flask
Cup.
Doesn't he take a toothbrush?