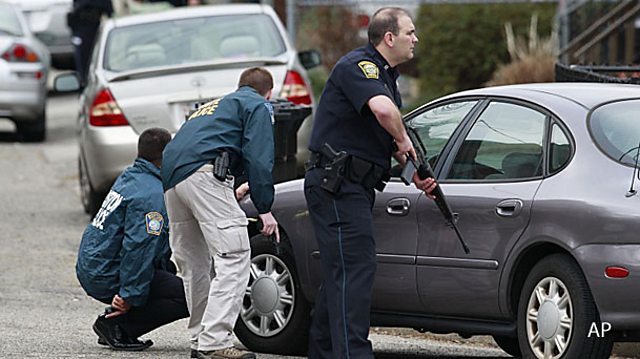 Last week was quite extraordinary for breaking news stories. I was in New York for most of it, preparing for the BBC College of Journalism and New York Times
Social Media Summit
#smsnyc. As many people pointed out, the event could not have come at a better time for the issues that were to emerge.
The coverage of the Boston marathon bombing, the investigation and subsequent manhunt (pictured), highlighted the massive problems of social media in a fast-moving news environment. The mistakes that go uncorrected and then shared across networks. The mass of noise and speculation, without context or challenge. And the importance of speed over accuracy.
At #smsnyc we were able to put together an excellent panel to look at the main problems, but also to call for solutions. Claire Wardle of Storyful (@Cward1e) chaired a session with Andrew Hawken (@skyhawken), head of digital at Sky News, Liz Heron (@lheron), director of social media and engagement at the Wall Street Journal, and Lisa Tozzi (@lisatozzi), an editor at the New York Times who oversees The Lede blog.
Claire began by setting out some of the main points of concern:   
Verification - the audience now sees information at the same time as mainstream news organisations. So how do you know what's true and what's false?
Speculation - people love gossip; social media is no different. But how can you tell what's speculation and what's considered reporting?
Responsibility - we all have a duty to ensure that what we are saying is true and accurate.
Processes - there appears to be little doubt that better processes are needed for breaking news.
Ethics - understanding the basic core principles of journalism and reporting.
All of the panelists agreed that Boston was a challenging story on so many levels. Andrew Hawken described it as a global story of huge interest but with very little information. It is difficult to report, especially when there is so much speculation flooding social media.
Sky treats all platforms the same, he said, whether it be social media, TV or online. Branded accounts need to be right. In the past very few organisations did live storytelling - now everyone can, increasing the challenges.
Liz Heron said the Wall Street Journal deals with all stories differently but it is always transparent and honest about sources and facts.
The New York Times also applies the same standards to all platforms, said Lisa Tozzi, arguing that the community as a whole has a responsibility and duty to be part of the solution.
Claire then turned to the audience: a connected and engaged group of journalists, social media experts, academics and media executives from all over the world. They were exactly the right people to ask. Here are some of their suggestions. Many are around verification - some easier than others to act upon:
A colour-coded system for rating verification. People and organisations are rated on their ability to verify content and information: green, high; red, low
Verified and trusted organisations get more space on Twitter
Don't tweet unless you have something to say
Embed trusted journalists in Reddit to curate the material
News organisations have a duty to provide a guide/code of conduct to help people to understand ethical reporting
Errors proliferate quickly - there should be a correction function that can move as quickly
Automatic buttons to provide rights to use photos/content for 48 hours around major news stories
Algorithm ratings if you correct or verify material
Metadata should follow pictures
Don't report rumour/speculation
An eBay-style trust/verification rating system for individual users
Credit-style rating systems for news organisations, similar to Moody's/Fitch
Set up a verification task force
Use of the hastag #unv for unverified material
Have a verification button - saying what and how people have verified the material
Barometer for verification - can Twitter provide a heatmap/dashboard?
Down grade unverified content so it doesn't show up on a social search
Warning of graphic images. 
We will be sharing these with all the key social media platforms, but we need your thoughts and suggestions. Please get in touch and comment on which you think are the most important.     
Citizen journalism meets old-style investigation in Madagascar #smsnyc
Social media deniers have disappeared - next stop New York #smsnyc
A social media swap shop if ideas #smsnyc