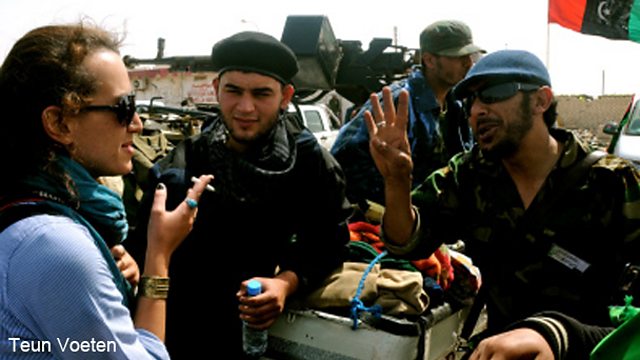 Sarah Topol talking to fighters in Libya
For young journalists looking to become the next John Simpson or Jeremy Bowen, the first rung on the career ladder used to mean hard graft in the newsroom of a weekly provincial newspaper or local radio station.
But shrinking budgets for foreign news, increasingly universal internet connectivity and relatively cheap flights to some of the world's trouble spots have dramatically reduced barriers to entry for would-be foreign correspondents.
The scarcity of entry-level positions is encouraging some young journalists to skip the unglamorous training grounds of local newsrooms and head straight to some of the most hazardous countries on the planet in search of that elusive career break.
For organisations working to improve the safety of journalists it's a cause for increasing concern.
"There's something of a worrying trend developing," says Hannah Storm, director of the International News Safety Institute. "I'm hearing it from people that have recently graduated. I'm seeing it on Facebook. And I see it sometimes when I talk to students in universities.
"It feels like now in places like Syria there are more and more people in their early or mid-20s with little or no experience - but with an overriding enthusiasm which makes them want to go out there and make a name for themselves, without taking the realities on board."
Cairo-based journalist Sarah Topol, 28, recently received a Kurt Schork Award for her reporting from Libya for GQ magazine. She has written about the risks being taken by inexperienced freelancers. Janine di Giovanni says such people are being used as "cannon fodder".
When Topol travelled to Gaza three years ago her portfolio of published work consisted of just a handful of reviews and features for an Egyptian newspaper.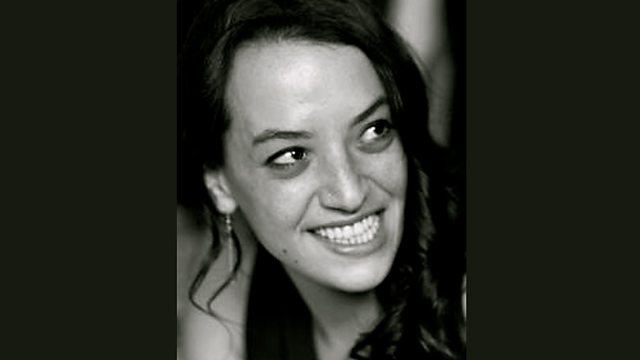 Sarah Topol
I met her in London and she admitted she was under-prepared for her first hazardous assignment. Topol said she strongly discourages others from following her example. "The problem when I tell students my story is that I did exactly what you aren't supposed to do," she told me.
"The first time I wrote for a Western outlet I climbed down a tunnel in Gaza during a ceasefire that we weren't sure was going to hold. I was lucky, but it doesn't mean others will be lucky. I was stupid but it doesn't mean others have to be stupid."
No non-motorist of sound mind would consider climbing behind the wheel of a high-performance sports car and putting the pedal down without first having a few driving lessons.
Yet ambitious writers and film-makers seem increasingly prepared to put their life at risk in some of the most hostile environments in the world without basic first aid training, insurance or protective kit, or any form of back-up plan in the event of an emergency.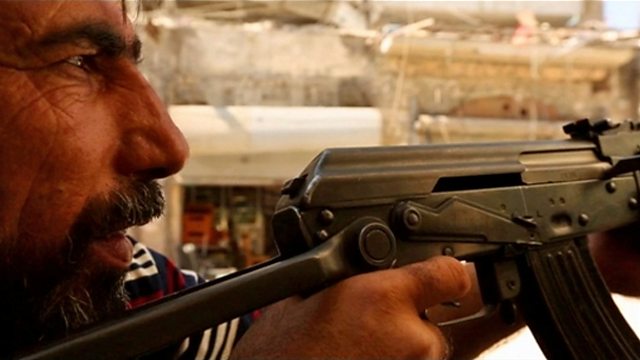 Gunman in Syria
At its most extreme, this 'have a go in a war zone' mentality has led the likes of Londoner Sunil Patel to
head for Syria
despite never having had a word published in the press. Indeed, even his online account of travelling alongside the Free Syrian Army is ghost written.
When I asked Patel via Twitter whether he had taken a flak jacket to Syria he replied "No… I had my brain which told me use effective cover at all times. Also I'm not a pussy."
As far as I'm aware "not being a pussy" isn't regarded by security experts as adequate protection against an AK-47 round travelling at 715 metres per second.     
A few notorious cases have blurred the line between newsgathering and activism. Last year, the Committee to Protect Journalists publicly condemned a US man, Matthew VanDyke, whose release from detention in Libya it had campaigned for after it emerged he had taken up arms and fought alongside anti-Gaddafi rebels.
VanDyke insists he never claimed to be operating as a journalist in Libya even though he had worked for newspapers in the past. Labelling himself a "freedom fighter" and "a veteran of the Libyan revolution", VanDyke is currently working on a film in support of the Free Syrian Army. But, as British-Arab journalist Sakhr al-Makhadhi puts it, "film-making and weapons don't mix".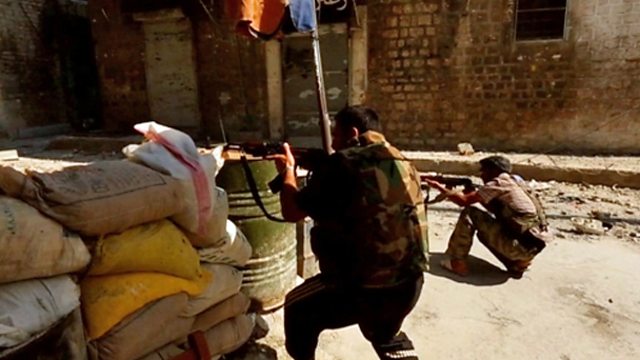 Fighting in Syria
From Vietnam to the Arab Spring, young journalists have for decades hopped on the back of a Huey helicopter or a rebel jeep in search of a story that will persuade a news editor in London or New York to give them a chance to prove themselves.
But in a year that has been the deadliest on record for journalism Topol believes that taking excessive risks in a war zone should never be viewed as a fast track to fame.
"If you actually want to succeed in this industry you need to do good work," she told me. "Anybody can put themselves in enough risk and get a story published. But the point of being a good journalist is to do good work no matter where you are, instead of taking a massive risk to write one piece. "It could potentially launch your career but it won't prove you're good at anything."
More about safety on foreign assignments from the College of Journalism: in this film, BBC Africa correspondent Andrew Harding shows how he and his team prepare for a trip to the Ivory Coast.