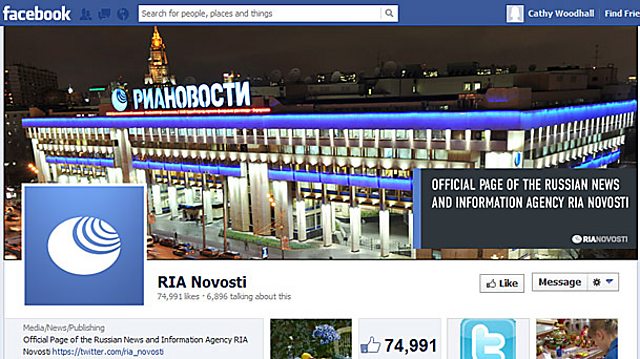 In many ways this was the most interesting of the panels from the
Social Media Summit in New York
. It was an opportunity to hear from social media editors around the world about how they and their news organisations engage with their audience through social media. They all have different challenges and different solutions.
Dmitry Shishkin (@dmitryshishkin), digital development editor at BBC Global News, chaired the 'Dispatches from Global Newsrooms' session. On the panel were Ekaterina Rukavishnikova (@esmariel), social media manager at the RIA Novosti news agency in Russia, Namrata Mankotia (@peoplespeak), social media editor at NDTV in India, Julien Pain (@_JulienPain), editor of Les Observateurs on France 24, and Sina Motalebi (@webgard), editor of BBC Persian online and interactive.  
Representing Russia's most active news organisation on social media, Rukavishnikova said RIA Novosti experiments with all platforms, the latest being Instagram - and it's the first in Russia to do so. All of its journalists use social media, focusing on human stories and engaging with the audience; inviting constant feedback.
Namrata Mankotia told the conference how in the past 13 years NDTV (New Delhi TV) and Ndtv.com have been looking at all new digital trends. Through intelligent experimentation it has become the most effective news organisation in India on all the key social media platforms.
Les Observateurs (The Observers) is a user generated content (UGC) show. It has 3,000 contributors from all over the world. Julien Pain says France 24 cannot and does not compete with the big US and global networks - it doesn't have the money or resources. So stories such as the Boston marathon bombing are less of a priority. Rather, it focuses on other regions that don't get the same coverage, using material provided by its network of viewers, correspondents and contributors. So countries such as Mali and Syria receive most of its attention at the moment.
UGC and social media is the only way BBC Persian can cover Iran. All staff are banned and the authorities jam its satellite signals and block its website, but through social media BBC Persian can engage with its audience. Motalebi used the example of a recent Question Time-style programme where the audience wasn't in the studio but online around the world.
This couldn't happen without Facebook and Twitter. In the past year the 'likes' on Facebook for BBC Persian have gone up from 140,000 to 600,000 - 450,000 of which are in Iran; a country where it isn't allowed to operate.
Shishkin gave an overview of social media in the BBC World Service as a whole. BBC Azeri gets 30% of its traffic from Facebook. BBC Mundo builds its agenda around what is trending. BBC Russia has replaced a content producer with a social media editor. And BBC Persian is a fantastic case study in how to use social media.
The France 24 panelist described how Les Observateurs has become the most watched programme on the channel. It spends a great deal of time engaging with its audience and contributors, building trusted relationships. UGC is not easy in the countries it reports on - countries that other mainstream media are, if not ignoring, not paying much attention to.
He used the example of someone in the Democratic Republic of Congo. It's not like taking a picture on your smartphone and immediately being able to upload to it. In the DR Congo, if you film something it's often on a small digital camera; you then have to get on a bike or bus and travel hours to the nearest internet café, where it takes an age to upload it. That's why Les Observateurs has so much impact: it's the passion and work that goes into it.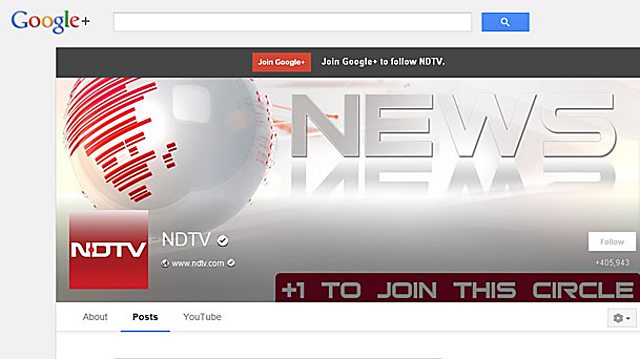 Verification was a clear priority for everyone on the panel. Pain builds a relationship with a trusted community, but that is not the case with all French media. He cites the recent case of a published photo that was purportedly from Iran but actually from Honduras.
You need expertise to verify material, as when BBC Persian played a central role during the Iran uprising in 2009 by embedding journalists with local knowledge of Tehran to view all the material coming into the BBC UGC Hub.
In India and Russia they exploit the same techniques, using journalists and refined processes to ensure all of the social media and UGC they use is what it says it is.
For RIA Novosti, one of the challenges is the scale of the country. It has for some time had trusted networks in Moscow and St Petersburg. Now it is launching sites and building relationships in places such as Vladivostok, 6,000 miles from Moscow. Meanwhile social media in Russia remains very complicated. Facebook and Twitter have a presence but the main social media network is VKontakte, and the Russian news agency need to be across all platforms.
Pain made the same point. Les Observateurs has contributors from all over the world. While Facebook, Twitter and Google+ are important so are Weibo, VKontakte and the Livejournal blogging platform.
The ethics of what and how they cover stories also engaged the panelists. Mankotia said there are topics that NDTV wouldn't touch. It doesn't get involved in rumour and gossip, but it has built a small social platform to enable journalists to engage with the audience. Pain added that the stories Les Observateurs covers are often so sensitive that it's the most blurred programme on TV, as people's identities are protected.
There was consensus on the panel that engagement was the most important ambition, alongside using social media for good public service journalism. That was much more important than reach. As Rukavishnikova put it, if you want to boost your reach all you do is post stories and pictures of cats. The Russians love cats.
Just how far social media has come in the past 10 years was a point made eloquently by Sina Motalebi. In 2003 he was a blogger in Iran. On the eve of his 30th birthday he was arrested and imprisoned by the Iranian authorities. Ten years later, on eve of his 40th birthday, he was sitting in the New York Times Center speaking to an audience of 400 people about how social media is helping to improve journalism around the world.
Citizen journalism meets old-style investigation in Madagascar #smsnyc
Social media deniers have disappeared - next stop New York #smsnyc
A social media swap shop if ideas #smsnyc
Video gets social through engagement and authenticity #smsnyc
After Boston, brainstorming better verification #smsnyc
Future of news organisations in a social world: the big guns discuss #smsnyc