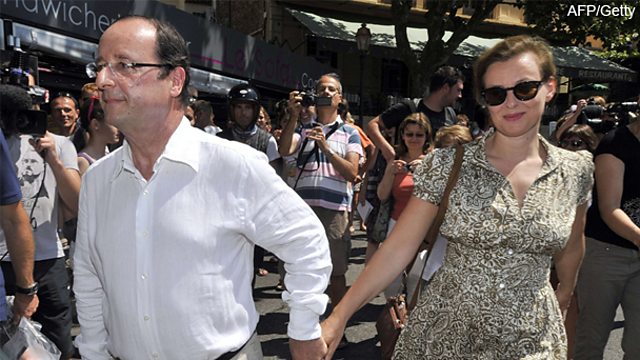 François Hollande and his partner Valérie Trierweiler
For the past few weeks the newly elected French president François Hollande can have had no doubt that his media honeymoon is well and truly over.
Hollande was only elected in May but appears to have disillusioned the media on both left and right. This week the left-wing news magazine Le Nouvel Observateur had a photograph of the entire government under the question "Are they are all hopeless?" And the left-wing magazine Marianne complained "Hollande, get moving, there's a fire."
On the right, Le Point's negative coverage started immediately after the election with covers such as "The laughing is over now". Last week the headline, above a picture of Hollande looking puzzled, was "Shall we wake up?"
Franz-Olivier Giesbert, director of Le Point, says the press is criticising the slow pace of reforms. But whatever the politics behind the phenomenon, the media relations angle is perhaps just as important.
There's a history here: the previous president, Nicolas Sarkozy, lived a "passionaria" with the media at the start of his presidency. But as his "bling-bling" style started to emerge, the love affair cooled. By the end of Sarkozy's presidency almost all the media was against him - apart from Le Figaro, which was known in political circles as "La Pravda".
The difference with today is that Hollande bashing has started just four months after the election. Why?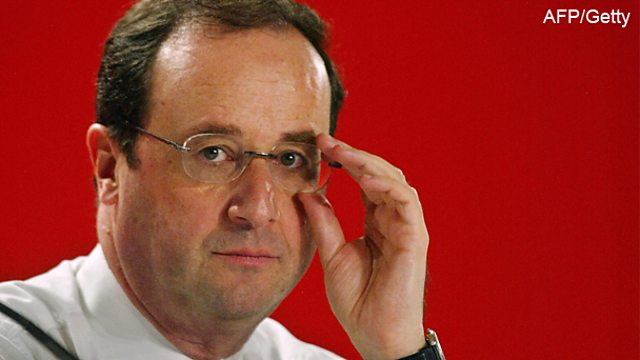 François Hollande
Firstly, Hollande may be the victim of his favourite media line: he said he was aiming for a "normal" presidency. Its style would stand in stark contrast to Sarkozy's.
If the slogan was good enough to win the election against his ostentatious opponent, it has proved inadequate against the fallout of a deepening economic crisis. Today, with more than 10% of the population unemployed, France needs a superhero rather than a "normal" president. Hollande's normality is questioned by a media that suspects it's simply a cover for passivity.  
Secondly, even if France was ready for a president who wanted to distance himself from Sarkozy's style, the media have belatedly discovered the merits of a leader who showcased his political virility with a new reform every day. They liked his storytelling - at least until they were being used as part of the spin machine.
Hollande, miles from Sarkozy's style, was praised for exactly that by the media during the campaign. But his "low-key" approach is now seen as a reason to doubt he's up to the job.  
Thirdly, Hollande's bad press may be driven by marketing and financial considerations. Negative headlines align the media with its audience. Left-wing publications believe that, even within Hollande's electorate, people are ready to criticise him.
According to a journalist quoted in Le Monde, "The media who criticise Hollande sell more."
Christophe Barbier, director of L'Express, admits that anti-Hollande covers sell more; his sales have risen from 75,000 to 95,000 copies.
So are Hollande's media problems any more than a way to sell newspapers? If so, there may be limits: the director of Marianne acknowledges in Le Monde that his most recent covers criticising the government didn't do as well as expected.
A final possible explanation, the most Machiavellian of all, is that since most of the media were behind Hollande during the campaign they're now eager to demonstrate publicly their independence from the new seat of political power.
It's an eternal dilemma in France, since political journalists and politicians move in the same social circles. Look no further than Hollande himself whose partner, Valérie Trierweiler, is a journalist for Paris Match.