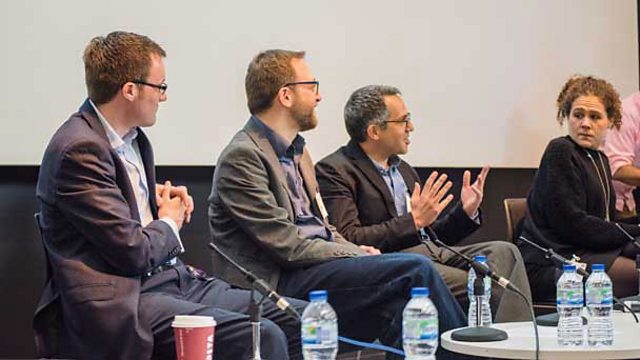 Panellists Paul Bradshaw, Daniel Noy and Mark Frankel are joined by Alia Lamaadar of Slack
The business of breaking news remains a key aim of news outlets. But where, how and to whom it is broken to is rapidly changing. In order to stand out from the crowd, media outlets are increasingly crafting journalism in a way that at its best makes the most of popular social platforms to reach new audiences with new experiences.
How to do this, while remembering you have more traditional audiences to serve as well, was the subject under discussion in a recent panel session at Rethink Media 2016 – Birmingham City University's annual conference that took place during Digital Cities Birmingham.
The university's Paul Bradshaw characterised the shift as a move from the traditional newspaper or news website model of "one gate, many stories" to "one story, many gates". The ubiquity of online news sources – from eyewitness reports on Twitter to a carefully crafted newspaper report – means that it is increasingly the way that stories are actually told that can be key to hooking in audiences on new platforms.
"Media is the new exclusive," argued Bradshaw (below), pointing out that social media has become a barrage of calls to action like "listen", "watch", "learn" and "talk to". Audience attention is captured by unique media – an exclusive video or audio clip, or live interactive session – and headlines suggest audiences 'do' something rather than just passively experience the story.
Something that online audiences are embracing more than ever is live content. The appetite is not small: BBC News social media editor Mark Frankel shared the result of a recent study that found that continuously updated live blogs get 300% more views and 233% more visitors than conventional posts.
One tried and tested form of live content currently getting a portable resurgence across social networks and apps is live streaming video – which now just requires a smartphone and an internet connection. Many apps are fighting for dominance, and Facebook has recently entered the fray by allowing its huge user base to live stream on the site via Facebook Live.
As one of the biggest news brands on Facebook, this was something BBC News couldn't ignore. So as part of their recent mental health week the team hosted Facebook Live sessions with key correspondents and guests, linking these streams in to the rest of their online and television content.
"When you have 28m fans and you decide to go live on a smartphone, you can reach people very quickly," said Frankel. "We reached very large audiences, and got some fabulous comments and questions – many of which were fed back into our online journalism."
Rather than being something that could have also gone out on TV, this was customised content designed explicitly for the Facebook audience and the functionality of the platform. A similar approach applies to the BBC's Snapchat channel, which the team in the BBC bureau in Washington have been using to cover the US elections.
Harnessing the app's distinctive vertical video, the team produced Snapchat videos that, rather than a glossy news report, gave quick behind-the-scenes insights from journalists at the bureau. Technically quite 'lo-fi', but with some added graphics on top, this quick content complemented rather than competed with BBC News's coverage on other outlets.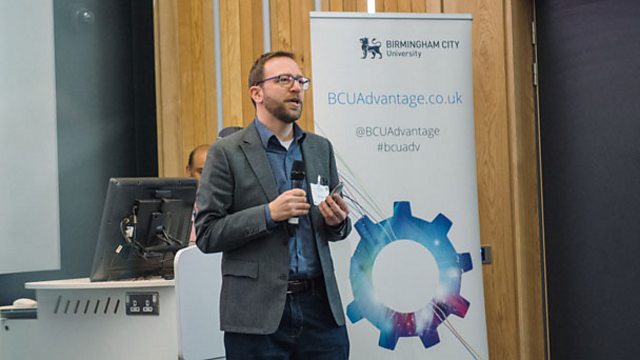 And Snapchat is just one of an ever-increasing set of social apps, each with its distinctive set of users. The networks formed by these audiences are 'bubbles', according to Daniel Noy (above), MD of marketing Agency Think Jam (above).
He argued that changes in technology are changing who we are and how we relate to each other – and potentially creating less community, not more. "We're in a culture where if I hear an opinion I don't like, I'll unfriend you," he explained. "We're putting up a lot of walls – and in news and marketing that makes our job a lot more complicated."
In order to get messages into these bubbles, and perhaps encourage more of a sense of community between them, Noy argued that content producers need to understand why they exist. Rather than just recognising that people aged 14-19 are on Snapchat and can be reached there, he felt that the question that would yield a deeper understanding and potential engagement would be "why are teenagers associating so closely with visual dialogue?".
One thing is for sure – it takes effort and insight to craft something that will work on a specific platform, and each demands a slightly different approach. The session's overall theme could be summarised by a quote from Hearst Magazine's Troy Young, shared by Bradshaw: "With old media you took distribution for granted, with new media we have to earn that every morning."
But there may be a different change in store for beleaguered television producers and marketing teams struggling to optimise their content for social. Recent reports that Facebook and Twitter are fighting to be the first to get the rights to stream live television directly on their networks suggest that, for better or worse, the distinctions between television, online content and social media are going to get even more blurred.
All images courtesy of Birmingham City University, photography by Luke Small.
Our section on social media skills
When Twitter's ahead of the wires, it pays to be live and social