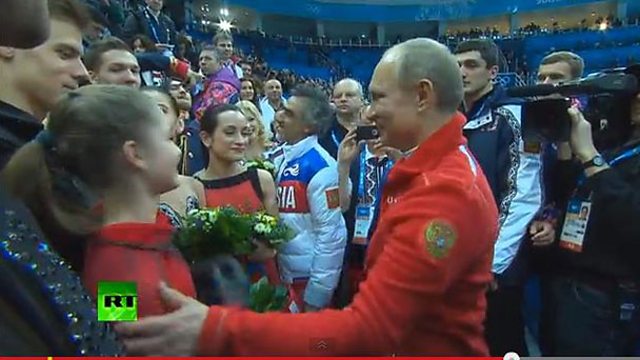 Russia's 15-year-old skating prodigy
Yuliya Lipnitskaya
has become the darling of winter sports fans around the world after her dazzling and flawless ice routine helped the host nation land a team gold at the Sochi Olympics on 9 February.
But she has also unwittingly found herself at the centre of a bitter row after leading Kremlin critic Viktor Shenderovich likened her triumph to German success at the infamous Nazi Olympics in 1936.
The row could also spell trouble for Ekho Moskvy radio, one of Russia's leading independent media outlets which posted Shenderovich's remarks on its website.
By common consent Lipnitskaya has been the standout act of the first week of the Sochi Games. Some commentators questioned her choice of the theme to Steven Spielberg's Holocaust epic Schindler's List as the accompaniment for her medal-winning performance. But most shared Russian President Vladimir Putin's admiration for the young star's exploits. "Very good, clever girl," he said, pinching her cheek as he congratulated the winning team.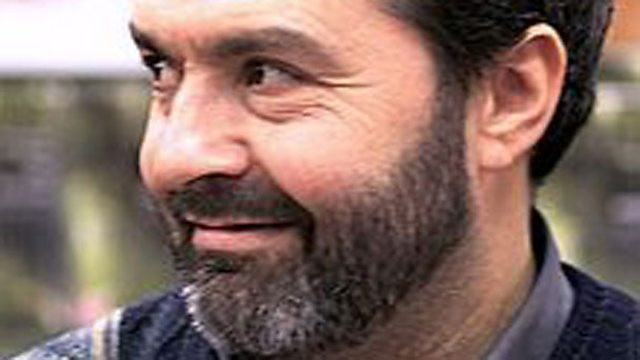 But for Shenderovich admiration was soured by the knowledge that this "
brilliant girl soaring above the ice is giving a boost to Putin's popularity ratings
".
He compared the plaudits for her to the German public's jubilation at shot-putter Hans Woellke winning his country's first athletics gold medal at Hitler's Berlin Olympics. "Today, though, something stops us from celebrating his victory," Shenderovich wrote, reciting some of the scenes of Nazi barbarity, including the Dachau concentration camp and the siege of Leningrad.
A backlash quickly followed. Writing on his blog, One Russia MP Aleksandr Sidyakin accused Shenderovich and Ekho of "crossing a red line" and of "decrying the greatness and dignity of our country".
Other pro-Kremlin social media users turned to ridicule, recalling how in 2010 Shenderovich was humiliated after hidden-camera footage of him apparently performing a sex act was posted on the internet. State news channel Rossiya 24 even showed excerpts from this footage in an attack on Shenderovich in a late-night news bulletin on 11 February. Shenderovich has said that the footage was doctored.
Speaking in the State Duma earlier that day, another One Russia MP, Vladimir Vasilyev, insisted that Ekho Moskvy would "have to apologise because society does not forgive those who insult [war] veterans".
Vasilyev likened Ekho Moskvy's decision to post Shenderovich's blog on its site to niche independent TV station Dozhd's publication of an internet poll that appeared to question the expediency of Russian resistance during the siege of Leningrad: one of the most iconic and traumatic experiences of the Soviet people in World War II. The ensuing scandal led to Dozhd being dropped by leading cable and satellite providers, which has brought it to the brink of collapse.
Shenderovich is best known for his work as a satirist on Kukly - the puppet show aired on NTV in the late 1990s and early 2000s which is often described as Russia's answer to the UK's Spitting Image.
His savage portrayals of Putin in Kukly may have played a part in provoking the Kremlin into wresting control of NTV from oligarch Vladimir Gusinskiy in 2001 and ousting many of the channel's independent-minded journalists.
Both Shenderovich and Ekho Moskvy's veteran editor-in-chief Aleksey Venediktov have refused to apologise for the Lipnitskaya blog post. But Venediktov has as much as admitted that threats have been made to use the row against him in connection with his upcoming bid for re-election as editor-in-chief in March. "My personal fate and my career are not and will not be a bargaining chip in this episode affecting how I understand my professional duty as a journalist and editor-in-chief," he insisted.
Under Ekho's constitution the editor-in-chief is elected by the staff, but his or her appointment has to be approved by the board of directors. During Venediktov's 15-year stewardship, Ekho has maintained a strong reputation for editorial independence despite the fact that it is majority-owned by an arm of state-controlled gas giant Gazprom.
But, says political commentator Svetlana Samoylova, a "pattern is emerging - the media are having tough (at the moment) self-censorship foisted on them with the real risk of difficulties if they refuse to toe the political line".
"You can bet your bottom dollar that the case of Shenderovich's blog will not simply be allowed to fade away," she warned.
Russian TV ignores controversy to put Putin centre stage at Sochi
Other blogs on Russian media by Stephen Ennis
Sochi: A few expert insights on eve of Winter Olympics
The BBC College of Journalism's Russian language site