BBC Journalism Trainee Tom Bigwood has just started his radio placement with BBC London. He recently volunteered to help at a Teen Tech event run by science broadcaster Maggie Philbin. Tom helped two young reporters covering the event:
Just a few months into the BBC Journalism Trainee Scheme and I'm leading the training. The chance to mentor two wannabe journalists reporting on an event attracting entrepreneurs, scientists, 300 students and royalty was always going to be fun.
So, days after our own inspiring radio training at the College of Journalism's base in Bristol, I found myself preparing to help Kara Digby, 17, and Charlotte Bennett,19 - two students on the verge of university - make the most of their day as reporters.
Teen Tech brings together innovative companies and secondary school pupils to enthuse youngsters about technology and science. It's led by Maggie Philbin whose passion for all things futuristic was well known when she was a Tomorrow's World presenter.
There's usually an event taking place around the country every month. June's was in Basingstoke.
Each event sees two young reporters write a story for the local paper with guidance and advice from a local volunteer journalist.
We were working to a school day's timing - so pressure on deadlines was keenly felt. There was a lot to cram into just six hours.
The Basingstoke Gazette was generous in giving 800 words to the reporters. But, having just begun my radio placement, I thought radio should also be incorporated into the reporters' output. They'd make three packages about the day's activities, so it was a real multiplatform assignment.
Once the local media heard the Duke of York would be there, they were keen to cover it. Naturally they all wanted to talk to him.
However, it was our young reporters who secured that exclusive.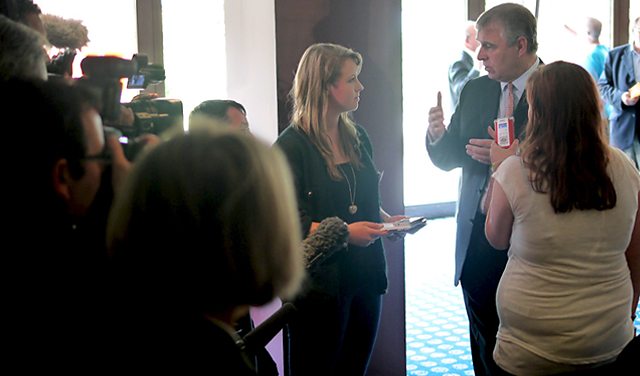 Young reporters interview the Duke of York
The Duke, a former helicopter pilot, explained his longstanding interest in science and technology. Kara and Charlotte asked him which technology was most important to him. When he told them it was water, they pressed him as to why that was technology. He said that were it not for a vast amount of technological expertise safe water would not be available easily in homes.
As well as reporters, they were also interviewees.
BBC Radio Berkshire thought two young journalists getting the royal interview was the story! During an interview on the station's Drive programme, presenter Phil Kennedy admitted he'd never interviewed any royals in his whole career, and asked how they had managed it on their first day in radio.
As the only journalists the Duke had agreed to speak to, the pressure was on. BBC South Today was also at Teen Tech and its sound bite of the Duke was used on an evening news programme.
Kara and Charlotte learnt that journalism is full of surprises. They didn't know they'd be speaking to one of the Queen's sons when they arrived for work.
I helped them to resist the polite pressure from the Duke's minders to ask particular questions, and was proud when they held off the other journalists. Their natural inquisitiveness and genuine bafflement when given unclear answers reminded me that, although some of those attending Teen Tech might be on the way to becoming rocket scientists, that's not our business. We talk to people and ask questions. We tell stories and, if we're good, we tell them well. Simple!
We had them doing a lot! They still had to write their 800 words for the paper on a tight deadline, record audio of participants for the package, in addition to being interviewees themselves.
It was only when we were wrapping up that Kara said she was off to sit an A Level economics exam that afternoon. No time to be nervous…