Apple's iPhone is no longer the all-conquering beast. Its market share is now dwarfed by Android in terms of users of operating systems, and by Samsung in terms of handsets.
Yet the arrival of two new iPhones, and in particular an updated operating system, still has a big impact on journalists because news organisations almost exclusively use iOS devices - whether iPads or iPhones - to record, edit, mix and send their content. (Radio Free Europe is the only example I've found where reporters are using Android: if you are aware of others then do let me know).
Journalists in particular, then, will have a keen interest in understanding how iOS 7 changes their devices.
The new operating system has been radically redesigned, not just in terms of how it looks but what the apps can do and therefore how the device functions. It comes pre-installed on the new iPhone 5s and 5c and is also 'backward compatible', meaning it'll work on earlier models - although not all.
If you have any of the following you could upgrade to iOS 7 from 18 September: iPhones 4, 4S, 5, iPad 2, iPad third and fourth generations, iPad Mini and iPod Touch fifth generation. If you have another device then iOS 6 is as far as you can go.
But please note that the BBC is advising its journalists not to upgrade to iOS 7 until it's had a chance to test it thoroughly. Its experts are advising: "We will continue testing and send an update when any faults are fixed and it is safe to update. If you update your device, it is not possible to roll back. You will be stuck with any incompatibility issues until a fix is released."  
The new operating system was first shown to developers and tech journalists in June. Since then there have been several beta versions where it's been tweaked and tested to within an inch of its life. Now it's ready for the general public - although, as the BBC's warning suggests, it won't be a surprise if new bugs are found once hundreds of millions of users get hold of it.
Every tech blog worth its salt has already produced a guide to what's new in iOS 7 - among the best are iMore, Techradar and ZDNet.  
While these are very thorough and will tell you more than you'll possibly need to know about the new system, they don't deal in depth with some of the aspects which journalists might find useful, which is what I want to do here. For instance, the revamped app for recording audio interviews barely gets a mention in most reviews despite being very different in how it works and what it can do.
All of the reviews cover the fresh, clean look of the new iPhone: it feels "springier" in the way the icons appear and disappear; in the way apps open and close. The reviews also rightly point out that iOS remains, almost paradoxically, rather "static" - in that only a very few icons show live information. The clock shows the right time in iOS 7; the calendar the correct date. Other than that, you need to delve further into an app or click through to another screen to get information. Android, as well as Microsoft's Windows Phone system, do better here with widgets and live tiles.
The three main newsgathering aspects of the iPhone - taking photos, recording audio or video - have been redesigned, giving a new look to how you take the content, what you can do with it before sending it, and even how you can share the media you've recorded.
In future posts I'll go into detail about the changes to audio, video and still photography. It's worth saying from the outset that, despite the numerous improvements in iOS 7, many third-party apps still do a great number of other clever things, above and beyond the default apps. That gap may widen further once developers update their apps to take advantage of iOS 7 and also to match its new look.
But beyond the changes to photos, videos and audio, what else has Apple brought into iOS 7 which journalists - although certainly not exclusively - might find useful?
Well, there are a few clever tweaks to Safari, Apple's browser. There are no longer separate windows for where you input a web address and another for searching on Google; they're combined in a single "smart search" field. This bar gets a lot smaller as you scroll down the screen, while the basic buttons at the bottom (for sharing, bookmarks and tabs) disappear entirely, all adding up to a slightly larger screen. The options come back once you start scrolling upwards, although the quickest way to get back to the top is to tap the digital clock display right at the top of your screen.
Memories of the Rolodex may these days be confined to more mature journalists, but that's the feel of the new look for tabbed pages on Safari.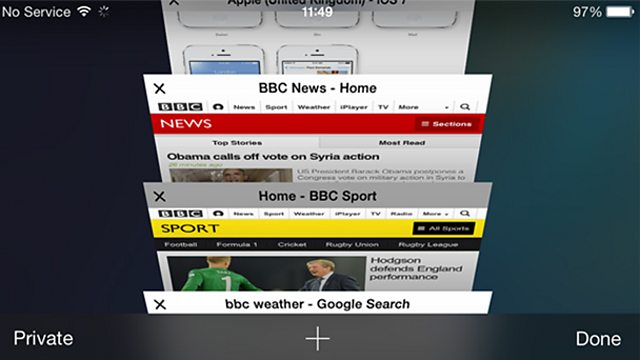 Rather than being entirely separate as before, each open web page is displayed in a carousel which can be skimmed through. You can even pick up a tab and move it higher up or down the order. Tabs are closed by swiping to the left or tapping the small x. Visually, it's a great improvement on how multiple web pages were displayed and worked before.  
There's one other aspect here worth pulling out for journalists: tapping the book icon under an open Safari page displays three columns: favourites, reading list and the new option of 'shared links' - as long as you've added your Twitter account to iOS.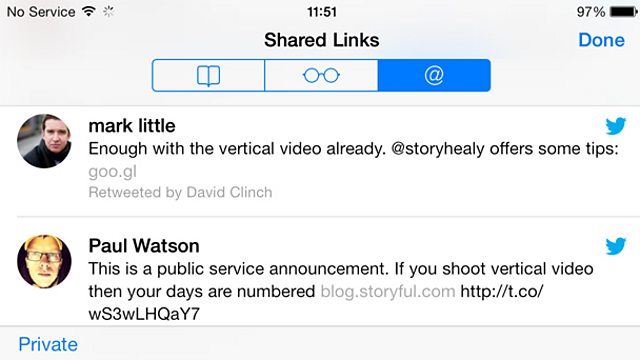 This displays a version of your Twitter feed - but only tweets with links, so no @ mentions. This could be a quick way to find out what the people you follow are sharing. But I'm not convinced that this cut-down version will be much more of an attraction than using Twitter itself.
Apple has not been shy in "taking inspiration" from its great rival Android, and one area where that's apparent is the new Control Centre where many toggle switches and buttons now live.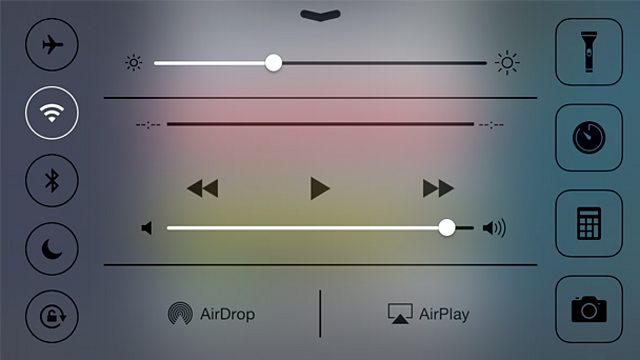 Unlike on Android where you swipe down from the top of the screen, in iOS 7 you swipe up from the bottom - so they're clearly very different! This gives access to functions which used to be buried several layers deep.
In Control Centre (accessible with a swipe from any screen), you can go into and out of Airplane Mode, turn settings such as wi-fi and Bluetooth on and off, adjust the brightness of the screen, and the volume of your audio. It's also where you'll now find the calculator, clock, another button to access your camera and, in a move which will make some third-party apps redundant, a button to turn on the flash of your camera to use as a torch.
But there are some limitations: for the journalist who prefers an app like Camera+ to the one Apple provides, hard luck - the camera can't be changed to anything other than the default app.
One setting to check: are you happy to allow Control Centre to be accessed while your phone is locked? It can make things convenient but it is also easier for anyone else who gets hold of your phone. If you want to disable that as an option, go into the Control Centre setting and turn 'access on Lock Screen' to off. Even if you do this, you can still access your camera quickly by swiping upwards on the icon which appears on the Lock Screen.
Some new features in iOS 7 have come from the 'jailbreak community' - users whose devices are set free from the limitations imposed by Apple. (Be aware though that jailbreaking your device will usually invalidate your warranty with Apple, while people with BBC-owned devices are specifically barred from doing so.)
One change which has come from jailbroken devices is what happens when you swap between applications. You still double-press the home button but when the screen rises up you don't simply see the icon of the apps currently open: you now get screen-captures of the apps themselves which show where you were in the app when you last used it.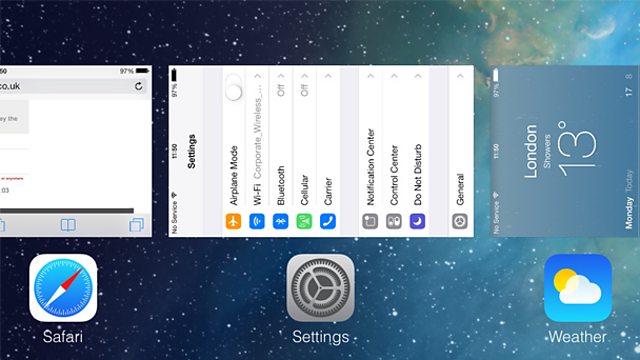 Quitting an app has changed too: just drag the app upwards and swipe it off the screen.
Staying with apps: an organised journalist should already have similar apps in folders rather than strung out across dozens of screens. The maximum number in any one folder has increased from 12 to 135. With that many in one single folder, it might again become as unmanageable as not having apps in folders in the first place, so fewer apps per folder might be wiser.
Sharing content between one iPhone and another gets a new option, subject to a few caveats: that you have the right device - iPhone 5/5s/5c, iPad (4th generation), iPad mini and iPod touch (5th generation); it requires two working iCloud accounts; and both devices need to be relatively close to the each other, such as in the same room.
If all of that is in place, switch on wi-fi and Bluetooth and content such as photos and videos can be shared via AirDrop with encryption and no loss of quality - as happens when photos are shared via iMessage.
That means journalists don't have to give out phone numbers or email addresses to a member of the public - or indeed vice versa!
And for the journalist who once gave their number to someone and now constantly gets calls and texts they'd rather not receive, head to 'settings-phone-blocked' to add selected numbers to a list which will prevent unwanted calls and texts from coming through.
Buried deep within 'settings' is a new option which a journalist using an iPhone to record audio or video ought to know about. Go into 'settings-privacy' and there's a new category of 'microphone'. Here you'll see which apps are being allowed to use the iPhone's mic. If a recording is silent for what seems to be inexplicable reasons, it'll be worth checking that the app is in actual fact allowed to use the microphone.
Security is beefed up more generally too. If your device has been stolen, a new setting comes into its own. One of the first things a thief will want to do is remove FindMyiPhone, or wipe the device to disable tracking it. But to do this they'll now need your Apple ID and password. As they're unlikely to have access to these, FindMyiPhone should remain active, meaning more time to find or to erase the device remotely.
If you yourself resort to remotely wiping your device, it can only be reactivated by using your Apple ID and password. The thinking goes that if your data can't be wiped and FindMyiPhone can't be removed, will a potential thief actually bother stealing it? (There is supposedly a way around this involving jailbreaking and spoofing but it might be beyond the average thief.)
Overall then, the changes in iOS 7 show the firm still has a few innovative tricks up its sleeve, even if some of the innovations have come from other platforms.
If you're wondering whether or not to upgrade eventually (see note about BBC advice above), I would recommend it if only for the added security - although it'll make your phone look quite different and you'll have to get used to the changes. If you choose not to upgrade your phone will continue to work fine, although soon some apps will include features and designs specific to iOS 7. 
For Apple as a company, the new additions to the range of phones it sells, especially the (slightly) lower-priced iPhone 5c, should help it regain market share. And while the sheer number of Android devices out there means Apple will never regain the pre-eminent place among smartphones it once enjoyed, the company will be hoping that the revamped iOS, and the changes to third-party apps which work alongside it, will ensure it continues to be the preferred operating system for journalists.
Marc Settle's second post about iOS 7 looks at its use for stills and video.
Smartphone journalism with iOS 6: Video
Smartphone journalism with iOS 6: Audio