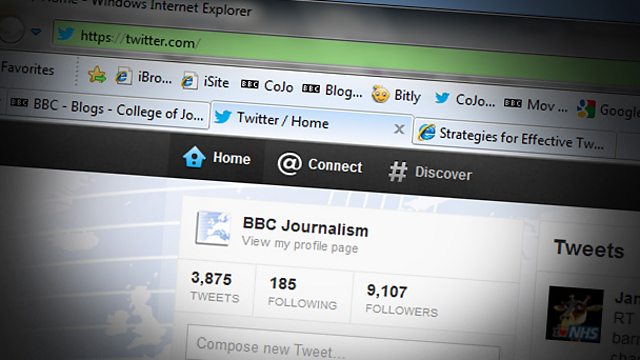 There's a big difference between journalists and brand marketers, but both want to interest people in their tweets.
So a report by the New York marketing company Buddy Media, Strategies for Effective Tweeting, designed for marketing managers, has some interesting points for journalists too.
The report is based on a study of 320 Twitter accounts for commercial brands over six weeks. It crunched the numbers to come up with a measure of "engagement rate" for each tweet. It's a combination of the number of replies and the number of retweets for each tweet, compared to the number of followers for that account.
Engagement rate, then, was a kind of proxy for 'whether anyone's interested in what you're tweeting'. Retweets get attention for the brand, and the brand gains information about its customers from replies. Both are also good for journalists' tweets.
What Buddy Media found was:
Engagement for brands is highest at the weekend, but most tweeting by brands is during the week. As the report puts it, "Brands are wasting time posting on Wednesdays and Thursdays when engagement is lowest"
Unlike posts on Facebook (which it had previously measured), Tweets during "busy hours" work best. If you want to engage people, tweet during the day and post on Facebook in the evening
The more you tweet, the less your followers will respond: "don't overdo it"
You'll get more engagement with shorter tweets because it leaves people space to add a comment in a retweet
Tweets with links in are much more likely to be retweeted
Same with hashtags
And images
If you ask people to retweet you, they will. Even better than a request to 'RT' (which produces a 10 times higher than average retweet rate) is to actually use the word 'retweet' (an amazing 23 times higher).
Interesting stuff, but I'm sceptical about the argument that you should tweet more at the weekend because the engagement rate is higher then. It may not be the day of the week but simply the fact that there's less competition from other brands that produces more engagement.
Whether you're a journalist or a brand, to get attention you're trying to find an under-served audience. If your competitors all start tweeting at the weekend, attention per tweet will inevitably fall.
That principle seems to work when you look at the Buddy Media results for how many tweets work best. There's a clear law of diminishing returns: the more you tweet, the less notice people take per tweet. In that sense, it's good to avoid competing against your own tweets.
When I looked at the Twitter accounts of a few celebs and journalists, some of the most impressive numbers were from people like Richard Branson who tweet relatively rarely (just 1,000 tweets at that time) but have still acquired a huge following. Less is more.
If I'm right about looking for opportunities to engage by finding under-served audiences, it would be good to know what the Twitter audience is at different times - in terms of size, interests and demographics. If you knew, for instance, when the Twitter audience most closely matched the audience for top news programmes or particular newspapers that would be useful.
But when it comes to this kind of information Twitter can't match Facebook.
Firstly, because Facebook just has more information about its users than Twitter does - making it possible to target ads, for instance, by age, geography, relationship status, gender and interests. On Twitter you only need to give a name and email address.
And, second, on Facebook it's not so important to be able to measure the audience at any particular moment. Facebook status updates can still appear at the top of a News Feed hours after they were posted if they come from a source with a high EdgeRank score (which you get by having a history of high engagement). Tweets from an hour or so ago are way down the list, and probably never seen.
If Twitter can't provide stats about its audience availability, maybe one day it will be worth surveying the population to get that information.
If you're stopped by someone with a clipboard asking you about yourself and when you last looked at Twitter, that day may have arrived. 
I expect someone's already onto it.   
More like this
How to use social media : Sue Llewellyn on how to make the most of Facebook, Twitter and Google advanced searches.
Using social media to get to know your patch : How Facebook and Twitter have made a difference to the working lives of two BBC journalists based in Scotland.